Bitcoin Price Crash is Not a Bubble Bursting, 'Just a Blip'
The price of bitcoin has fallen by more than one-third from its all-time-high of $20,000 earlier this week, though analysts have dismissed speculation the cryptocurrency's bubble has burst.
Bitcoin briefly fell below $12,000 on Friday, December 22, dipping to its lowest level since the beginning of the month, according to Coindesk's bitcoin price index. At the time of writing, the price of bitcoin had recovered to $12,835.
The virtual currency's remarkable rise in recent months meant many within the industry had foreseen a slump of this scale, though some senior figures have allayed fears that the flash crash is damaging to bitcoin.
"We've seen price falls like this before, and when you look back on them now, you'll see they weren't part of a bubble, just a blip," Michael Jackson, a bitcoin expert and the former COO of Skype, told Newsweek.
Jackson, who is now a board adviser to the bitcoin wallet provider Blockchain, believes that bitcoin is yet to reach its full potential and that "this is still the beginning."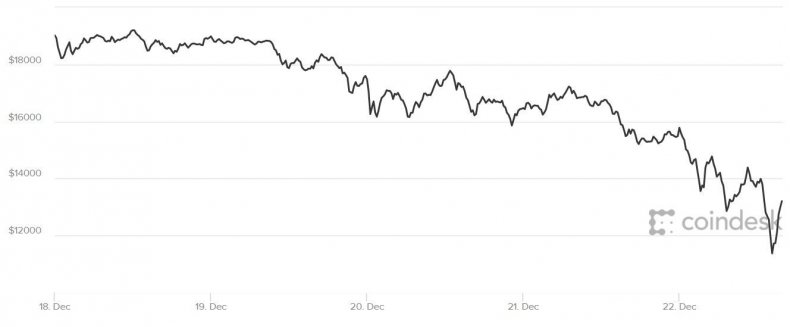 "It's certainly a meaningful price adjustment and many speculators will have profited from the recent rise, but at these times most of the earlier investors continue to hold," Jackson says. "At its core it is still an international payment mechanism and a store of value that doesn't change with speculation.
"Bitcoin's upper limit is still much more than it is today. If it reaches even one percent of the value store of other major money supplies, like the U.S. Dollar, it could be worth 100 times what it is today."
The price fall has been attributed to several factors, including recent hacks on bitcoin exchanges and the rise of rival cryptocurrencies like ethereum and bitcoin cash.
While also popular with investors and despite serving purposes bitcoin is unable to fulfill due to technological limitations, these cryptocurrencies do not pose a serious threat to bitcoin, according to Jackson.
Related: Bitcoin price still 'cheap' at $10,000 despite bitcoin bubble fears
"If you look at the other cryptocurrencies—at the last count I saw around 1,300 others—many of them were developed for different purposes and may be better in certain aspects but none of them have the community, investment or are as well-known as bitcoin," Jackson says.
"They are a long way behind. It might be like the battle between VHS and Betamax—bitcoin may not be as perfect as its rivals, but it has the backing of the industry and customers. It's not a disaster if it falls below $10,000, or even below $1,000. It might put off some speculators, but bitcoin's core purpose still remains."