Bitcoin Reaches $1 Trillion Valuation Twice as Fast as Amazon
Amazon required 24 years to reach the $1 trillion mark. Google took 21 years to achieve the lofty valuation.
Crypto Parrott, a trading simulator based in Dublin, Ireland, said Microsoft achieved a $1 trillion market cap after 44 years while Apple needed 42 years to hit the milestone.
Bitcoin, backed by investments from major institutions, outpaced the growth of major companies and achieved a $1 trillion market valuation in just 12 years.
"The number one ranked digital asset attained the valuation despite suffering several short time sell-offs but has managed to trade consistently above the $50,000 while experiencing low volatility," Crypto Parrot said in a research report.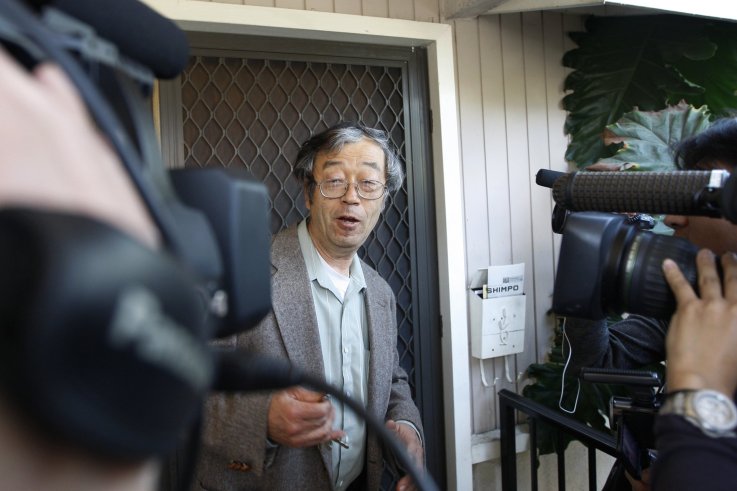 The man Newsweek reported was Bitcoin currency founder Satoshi Nakamoto is surrounded by reporters.
David McNew/Reuters
"Simultaneously, the milestone comes despite the frequent prediction of the asset experiencing a correction anytime soon," the report said. "However, Bitcoin has soared to trade above $63,000 on April 13, 2021, a new all-time high."
But there may be a catch.
"Worth noting is that Bitcoin's $1 trillion market value differs from the traditional assets," Crypto Parrott said. "The traditional players offer tangible products whose demand contributes to the rally. At the same time, the Bitcoin market cap surge is mainly driven by speculation, but institutional investors are changing the tide."
Bitcoin was designed to be used in commerce, but many investors see the cryptocurrency as a hedge against inflation and hold it in anticipation of future price gains.
The long-term investment tactic reduces the number of coins available to those seeking to enter the field or expand their holdings, driving the spot price higher and smoothing out wild price swings. The number of Bitcoins worldwide is capped at 21 million.
Coinbase's IPO, a direct listing that opened Wednesday on Nasdaq, underscored continued retail interest in Bitcoin.
The trading platform has about 43 million customers in about 100 countries, giving it a strong user base. If interest in cryptocurrencies remains strong, the company offers the prospect of steady growth.
PayPal, Mastercard and Visa announced plans to support crypto transactions, further driving interest in Bitcoin.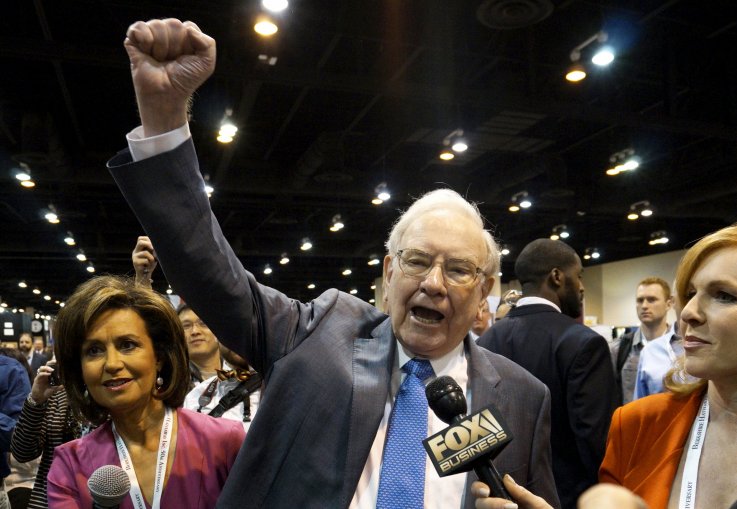 Berkshire Hathaway CEO Warren Buffett yells "Go big red!", the Nebraska Cornhuskers chant, prior to the Berkshire annual meeting in Omaha, Nebraska May 2, 2015.
Rick Wilking/Reuters
However, Warren Buffett, known on Wall Street as the "Oracle of Omaha" for his shrewd stock picks, has steadfastly avoided Bitcoin.
The chairman and CEO of investment powerhouse Berkshire Hathaway looks for undervalued stocks in strong companies and holds the shares long-term. Buffett has invested in Bank of America, Apple Bank, Coca-Cola, American Express and Verizon.
In 2009, Buffett made an "all-in wager on the economic future of the United States" and acquired Burlington Northern Santa Fe Railway for $44 billion in a deal some have described as "pure genius."
It appears investors continue to place long-term bets on Bitcoin.
In midday trading Wednesday, Bitcoin changed hands at $63,352.01 after touching $64,829.14, a new high. It's up 115.87% for the year. The cryptocurrency's market cap is $1.18 trillion, CoinDesk reported.
Market Pulse
Tampa Bay Buccaneers quarterback Tom Brady has thrown 581 touchdowns in his NFL career. He now hopes to score big with non-fungible tokens (NFTs).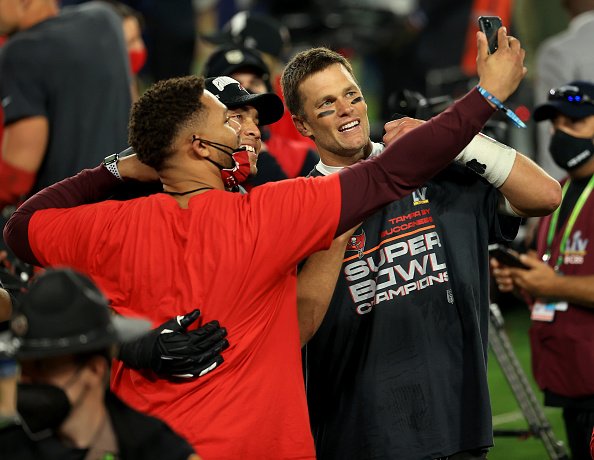 Tom Brady #12 of the Tampa Bay Buccaneers signals after winning Super Bowl LV at Raymond James Stadium on February 07, 2021 in Tampa, Florida.
Photo by Mike Ehrmann/Getty Images
NFTs are digital content linked to the blockchain, the unalterable digital ledger that provides security for Bitcoin and other cryptocurrencies.
A Bitcoin can be bought and sold for another just like it, making it fungible.
But non-fungible tokens are one of a kind, allowing the creation and preservation of distinctive designs. The blockchain can be used to verify the ownership and authenticity of a NFT.
Digital art is a great business for starving artists and especially for entrepreneurial computer geeks looking to cash in. Production and distribution costs are low. The profit margin would make a 19th Century robber baron blush.
So far, no one would confuse NFTs for a painting by Rembrandt, Edgar Degas or Jackson Pollock.
Nyan Cat looks like a throwback to the Pacman electronic game graphics of the 1980s, although some would argue that Inky, Blinky, Pinky and Clyde had more personality.
The now-iconic grinning digital kitty has a head that looks as if it were built with a child's plastic snap-together bricks. The beast bounces up and down in place as plus signs, circles and squares move right to left.
Oh—and this may be key—Nyan Cat has pink cheeks and there's a rainbow wafting on a digital breeze to highlight the critter's bobbing tail.
Cryptoart platforms have sprung up, including Nifty Gateway, Foundation, SuperRare and Zora.
It's often said that a table in a restaurant is just a table, but a table in a gallery is art. The corollary may be: Digital animation is just digital animation until someone proclaims it art.
NFT buyers get the right to display the art on social media, a website, game or even in a virtual museum. In general, the artist retains intellectual rights to the piece, leaving the buyer with little more than bragging rights, should anyone be listening.
Christie's, a London auction house, recently sold a piece of "intangible art" for $69.3 million.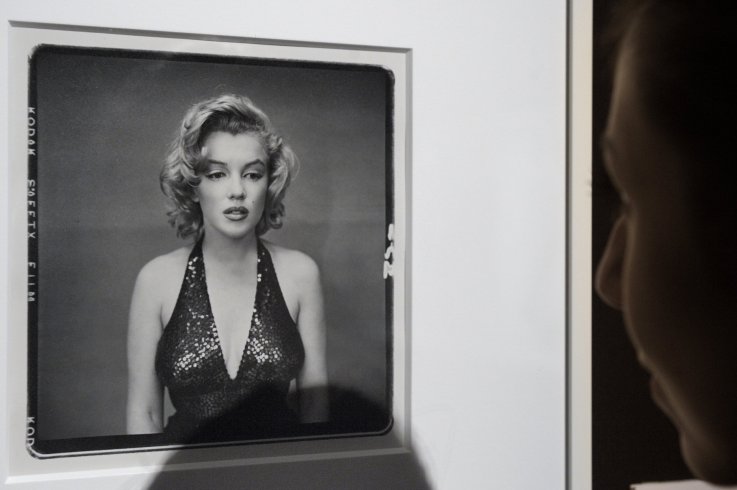 A visitor looks at the picture 'Marilyn Monroe, Actress, New York City, May 6, 1957' by photographer Richard Avedon (1923-2004) displayed at Christie's auction house in Paris November 18, 2010.
Reuters
Yes, the snooty surely sniff, but is it art?
Before we sniff along with them, it might be wise to recall that previous connoisseurs of fine art looked down their noses at photography when it first appeared, saying it was simply a mechanical and chemical process and therefore not art.
Ansel Adams, Walker Evans and Annie Leibovitz spiked that argument with stunning images.
So, why not athlete-oriented NFTs?
Brady hopes to develop digital collectables with a top agency.
"Autograph will bring together some of the world's most iconic names and brands with best in class digital artists to ideate, create and launch NFTs and ground-breaking experiences to a community of fans and collectors," Dillon Rosenblatt, co-founder and CEO of the company, told CNN in a statement.
"Ideate"?
Perhaps it can't really be art—or even men's cologne—unless it's wrapped in pretentious language.