Bitcoin Bounces Back as Investors Seek Hedge Against Inflation
Bitcoin rebounded Wednesday after a sharp downturn earlier this week as major companies continued to buy the cryptocurrency and hold it as a long-term investment.
In early trading, Bitcoin climbed to $51,369, but soon slipped. It recently fetched $49,884.07, up 5.27% in the last 24 hours, CoinDesk reported. Bitcoin had plunged from $58,356 on Sunday, a record high, to as low as $45,501 on Tuesday.
Bitcoin is up about 70% year-to-date and has soared about 400% in the last year.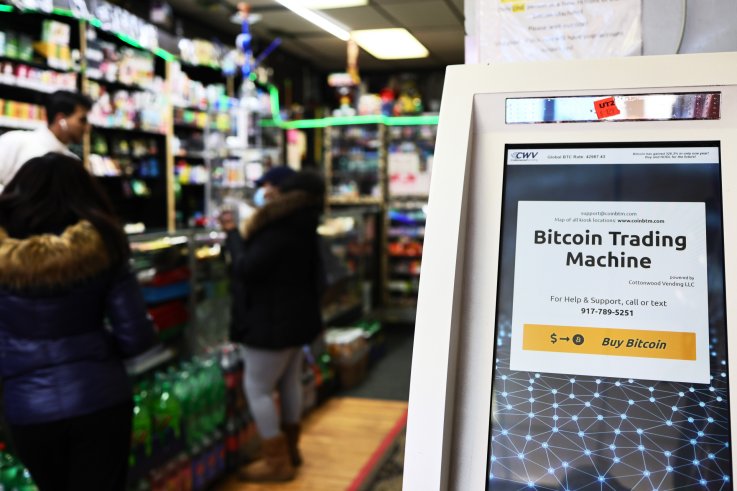 A bitcoin ATM is seen inside the Big Apple Tobacco Shop on February 08, 2021 in New York City. (Photo by Michael M. Santiago/Getty Images)
Michael M. Santiago/Getty Images
Bitcoin got a boost after Carrie Wood, founder and CEO of New York-based Ark Management, said she was "very positive on Bitcoin" despite this week's volatility.
"No market is straight up," she told Bloomberg Radio. "Everyone should know that. But probably, the most important use (of Bitcoin) is as an insurance policy around the world against confiscation of wealth. It can happen with inflation. Bitcoin, I think, is the best hedge against inflation out there bar none, better than gold."
Wood scored big with winning bets on major technology companies, including Tesla and Square. Ark's main fund gained about 150% last year.
Other cryptocurrencies, often called altcoins, also rose Wednesday. Ethereum jumped 5.77% to $1,656.06 and XRP rose 2.19% to $0.47. Bitcoin had risen to about $20,000 in 2017 before a prolonged downswing the following year.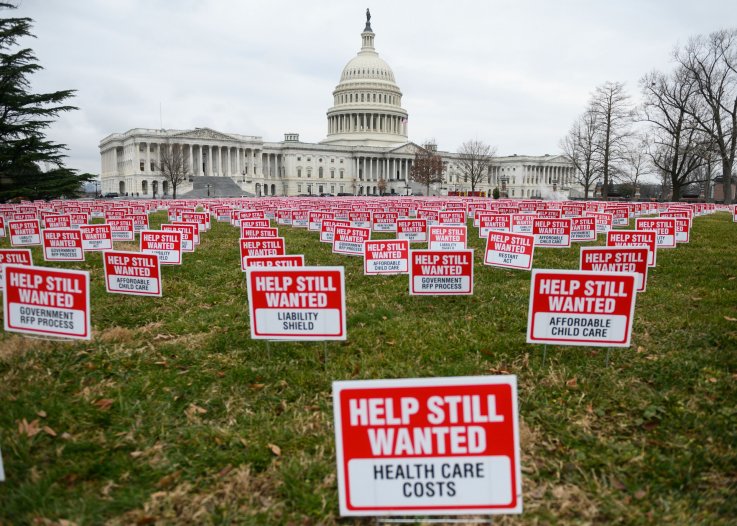 Signs calling for more relief, a second Paycheck Protection Program and support from elected officials are setup as part of a campaign by Goldman Sachs near the US Capitol in Washington, DC on January 5, 2021.
Photo by ANDREW CABALLERO-REYNOLDS/AFP via Getty Images
An analyst at Goldman Sachs believes Bitcoin's volatility makes it unsuitable as a store of value. But major companies disagree, as evidenced by their large purchases of Bitcoin and Bank of New York Mellon's recent announcement that it would set up custodial accounts for major clients holding the cryptocurrency as a long-term investment.
MicroStrategy said Wednesday it had purchased about 19,452 Bitcoins for $1.026 billion in cash at an average price of $52,765 per coin, including fees. The Tysons Corner, Virginia-based enterprise software company said it now holds about 90,531 Bitcoins, purchased at an aggregate price of $2.171 billion, or an average of about $23,985 per coin.
"The company remains focused on our two corporate strategies of growing our enterprise analytics software business and acquiring and holding Bitcoin," CEO Michael Saylor said in a statement.
He said MicroStrategy is all-in on Bitcoin.
"(The purchase reaffirms) our belief that Bitcoin can serve as a dependable store of value," he said. "We will continue to pursue our strategy of acquiring Bitcoin with excess cash and we may from time to time, subject to market conditions, issue debt or equity securities with the objective of using the proceeds to purchase additional Bitcoin."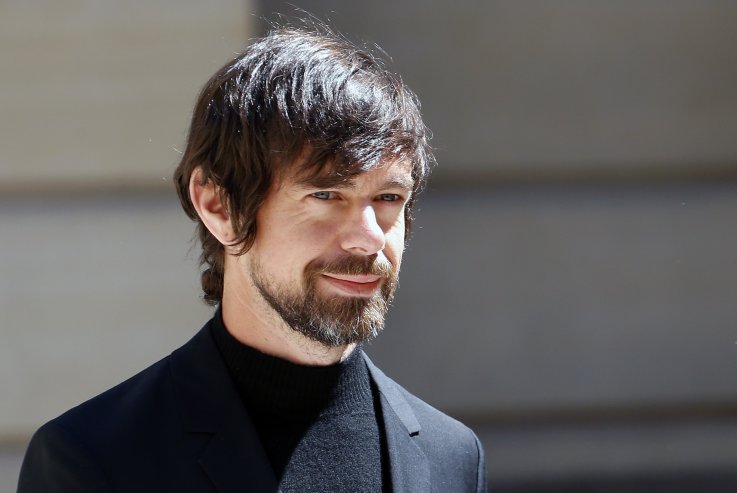 Chief executive officer of Twitter Inc. and Square Inc. Jack Dorsey arrives to attend the "Tech for Good" Summit at Hotel de Marigny on May 15, 2019 in Paris, France.
Chesnot/Getty
Square, a fintech company run by Twitter CEO Jack Dorsey, said in its fourth-quarter earnings statement released Tuesday that it had purchased 3,318 Bitcoins at an average price of about $51,235.
In October, the company said it had purchased 4,709 Bitcoins. At the end of 2020, the cryptocurrency represented about 5% of the company's holdings.
Last year, Square invested $50 million in Bitcoin. Dorsey has said he believes the cryptocurrency will become the Internet's "single currency."
MasterCard and PayPal have announced plans to handle Bitcoin on their payment systems. Tesla previously announced that it had invested $1.5 billion in Bitcoin and would accept the cryptocurrency as payment for its electric cars.
Many investors see Bitcoin as a hedge against inflation.
Rates for long-term treasury notes have climbed recently on the expectation that inflation will increase later this year, driven pent-up demand by consumers as the economy reopens and increased government spending, including additional stimulus from Washington.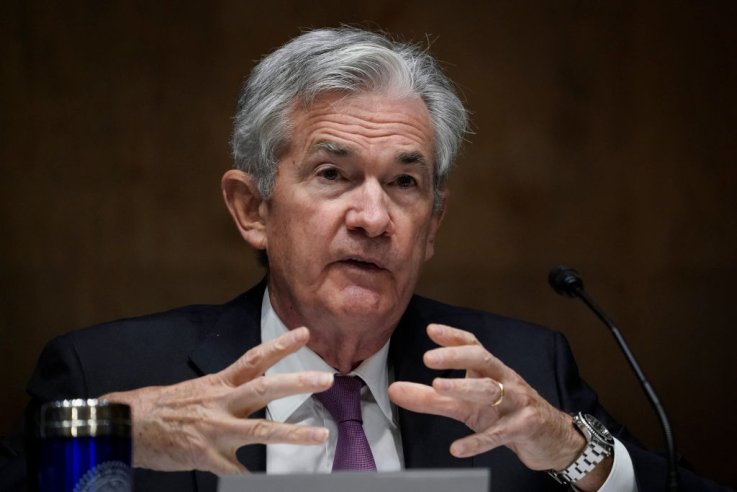 Federal Reserve Board Chairman Jerome Powell testifies during a Senate Banking Committee hearing on Capitol Hill on September 24, 2020 in Washington, DC. Powell and U.S. Treasury Secretary Steven Mnuchin were testifying about the CARES Act and the economic effects of the coronavirus pandemic. The Fed has applied to join an international green banking group.
Drew Angerer/Getty Images
The 30-year bond rose to 2.243%, close to its highest level since January 2020. Bond prices and yields move in opposite directions.
Jerome Powell, chairman of the U.S. Federal Reserve, said the nation's central bank may limit its bond-buying and may consider raising interest rates from the current range of 0% - 0.25%.
Meanwhile, the Reserve Bank of India said it feared cryptocurrencies could undercut the stability of Asia's third-largest economy. The concern could influence pending efforts to regulate Bitcoin, the Hindustan Times reported. India's central bank in 2018 banned banks from supporting transactions in cryptocurrencies.
India's parliament is debating a bill to ban private cryptocurrencies in most instances while creating government-sanctioned digital money.