India's Parliament is expected to consider a bill to ban "private" cryptocurrencies that would allow the government to create a state-sanctioned digital alternative.
The governing Bharatiya Janata party of Prime Minister Narendra Modi controls both houses of parliament, making passage of the bill likely if it gains support. The Crypto-currency and Regulation of Official Digital Currency measure of 2021 would empower the Reserve Bank of India (RBI) to create an official digital currency.
"The draft bill seeks to ban 'private' crypto-currencies, but hasn't defined what that means," Jason Deane, Bitcoin analyst at Quantum Economics in London, said in comments sent to Newsweek.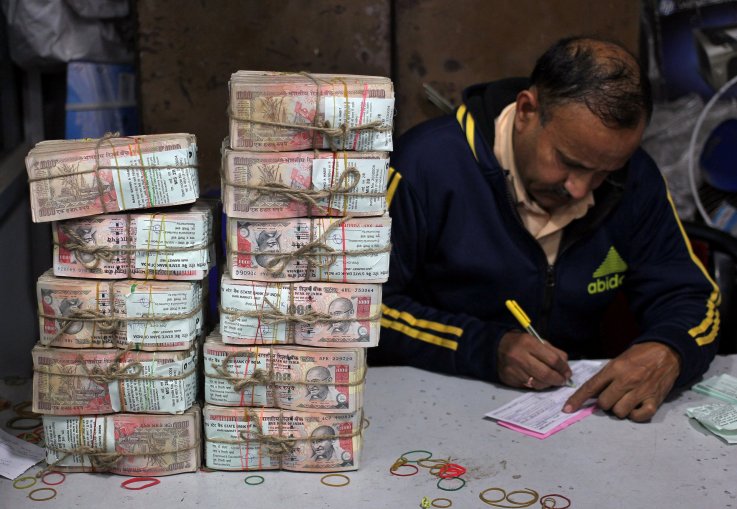 A bank teller counts stacks of 1,000 rupee banknotes inside a bank in Jammu, India.
Mukesh Gupta/reuters
Deane does not see the move as necessarily having a negative impact on Bitcoin.
"This is being interpreted locally as a good thing, since it is seen as providing clarity going forward," he said. "The consensus seems to be that it will not ultimately end up with an outright ban—more establishing a path for clearer regulation and India's own Central Bank Digital Currency."
A digital currency issued by the central bank would create a digital version of India's fiat currency, the rupee, which was trading at 0.014 against the U.S. dollar on Tuesday morning, according to Morningstar.
Deane predicted that the new digital currency issued by the Indian government would eventually replace its fiat currency. He said such action would have many benefits, but comes with some downsides that could draw criticism.
"There are many advantages in terms of managing cash on a national scale, implementing monetary policy and, for example, disseminating stimulus checks," Deane said. "However, many are concerned this could lead to too much government control. That is, your spending could always be tracked perfectly, and your money could be taken if you owe taxes or fines without your consent, and so on."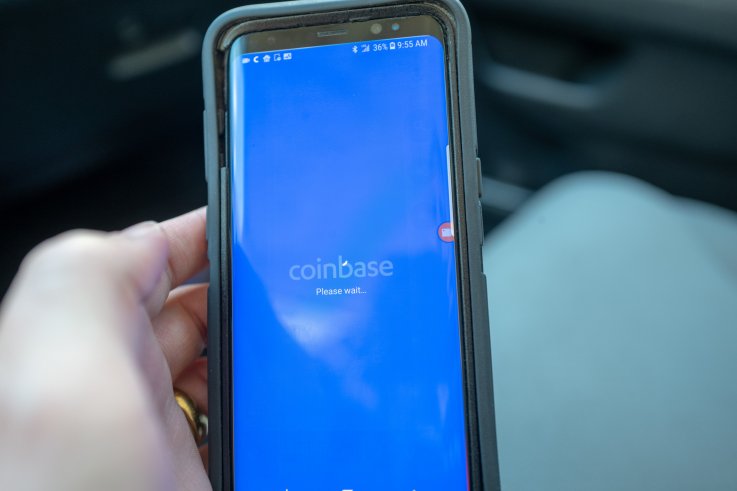 Close-up of hands of a man loading the Coinbase cryptocurrency wallet app on a cellphone, Martinez, California, June 26, 2019.
Smith Collection/Gado/Getty
However, he said complete regulation of Bitcoin is unlikely.
"It's next to impossible to ban Bitcoin since it is a global and decentralized system," Deane said. "However, it may be possible to close on and off ramps—that is, moving between local fiat currency and crypto-currency within the jurisdiction of each government."
He said regulation creates barriers for people who want to use cryptocurrency, but they are not impermeable.
"This only makes it harder, but not impossible, for citizens to access it," Deane said, "and it doesn't prevent trade or transactions in the crypto-currency itself."
A summary of the bill to create a new government-issued cryptocurrency in India said it seeks "to create a facilitative framework for creation of the official digital currency to be issued by the Reserve Bank of India. The Bill also seeks to prohibit all private crypto-currencies in India, however, it allows for certain exceptions to promote the underlying technology of crypto-currency and its uses."
The RBI, India's central bank had previously outlawed trading of cryptocurrencies, but the Supreme Court overturned the regulation in 2020.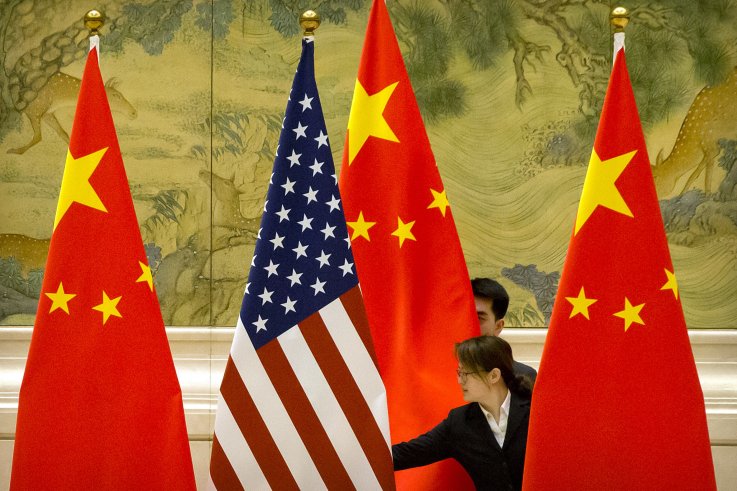 Chinese staff adjust U.S. and Chinese flags before the opening session of trade negotiations between U.S. and Chinese trade representatives at the Diaoyutai State Guesthouse in Beijing on Feb. 14, 2019.
MARK SCHIEFELBEIN/Pool/AFP/Getty Images
In 2017, China banned initial coin offerings, a method to raise money with cryptocurrencies, and closed trading platforms. Bitcoin prices quickly fell about 8%. It's as yet unclear whether India's decision to ban Bitcoin and other cryptocurrencies would have a long-term effect on U.S. investors.
"I believe Bitcoin is one hell of an invention," Ray Dalio, founder and co-chief investment officer at Bridgewater Associates, a hedge fund based Westport, Connecticut, said in a research report.
"To have invented a new type of money via a system that is programmed into a computer and that has worked for around 10 years and is rapidly gaining popularity as both a type of money and a store hold of wealth is an amazing accomplishment," Dalio wrote. "That, like creating the existing credit-based monetary system, is of course a type of alchemy—i.e., making money out of little or nothing."
He said the future of Bitcoin will hinge on regulation adopted by the U.S. and other governments. He said the path forward is not yet clear, and it raises questions about the future of cryptocurrency.
"Do policy makers create a regulatory environment that helps garner trust in the asset for some while making it less attractive for others?" Dalio asked. "Do they ban Bitcoin outright?"
He said the unanswered questions contribute to Bitcoin's continuing volatility.
"We do not know how this will evolve,"Dalio said. "Both paths, in our view, suggest the Bitcoin price roller-coaster ride could continue for some time."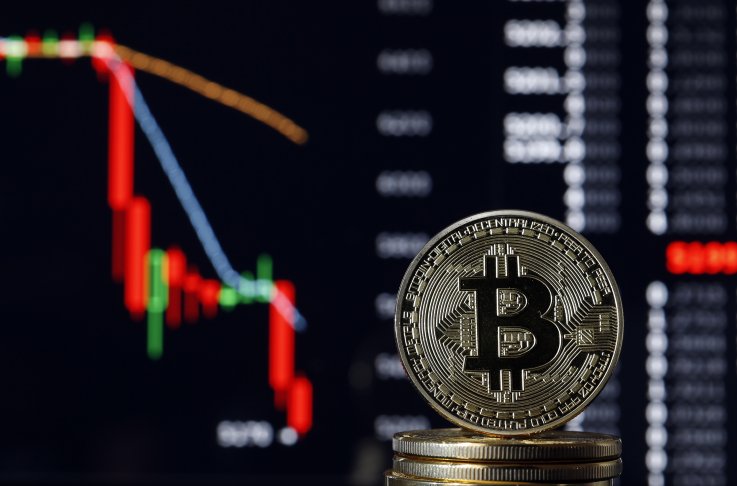 In this photo illustration, a visual representation of the digital cryptocurrency, Bitcoin is displayed in front of the Bitcoin course's graph of Bitfinex cryptocurrency exchange website on Nov. 20, 2018 in Paris, France.
Chesnot/Getty
He added a caution for investors.
"Bitcoin looks like a long-duration option on a highly unknown future that I could put an amount of money in that I wouldn't mind losing about 80% of," Dalio said.
Recent speculation in Bitcoin has "increasingly exhibited some classic dynamics of an asset bubble," and options in the crypto-currency are "highly optimistic," he said.
An outright ban in the U.S. now appears unlikely, but stringent regulation of the exchanges used to make Bitcoin transfers could all but gut the cryptocurrency. Bitcoin investors use wire transfers and bank debits to move funds in and out of Bitcoin exchanges, and Dalio said regulators "could for all practical purposes make it impossible for U.S. investors to purchase Bitcoin."
He likened the creation of Bitcoin to the Medicis of the Republic of Florence, the founders of the Medici Bank, which became the largest bank in Europe in the 15th century, who dominated European commerce at the time—and produced four popes.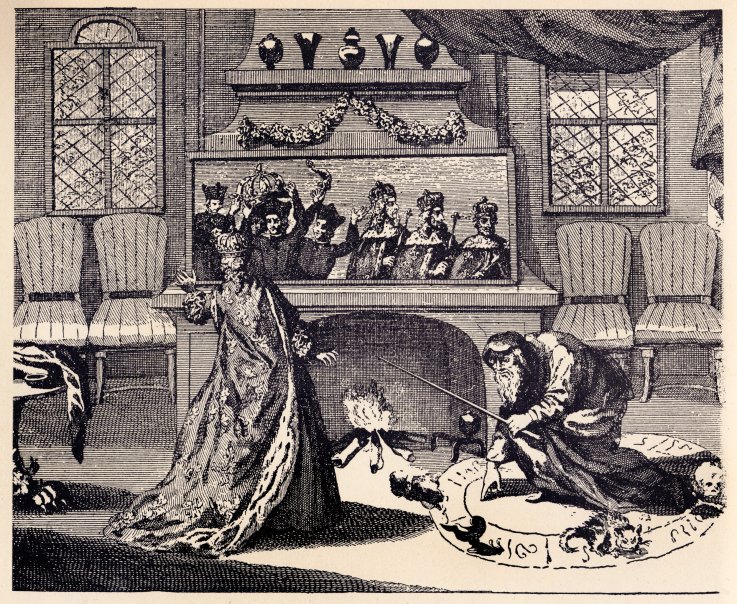 Nostradamus uses his magicks to show Catherine de' Medici her children, one of which will become king of France, in an engraving by Émile-Jules Grillot de Givry from 1929's 'Witchcraft, Magic and Alchemy.'
Photo by Fototeca Gilardi/Getty Images
"(Bitcoin), like the making of credit that made bankers rich starting with the Medici's around 1350, is making its inventors and those who got in on it early very rich, and has the potential to make many more people very rich and to disrupt the existing monetary system," Dalio said.
As other analysts have noted, he said Bitcoin may become "an alternative gold-like asset."
India isn't alone in its desire to regulate Bitcoin.
Christine Lagarde, president of the European Central Bank, has said the digital currency has been used to launder money in criminal activities, and has called for "loopholes" to be closed.
Janet Yellen, President Joe Biden's nominee for Secretary of the U.S. Treasury, made similar comments, but then softened her view. A governmental watchdog agency in the United Kingdom warned that those investing in Bitcoin could lose all their money.
The ECB, like India's central bank, said it's exploring the development of a digital euro, but further study is needed.
"We need to make sure that our currency is fit for the future," Fabio Panetta, a member of the ECB executive board. "Inaction is not an option."
Bitcoin recently changed hands at $36,613.09, up 5.11% in the last 24 hours, CoinDesk reported.