Bitcoin Surges on Retail Investors Bullish on Crypto, Wary of Dollar
The immediate outlook for Bitcoin and other cryptocurrencies looks good as strong institutional backing and a surge of cash from retail investors sent it above $50,000 this week amid continued concerns about the strength of the dollar.
"Given the constant inflow of corporate participation and retail investors, we expect Bitcoin prices should continue to be skewed to the upside, at least in the near term," Lennard Neo, an analyst at Singapore-based Stack Funds, said in a research report.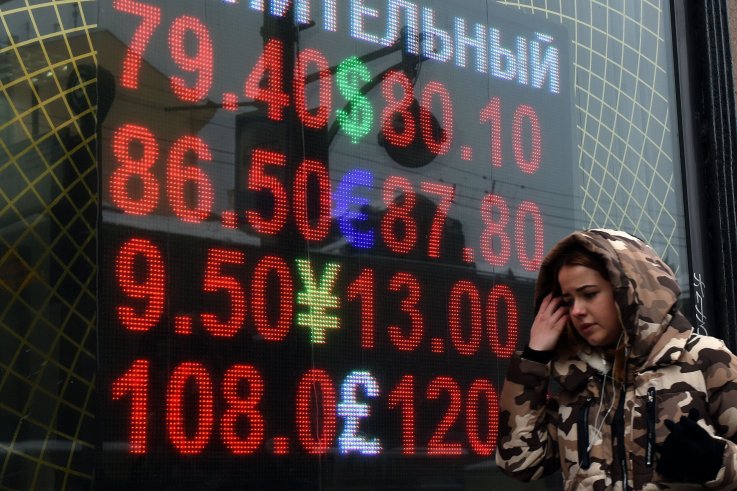 A woman walks past a board listing foreign currency rates against the Russian ruble in Moscow, on January 20, 2016. More than one-fifth of Russia's economy now exists off the books, according to a new report published by Russian media group RBC.
VASILY MAXIMOV/AFP/Getty Images
Stack Funds said all major cryptocurrencies have risen in the last seven days:
Bitcoin: $52,000, up 16.1%
Ethereum: $1,900, up 9.2%
XRP: $0.54, up 8.4%
Chainlink: $32.9, up 23.6%
Bitcoin Cash: $724, up 46.6%
Binance Coin: $167, up 29.4%
Polkadot: $31.86, up 35.5%
Litecoin: $235, up 29.3%
Bitcoin SV: $250, up 17.7%
In mid-day trading Thursday, Bitcoin fetched $52,035.25, up 1.53% in the last 24 hours. The crypto's all-time high is $52,621.84, CoinDesk reported.
Tesla's earlier announcement that it had invested $1.5 billion in Bitcoin caught the attention of investors and ignited a rally, sending it to a record high. However, a British regulatory agency warned that Bitcoin investors should be prepared to lose all their money.
Bitcoin's rise may suggest long-term unease about the broad economy despite strength in equities. The Dow Jones Industrial Average recently crossed 31,500 and the S&P 500 broke 3,900—both new highs.
Stocks have been boosted by a rebounding economy, increased consumer spending and the prospect of a $1.9 trillion stimulus package now being debated in Congress. Consumer spending represents about two-thirds of the U.S. economy.
But what's good for equities—another round of stimulus including the possibility of $1,400 in direct payments to individuals—raises concerns about inflation and the long-term strength of the dollar.
The argument: Even with low interest rates, government borrowing takes money away from productive sectors of the economy, and massive deficit spending raises concerns about inflation. Some fret this could threaten the dollar's status as the world's reserve currency.
Such concerns have led to increased interest in Bitcoin and other cryptocurrencies, driving prices higher. Gold touched last November's lows and recently fetched $1,782.41, leading some to ask if Bitcoin will become the new gold standard.
Major corporations and Wall Street are embracing Bitcoin.
Tesla, the world's leading electric car maker, said in a filing with the U.S. Securities and Exchange Commission that it became one of the first major companies to include Bitcoin on its balance sheet and accept it as payment for its products.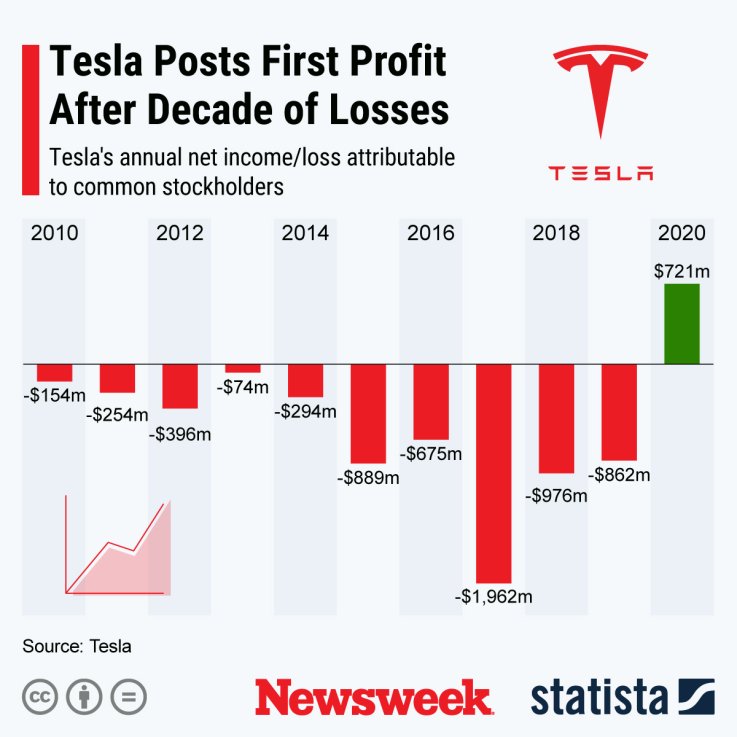 Statista
Elon Musk drove Bitcoin higher after tweeting his support. He also playfully suggested that Dogecoin might become the world's currency. Both tweets received extensive press coverage.
Building on a $650 million purchase of Bitcoin in December, MicroStrategy said this week it plans to offer $600 million in convertible debt to increase its investment in Bitcoin. In an SEC filing, the Tysons Corner, Virginia-based enterprise software company said it held about 72,000 Bitcoins valued at about $3.6 billion.
MicroStrategy's shares have soared about 660% since August 11 when the company announced its initial purchase of Bitcoin.
Major financial institutions have invested in Bitcoin or seek to serve new demand for it. On Wall Street, Grayscale's Bitcoin Trust allows investors to bet on cryptocurrency without buying the coins themselves.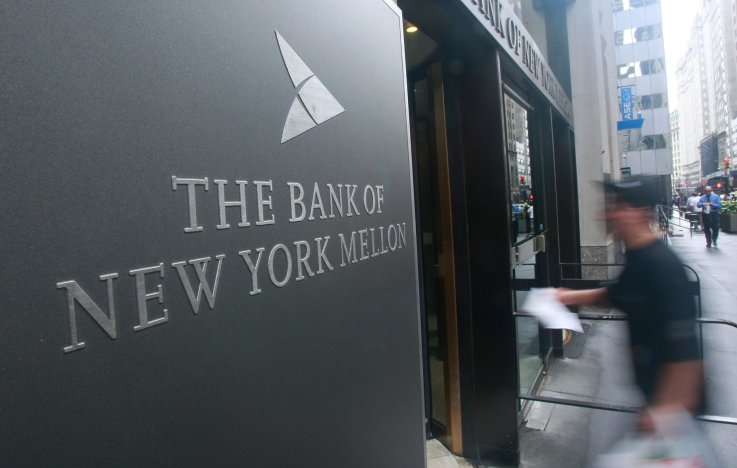 Bank of New York Mellon Corp. headquarters are seen June 9, 2009 in New York City.
Mario Tama/Getty
Last week, Bank of New York Mellon announced that it will begin holding and transferring Bitcoin for its asset-management clients, underscoring the growing acceptance of cryptocurrency on Wall Street. The Chicago Mercantile Exchange now provides pricing information on Bitcoin, reflecting growing interest in the cryptocurrency.
As cryptocurrency continues to gain wider acceptance, the need for secure trading platforms increases.
There are many choices in the U.S., including CoinBase, CoinBase Pro, CashApp and Binance. In the European Union, HFinance announced what it called a "100% regulator-compliant digital asset trading" platform for financial institutions or fintechs.
The company said trading volume continues to grow and is expected to double in February.
"Twenty-Seventeen was all about blockchain hype that had little to go on other than the fascination of its potential, whereas now, we are witnessing the adoption stage, propelled by interest to hedge against devaluation of fiat currencies," Vytautas Zabulis, CEO of the Lithuania-based company H-Finance, said in a statement.
"Stimulus packages have decreased (U.S. dollar and Euro) currency value, further propelled by 0% or negative interest and asset inflation," the statement said. "Companies and individuals are looking for new asset classes to save their money from losing value. As such, there is rising interest from financial institutions to offer digital asset trading beside stock and ETF trading."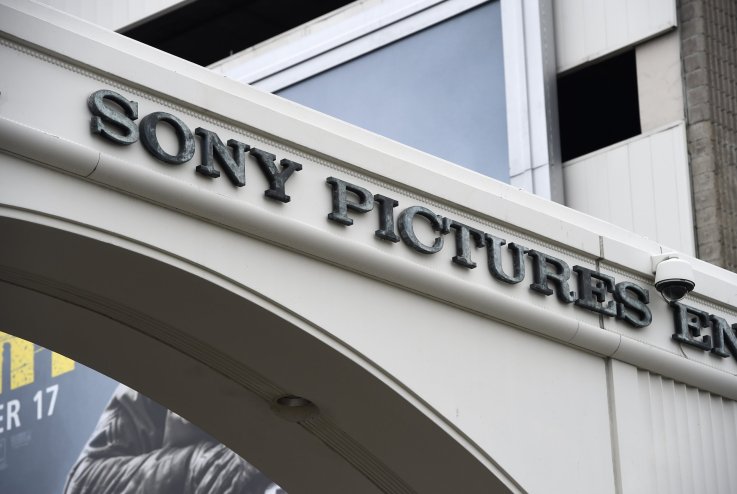 The U.S. accused North Korea in 2014 of being behind the Sony Pictures hack.
Getty
Bitcoin's rise has apparently sparked international criminal activity.
In an indictment unsealed Wednesday, the U.S. Justice Department accused members of North Korean's intelligence service with hacking banks in the U.S. and around the world in an effort to steal cryptocurrencies and other assets.
In a press call Wednesday, John Demers, assistant attorney general for national security, said North Korea's action requires "global awareness."
"With this indictment and related disruptions, the United States continues to do its part," Demers told reporters.
The three alleged hackers charged in the plot, believed to be part of North Korean's military intelligence, are also known as "Lazarus."