'Black Bird': Who Is James Keene and Where Is He Now?
The drama Black Bird is poised to be your next favorite true crime binge.
The Apple TV+ show stars Taron Egerton, who takes on the lead role of James "Jimmy" Keene, and the late Ray Liotta in his final televison role.
Here is everything you need to know about the real person Egerton portrays in the drama, which premieres with its first two episodes on Friday.
Who is James "Jimmy" Keene From 'Black Bird'?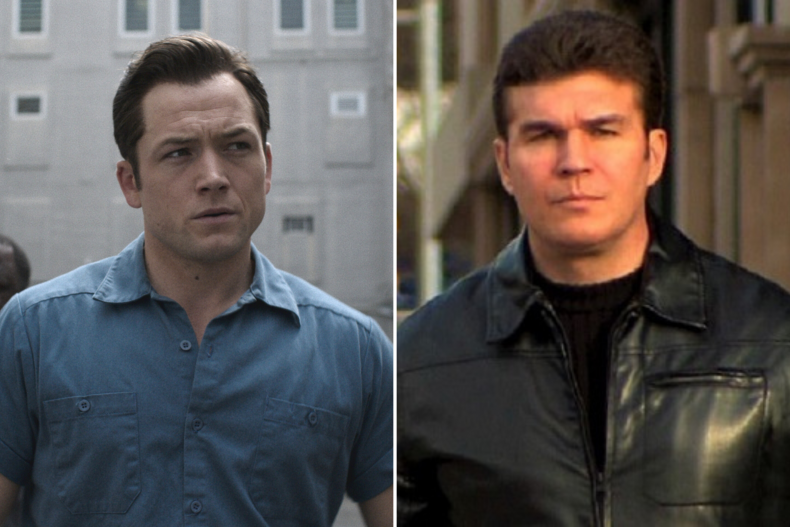 Black Bird is based on the non-fiction book In With the Devil: A Fallen Hero, A Serial Killer, and A Dangerous Bargain for Redemption, which was written by Keene and Hillel Levin.
The book charts Keene's real-life story and the experiences he faced when he was tasked with trying to coax a confession from suspected serial killer Larry Hall (played by Paul Walter Hauser).
Keene became a star athlete in high school, playing football in Kankakee, Illinois. But instead of focusing on his promising future in the sport, Keene began to peddle marijuana. At age 17, he moved to Chicago to attend community college and expand his illegal trade. He later moved into selling cocaine.
"I realised I could put the college education on hold and become a millionaire very quickly," Keene said in his book. By 1984, after his college sophmore year, he stopped attending classes.
In 1996, the Drug Enforcement Agency and local law enforcement caught Keene as part of a drug sting headed by Assistant U.S. Attorney Lawrence Beaumont. Shortly thereafter, Keene was given a 10-year prison sentence with no possibility of parole.
Per Dateline, it was a year into his sentence that Keene was approached by Beaumont with an offer: become an undercover informant at a maximum-security prison in Springfield, Missouri, and target Hall. In exchange for taking part in this dangerous operation, Keene would be let out of prison early.
Hall was known as the "man in a van" who targeted young girls across Illinois. He came to Beaumont's attention following the death of 15-year-old Jessica Roach in 1993.
After a thorough investigation Beaumont managed to get a confession out of Hall, including his alleged role in the death of Roach and several others. However, Hall later went back on his confession and claimed that he was not guilty of any crimes and that his earlier comments were simply related to disturbing dreams he had.
Hall was arrested for Roach's murder in 1995 as enough evidence was garnered to convict him. He was given a life sentence.
It became Beaumont's mission to get a confession from Hall about Roach and other possible crimes he allegedly committed, including the 1993 disappearance of Tricia Reitler. That was where Keene came in.
How did James "Jimmy" Keene target Larry Hall?
Initially, Keene did not want to take part in the sting. But he changed his mind after his father Big Jim (played by Liotta) had a stroke that threatened his life.
After five months undercover, Keene managed to gain Hall's confidence, and he started to ask Hall about his crimes with the suggestion that he'd remain friends with him even if he confessed to several alleged killings.
In an interview with Dateline, Keene admitted that it was "the hardest thing [he's] ever done to sit there and pretend to be his friend and listen to this stuff and not just rip him apart."
After managing to get Hall's confession regarding Roach, Keene waited a short time before asking him about Reitler. When he did, Hall allegedly confessed that he did kidnap and kill the victim.
Keene attempted to try and get more information from Hall about where he allegedly buried Reitler, and Keene came across Hall with a map that showed the supposed location of several of his alleged victims.
Believing he had been able to solve the case Keene left a message for his contact in the FBI and promptly gave Hall a piece of his mind, as Keene believed that he would be taken out of the prison in 24 hours or so.
However, the FBI did not get the message, and Keene's verbal attack of Hall not only blew his cover but he was sent to solitary confinement.
It was only after his contact within the prison, a psychiatrist, returned from holiday days later that Keene was taken out of solitary confinement. By that point, Hall's map with the locations of his alleged victims was gone.
Where is James "Jimmy" Keene Now?
Despite the fact that Hall's map disappeared, Keene's role in the operation to get a confession out of Hall did lead him to be released from prison early in 1999 and his criminal record was scrubbed clean.
Reitler's body has still not been found after Keene blew his cover, and her family told Dateline that they were frustrated he had failed to find out where she was allegedly buried by Hall.
Keene has since become an author and has spoken about his experience with media outlets including Dateline. He also works in real estate.
In his book, Keene explained that taking part in the operation allowed him to spend five years with his father, who passed away in 2004.
Per The Buffalo News, Keene wrote in his book: "After my early release, the five years I had with my father meant more to me than all the money in the world.
"I'm sure the families of Larry's victims would say the same thing if they could bring those girls back."
Black Bird premieres on Apple TV+ on Friday with its first two episodes. It will air weekly on the streaming platform thereafter.
Update 8/8/22 3:02 a.m. ET: This article was updated to change the photo of James Keene per Keene's request.

Update: 12/6/22: This article was updated to clarify the timeline of Keene's drug dealing.