How Chance the Rapper Informed Paul Walter Hauser's 'Black Bird' Role
In order to effectively play a "crazy" killer in the new Apple TV+ show Black Bird, Paul Walter Hauser took advice from Chance the Rapper's music.
Hauser stars as a potentially criminally insane inmate in the new drama, which is based on James Keene's real-life memoirs. He stars alongside Taron Egerton, Greg Kinnear, Sepideh Moafi and Ray Liotta in Black Bird, which was created by author Dennis Lehane.
Based on the book In With The Devil: A Fallen Hero, A Serial Killer, and A Dangerous Bargain for Redemption, Black Bird tells the true story of Keene (Egerton) as he is sent to a maximum-security prison to try to befriend and draw a confession out of Larry Hall (Hauser).
Newsweek spoke with Hauser, Kinnear, Moafi and Lehane ahead of the show's launch on Apple TV+ this Friday.
Channeling Chance
Hauser is tasked with playing the lead antagonist of Black Bird, and he delivers his performance with a constantly unnerving demeanor, which makes audiences question if the character is innocently insane or connivingly evil.
Newsweek asked Hauser how he zeroed in on his performance choices when preparing to play Larry Hall.
"I love hip-hop music," Hauser prefaced. "In fact, I'm putting out a six-track EP of rap music the same day as Black Bird drops on July 8.
"I love Chance the Rapper," he continued. "He has this line in a recent album where he says 'the only way to survive is to go crazy.'"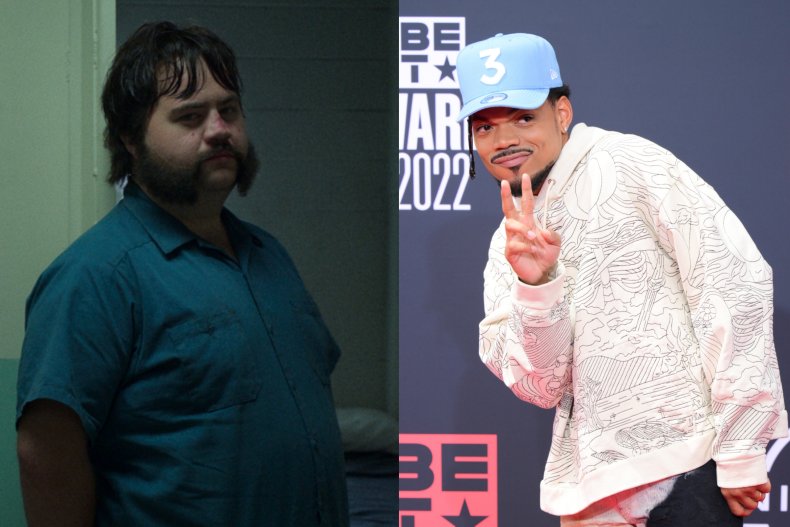 "Some actors when they go to play a person with mental issues, they try to rationalize it and do a bunch of research to go 'this is why he is the way he is.' At the end of the day that's not really foolproof," Hauser said.
"You kind of just have to let crazy be crazy, and let yourself go crazy."
Moafi plays Lauren McCauley, a member of law enforcement who pulls the strings for Keene's covert operation. "It's fascinating to watch Paul stepping out of character because he couldn't be more different from this role," Moafi told Newsweek upon watching Hauser's performance. "He's millions of light-years away."
"He's just warm and kind and generous and funny. He really is like a puppy dog. But, and Larry is just like this demon," Moafi said.
"He's creepy as hell," added Kinnear, who plays Brian Miller, a detective investigating the murders potentially committed by Hall. "Paul is incredibly scary, and at the same time, I think what made him scary is he found a human being there to play. We were dazzled."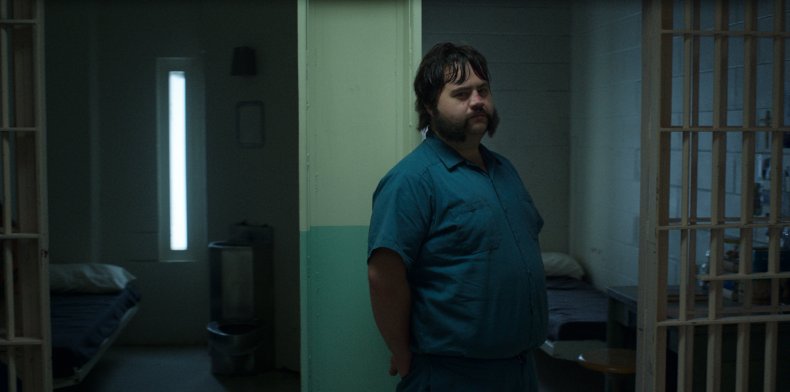 Hauser spoke with a deep voice during the interview, unrecognizable from the high-pitched tone of Black Bird's Larry Hall. He said the character's mania is truly put on display in Episode 6, the season finale, and he explained how he had to be "fearless" in these moments.
"I have a moment where I let loose the beast. I said a lot of things that were not scripted, and I was getting a little weird, and not really being any piece of myself," Hauser said.
Author to author for Dennis Lehane
Larry Hall and James Keene's interactions are pivotal throughout Black Bird. The scenes pulled together Rocketman star Egerton with Richard Jewell lead Hauser.
"Taron is classically trained and Paul comes out of comic improv, and you put the two together and you get that kind of combustion," Black Bird creator Lehane told Newsweek. "Their styles are very different and sometimes that can be dangerous, but in this case, they bounce off of each other so well."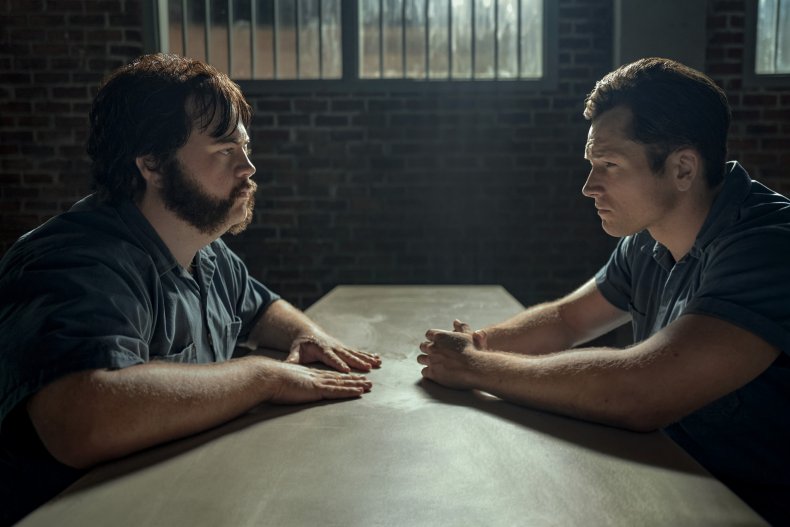 Best known as the author of novels Mystic River, Gone Baby Gone and Shutter Island, Lehane worked with the real Keene and convinced him to let him adapt the In With the Devil memoir for the screen. Lehane said Keene was understandably trepidatious.
"I think anybody in this circumstance is going to be very nervous," Lehane explained, "It's hard enough when you're doing fiction [to be adapted] and you hope they do right by you, but what if it's your life?
"Jimmy had to trust me, because I don't show my scripts to anybody. I was like, 'Man, I'm gonna do everything I can and do right by you, but I am going to be divergent of the facts in certain moments,' I got to tell a story. And in the end, he was he's very happy with it."
Greg Kinnear's connection
Oscar-nominated actor Kinnear also has a personal connection with the real events retold in Black Bird. Unbeknownst to him, it all happened close to home.
"I knew nothing about the story. [Even though] I'm from a small town about 15 miles down the road from where Larry Hall was born, so there's a real connection there, but I had never heard of it," Kinnear said.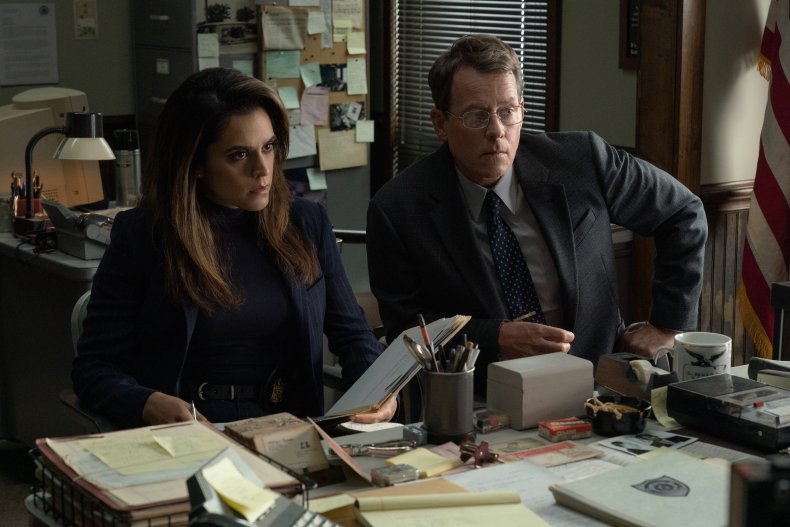 "I read this script completely in the blind, and just was absolutely enthralled with it. I was kind of grateful that I didn't know. I think I think it succeeds under both conditions to tell you the truth, whether you know the case or you don't.
"I had the benefit of not really knowing the story, reading the script and all unfolding for me [in] kind of a beautiful way."
Viewers can watch the events of Black Bird unfold when the limited series starts on Apple TV+ Friday. The first two episodes will launch on the first day before each new episode drops every Friday until the finale on August 5.
Hauser is releasing his first EP under the rap name Signet Ringer also this Friday. Murder for Higher will be available on Spotify and Apple Music.