Black Family Trying to Flag Police, Protect L.A. Store From Looters, Ends Up in Handcuffs
A black family in Los Angeles were detained and handcuffed by local police after they protected a local business from looting and flagged down the officers to pursue the looters.
The entire incident, which occurred in the Van Nuys neighborhood of Los Angeles, was captured by KTTV (Fox 11) Los Angeles. A few minutes before police handcuffed the black family, one of its members spoke on camera to the news outlet.
"He's not African American. His son's not African American," the black woman, who identified herself as a resident of the neighborhood, said, pointing to the shop owner and his son. "But you're not going to come to our city and tear our city up when this man has been here for over 30-plus years. And I help everybody out on this block."
The woman then pointed to her husband, her brother and her twin sister, explaining that they were there together in an effort to protect local businesses. "They're not moving nothing over here," she said firmly, referring to would-be looters.
But then, minutes later, after confrontations between the family and looters were caught on camera and the police were flagged down, the woman and her family members were put in handcuffs. Frantically, the reporter for Fox 11 tried to tell the officers that they'd detained the wrong people.
"Calm down for a sec, please," one of the officers told the reporter dismissively before walking away. "Yeah, relax," another said.
"You're losing your looters," the reporter warned. She then tried to tell them again that the family members being cuffed were not the looters.
Newsweek has reached out to the Los Angeles Police Department for comment on the incident but did not hear back before publication.
In a follow-up report, the Fox 11 reporter showed that the woman and her family were OK and no longer detained. "She's OK, all right. She's OK, I promise," the reporter said, after sharing a hug with the woman.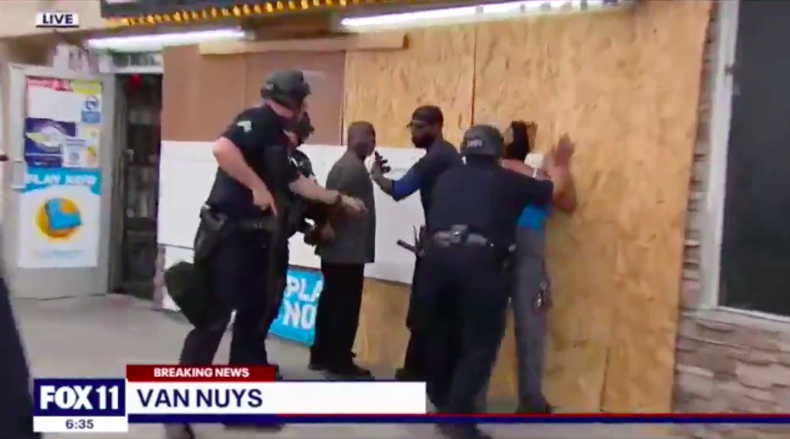 Looting and vandalism have broken out in cities across the country amid largely peaceful demonstrations against what many see as systemic racism in policing nationwide, following the May 25 killing of George Floyd in Minneapolis. Floyd died after he was detained by police for allegedly attempting to use a counterfeit $20 bill.
A video of the incident went viral online last week, showing white police officer Derek Chauvin pinning down Floyd, who was black, and kneeling on his neck for nearly nine minutes. Floyd repeatedly yelled "I can't breathe" as onlookers urged the officer to stop. Despite their pleas, Floyd was declared dead at a nearby hospital shortly afterward.
Although Chauvin and three other officers were fired by the Minneapolis Police Department, and Chauvin has been charged with murder and manslaughter, protests have persisted across the country. Activists have organized largely peaceful marches and demonstrations, but some individuals have turned to violence, vandalism and looting. Police have also been repeatedly captured on video responding violently to peaceful demonstrators.