A Black female journalist with The Washington Post is speaking out after the publication's director of video misidentified her as Breonna Taylor—the Black woman whose 2020 police killing in Louisville, Kentucky sparked numerous protests and whose name became a rallying cry during the Black Lives Matter demonstrations.
In a Twitter thread posted late Sunday, Micah Gelman, who heads the Post's video team, accidentally named video technician Breanna Muir as Breonna Taylor while thanking his team for their coverage of the war in Ukraine.
In Muir's first post to LinkedIn, which she called "disheartening" given the circumstances, she said she felt the need to stand up for herself after being misidentified.
"My name is NOT Breonna Taylor, the Black woman who was murdered in 2020," she wrote on Monday. "My name is Breanna Muir, the Black woman who has dedicated 4 years of her life to [T]he Washington Post."
"I feel horrified and humiliated," she continued. "It has been difficult for me to explain to my Black parents that the Director of Video is referring to me as Breonna Taylor in public. This was the first time that I witnessed my Black mother and Black father cry."
While it was the murder of George Floyd that ignited the mass protests against police brutality and racism in the U.S., Taylor's death, as well as Ahmaud Arbery's, were both paramount to the international demonstrations that persisted during the summer of 2020.
Notably, Taylor's death drew national attention to no-knock search warrants, like the one executed at her home which ultimately led to the 26-year-old's death on March 13, 2020.
While the city of Louisville agreed to pay a historic $12 million in a settlement with her family and to introduce new police reforms to the department in September 2020, further civil unrest in Taylor's name was ensured days later after a grand jury did not indict the three white officers involved for her death.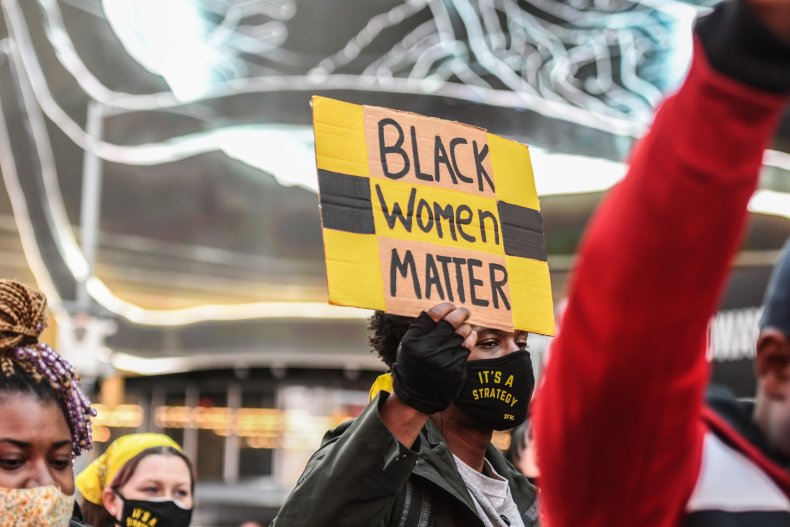 On Monday, Muir's colleague Felicia Sonmez, a national political reporter with the Post, called for an apology to be issued to Muir, who she called "an incredibly talented journalist and friend."
"The Post says it values the backgrounds and life experiences of all its employees," Sonmez tweeted. "But the Post's video team has very few women of color. Calling one of those few employees—in public!—by the name of a Black woman who was killed in 2020 is horrifying and wrong."
Gelman apologized publicly on Twitter Monday morning saying it was an unintentional mistake and that he had personally reached out to Muir to express his regret in misidentifying her.
"In a long thread last night thanking my staff for working exhaustive hours, I inadvertently misidentified Breanna Muir. I reached out to her to apologize and do so here now," Gelman wrote. "We are all working extremely long hours and while this was not intentional, it should not have happened."
He has since deleted the original tweet misnaming Muir.
In a statement sent to Newsweek, The Washington Post said that their team has also reached out to Muir in regard to Gelman's mistake.
"We do not take the impact of that error lightly and regret the emotional toll it has had on Breanna. We have also reached out to her and are committed to fostering an inclusive environment throughout the newsroom," the Post said.
In Muir's Monday statement, she highlighted how Sunday's mix-up is a common experience for many workers of color. She urged people to be more aware when addressing their colleagues and employees to avoid similar painful situations.
"Although, Breonna and I share the same ethnicity, we are two different people," Muir wrote. "Please stop misidentifying people of color in the workplace. It is not okay and I'm not okay. I pray that these type of 'mix-ups' never happen to anyone."
According to her LinkedIn, Muir has worked at the Post since 2018. She previously worked in video production for Voice of America, Monumental Sports & Entertainment and the Washington Commanders of the NFL.
Update 03/01/2022, 3:24 p.m. ET: This story has been updated with comments from The Washington Post.
Correction 03/01/2022, 12:16 p.m. ET: This article was corrected to reflect that Micah Gelman issued his apology on Monday.