Black Florida Police Chiefs Look To Weed Out 'Bad Cops,' Ask For Outside Help
Three black police chiefs from Florida asked for state and federal assistance on Wednesday in removing officers who exhibit questionable behavior from police departments.
Florida Atlantic University Police Chief Sean Brammer, Boynton Beach Police Chief Michael Gregory and Delray Beach Police Chief Javaro Sims made the request during a video conference. The chiefs expressed concern that situations such as the one in May, where Minneapolis police officers have been accused of contributing to the death of George Floyd while in their custody, could be repeated.
Democratic Congress members Ted Deutch, Lois Frankel and Alcee Hastings were present for the conference.
Brammer told the group that even when procedures are followed for removing an officer from the force, it was possible for them to be reinstated through an arbitration process.
"It's very disheartening when you identify those who tarnish the badge, and don't honor the badge and they can turn around and get their jobs back simply because an arbitrator feels they need to continue employment," Brammer said.
Chief Brammer said the reason he was asking for help was "so we won't see what happened in Minneapolis, we won't see what happened across the country."
Participants in the meeting also discussed possible national standards for police officers and a database designed to prevent flagged officers from gaining employment with other departments.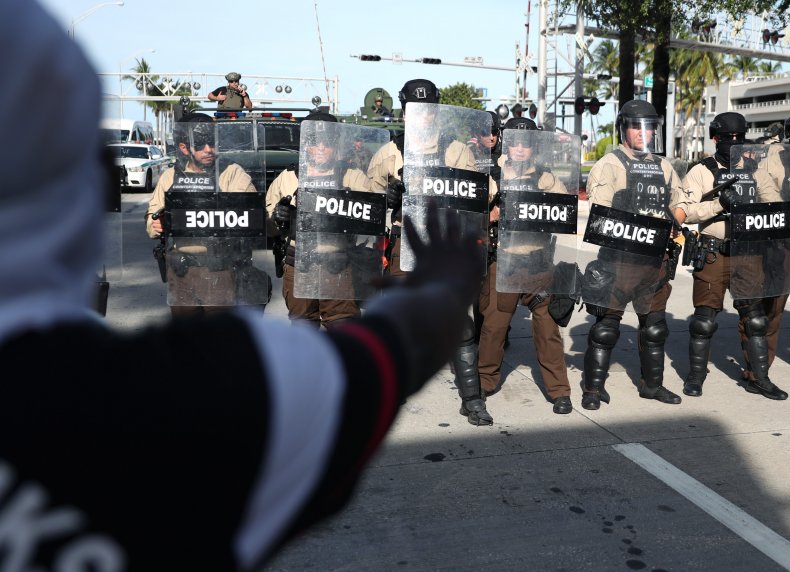 "Earlier this week I was joined by local community leaders and police chiefs for a powerful conversation on racial injustice and police reform," Congresswoman Frankel said in a Friday statement to Newsweek. "The chiefs told us that when officers abuse citizens, it makes it harder for good police to do their job. They recommended better standards for the use of force and hiring, as well as a national database of police misconduct. Democrats, led by the Congressional Black Caucus, will consider legislation with these policies and more beginning this week."
As protests over Floyd's death and perceived racism within police departments broke out across the country, some law enforcement officers found their behavior placed under scrutiny.
All four officers involved with the death of George Floyd were fired by the Minneapolis Police Department in May. Video shot by a witness showed officer Derek Chauvin kneeling on Floyd's neck for almost nine consecutive minutes. Floyd could be heard to say, "I can't breathe."
Chauvin was arrested and charged with second-degree murder and second-degree manslaughter. The other officers—Tou Thau, J. Alexander Keung and Thomas Lane—were charged with aiding and abetting second-degree murder and second-degree manslaughter. Bail for each officer was set at $1 million.
Denver police officer Thomas McClay was fired on Tuesday after posting a photograph of himself and other officers wearing riot gear on Instagram. The photo was captioned, "Let's start a riot."
After an internal affairs investigation, McClay was found to have violated the Denver Police Department's social media policy by posting "content inconsistent with the values of the Department."
In a Tuesday statement, the Denver Police Protective Association called McClay's photograph "misguided."
"For the other 1,600 Denver Police officers who are left dealing with a very difficult situation, we ask the public, as well as elected City officials, to stop using social media to fan the flames of hatred," the statement read. "It is time to end utilizing social media as a tool to divide."
Information sent to Newsweek from the Denver Police Department said the other officers in McClay's photo had not been found to be in violation of any departmental policies.
Updated 8:01 p.m. EST 06/05/2020: This story has been updated to include a statement from Congresswoman Lois Frankel.

Correction 6/8/20, 6:45 a.m. EST: This article was updated to correct the spelling of Ted Deutch.