Black Friday Store Opening Hours: When Walmart, Target, Best Buy, Apple & More Shops Open
Black Friday is officially under way. The annual event, which marks the unofficial start of the Christmas holiday shopping season, is observed on the day immediately after Thanksgiving, which this year fell on November 25.
Some retailers host early Black Friday sales, offering their discounts ahead of the official date of the event. But Black Friday officially takes place today (November 26).
Many customers opt to bag discounts online but Black Friday deals are also available in-store. The yearly shopping extravaganza sees swarms of people line up outside retailers to hit the shops as soon as doors open. Some venues have special opening times on Black Friday.
LIVE UPDATES: You can follow Newsweek's Black Friday 2021 live blog here for the latest deals and discounts.
Some stores may also have safety restrictions in place, with Black Friday taking place amid the ongoing COVID-19 pandemic. Contact your local venue to confirm any COVID-19 protocols before traveling.
Here, we look at the Black Friday store hours for some major venues across the country.
Apple
Apple stores are open from around 8 a.m. to 9 p.m. local time on Black Friday. Its branches are normally available from around 10 a.m. to 7 p.m. local time on most days.
Home Depot
Home Depot stores are operating from 6 a.m. to 10 p.m. local time on Black Friday, which are pretty much the same as the chain's typical daily hours of operation.
GameStop
The electronics store is open from around 7 a.m. to 10 p.m. local time on Black Friday. The company's normal daily hours of operation are usually open from about 10 a.m. to 9 p.m. local time.
Bed Bath & Beyond
The home goods retailer is open from around 6 a.m. to 10 p.m. local time on Black Friday. It typically operates from around 9 a.m. to 9 p.m. local time on most days.
Walmart
In a statement last month, Walmart said: "Like last year, Walmart will spread out its Black Friday savings to three events throughout November" and each event will kick off online and continue with the same deals in-store. Walmart+ members get early access to the deals for each event.
The retail giant launched its first early Black Friday event online on November 3 and in-store on November 5.
Their second Black Friday sale begins online on November 10 at 7 p.m. ET and continues in-store on November 12, with doors open from 5 a.m. local time.
Walmart says it will "wrap up a month of savings with a third event that will bring its biggest, best savings of the season," but have not revealed further details on the exact timings of the third event. Check the Walmart website for the latest information.
Target
Target's Black Friday event begins on November 26 and store hours will vary depending on the branch.
Customers are advised to contact their local venue for the "up-to-date hours" for Black Friday using the store locator at the Target website.
Best Buy
Black Friday opening times at Best Buy will also be different from their normal hours of operation. The company also advises customers to contact their local store to confirm the exact Black Friday hours for their nearest branch.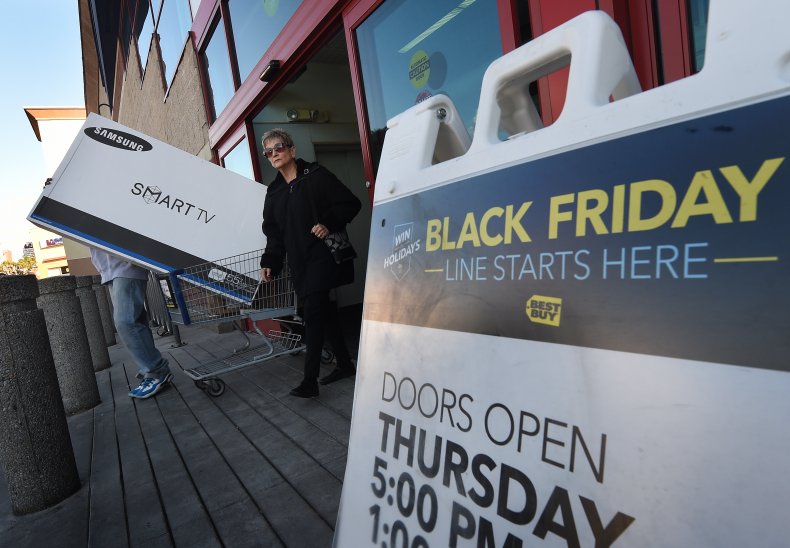 Costco
Customers are directed to contact their local venue to confirm the exact hours for their local Costco warehouse. Last year and in previous years, Costco opened its doors at 9 a.m. local time on Black Friday.
Visitors should also be aware that the hours of operation have been modified due to precautions related to COVID-19. See the Costco website for more information.
Macy's
Macy's are offering Black Friday deals on select dates until November 27 (the first sale was held on November 3 to 7).
The company says its stores are "open early & late" during the Black Friday sale. According to the Macy's website, store hours (in local time) will be from 10 a.m. to 9 p.m. on Tuesday, 10 a.m. to 11 p.m. on Wednesday, 6 a.m. to 11:59 p.m. on Friday and 9 a.m. to 11 p.m. on Saturday.
See the Macy's website for more information on store hours.
Kohl's
Kohl's stores will be open from 5 a.m. to 12 a.m. local time on Black Friday and from 8 a.m. to 11 p.m. local on November 27, according to its website.
Sam's Club
Sam's Club's stores are typically open from around 9 a.m. or 10 a.m. local time and are shorter on Sundays. The hours of operation will be extended through December 23, with stores open from Monday to Sunday until 8 p.m. local time until then, according to the website.