Black Friday, the major retail sale event taking place the day after Thanksgiving, continues this year amid the ongoing COVID-19 pandemic.
The annual shopping extravaganza usually sees swarms of customers flood stores from the early morning hours to bag discounts on various gift items, from electronics and toys to clothes, kitchenware and other products.
From the onset of COVID-19, many stores have implemented safety measures, such as face covering requirements, limited customer in-take, curtailed shopping hours and other reduced services.
Here we look at some COVID-19 restrictions in place on Black Friday at major retailers across the country.
Walmart
Walmart launched its Black Friday sale early, both online and in-store, again this year, spreading it across three events in November.
The final Black Friday event kicked off at the Walmart website on November 22 at 7 p.m. ET and launches in-store on November 26 at 5 a.m. local time.
In a statement in October, the company said: "The safety of customers and associates continues to be Walmart's highest priority, and Walmart's 'Black Friday Deals for Days' events are designed for a safe, enjoyable experience.
"All the deals are available online, and to help ensure safe shopping in stores, Walmart follows CDC [U.S. Centers for Disease Control and Prevention] guidance and local mandates," the retailer added.
All Walmart employees are required to wear face coverings, while customers are encouraged to wear mask regardless of their COVID-19 vaccination status.
Patrons can also opt to collect their online Black Friday orders through Walmart's contact-free curbside pickup service.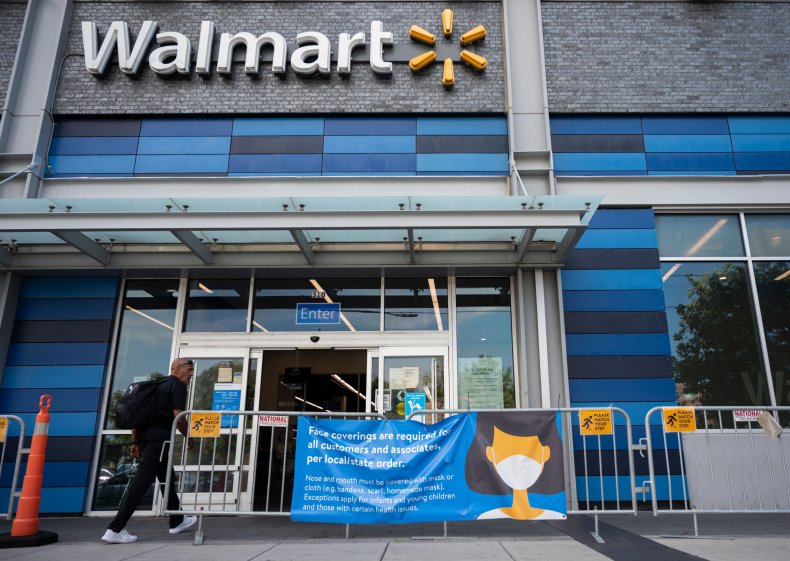 Best Buy
Earlier this year in May, Best Buy was named the "No. 1 big-box retailer for COVID-19 safety," according to a Consumer Health & Safety Index compiled by Ipsos, a market research firm, based on results from shoppers at 3,500 individual locations and a survey of 2,000 people.
The company led other brands in several categories, including social distancing measures, sanitizer offerings and employees wearing masks and gloves.
Best Buy has implemented enhanced safety measures to "help prevent the spread of illness and keep everyone safe" the company says. These measures include the following:
Best Buy recommends customers and workers to wear a face covering. "We will supply a face covering if you don't have one. Small children and those unable to wear one for health reasons may enter without one," the retailer says.
All Best Buy employees are following "multiple safety guidelines," including wellness checks, the wearing of personal protective equipment, regular cleaning of high touch areas as well as "other enhanced safety measures."
Store traffic levels are being limited to comply with the social distancing guidelines recommended by the CDC.
Best Buy's Black Friday store hours will differ from their normal hours of operation. Customers are advised to contact their local venue to confirm exact Black Friday opening times.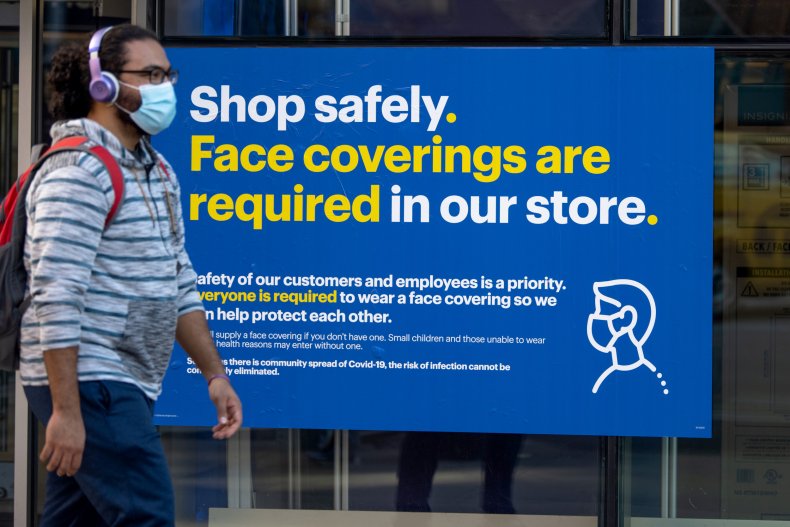 Target
Target has introduced expanded safety protocols throughout the COVID-19 pandemic. These measures include the following:
Face coverings are "strongly" recommended for non-vaccinated customers and workers in Target stores. However, "in areas with substantial or high risk of transmission, as defined by the CDC," face coverings are required for all employees and "strongly" recommended for all guests.
Employees are supplied with face masks and gloves, while customers are provided with hand sanitizer.
Carts and baskets are cleaned and disinfected by employees between each use.
Stores are frequently disinfected and cleaned throughout the day, especially high touch areas like checkout lanes.
Plexiglass partitions have been installed throughout Target stores, including at checkout lanes, cafes, guest service stations and other areas.
"Monitoring and metering" customer traffic as needed to promote social distancing.
Reminding customers to maintain social distance while shopping via floor stickers and audio messages at the stores.
In October, Target added more than 18,000 assigned spaces for curbside pickup and other features to help accommodate its busiest shopping period of the year.
Target's store hours vary depending on the branch. Customers should contact their local branch for the latest hours on Black Friday using the store locator at the Target website.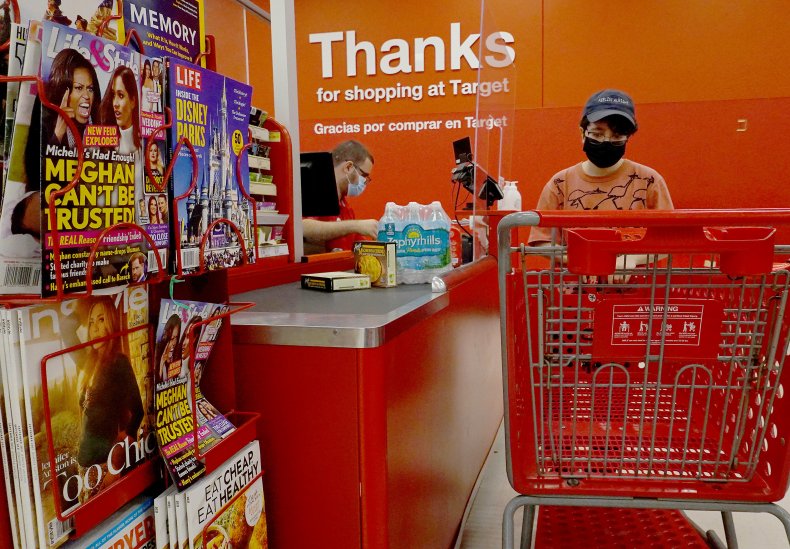 Costco
Costco also introduced several safety measures throughout the COVID-19 outbreak, including an update mask policy.
In a statement updated on November 12, the company said: "Costco locations will follow the face mask regulations of the applicable state and local jurisdictions.
"In communities where COVID-19 transmission is high or substantial, per current CDC guidance, Costco strongly recommends that all members and guests wear face masks inside our locations," Costco explained.
Some Costco venues may have "temporary item limits on select items," while some warehouses have introduced special shopping hours for Costco members aged 60 and older as well as for those with disabilities or who are immunocompromised.
These special hours are typically from 9 a.m. to 10 a.m. local time on Tuesdays and Thursdays but timings differ for some venues. See the Costco website for more information.
Last year and in previous years, Costco opened its doors at 9 a.m. local time on Black Friday. Customers are advised to check with their local venue to confirm the exact hours of operation for their nearest Costco warehouse.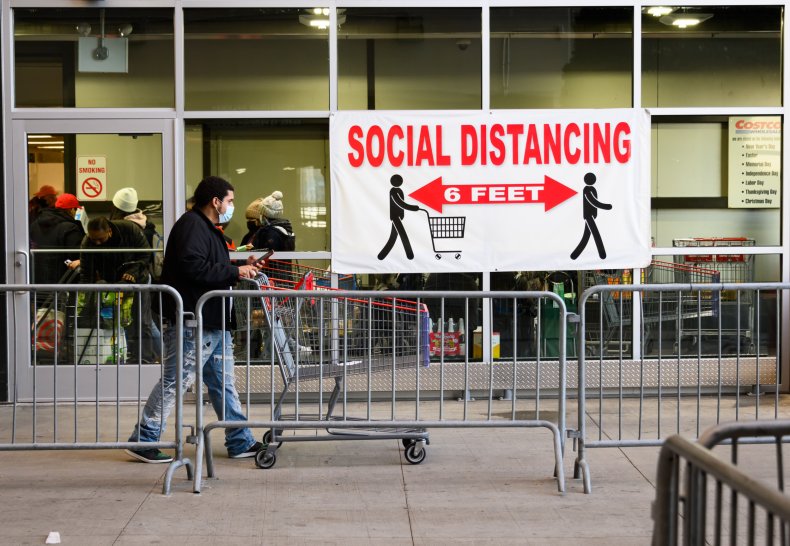 Macy's
The Macy's department store chain has several safety measures in place amid the COVID-19 pandemic. They include the following:
Wellness checks conducted on employees before starting their shifts.
Hand sanitizer provided to customers and employees.
Increased air ventilation in all Macy's stores.
Increased cleaning procedures in "high touch areas."
Plexiglass shields installed at checkout counters.
Maintaining a social distance of six feet or more.
Macy's has been offering Black Friday deals on select dates from early November and the sale will be available through November 27.
Its branches are "open early & late" during the Black Friday sale. According to its website, store hours (in local time) will be from 10 a.m. to 9 p.m. on Tuesday, 10 a.m. to 11 p.m. on Wednesday, 6 a.m. to 11:59 p.m. on Friday and 9 a.m. to 11 p.m. on Saturday.
See the Macy's website for more information on store hours.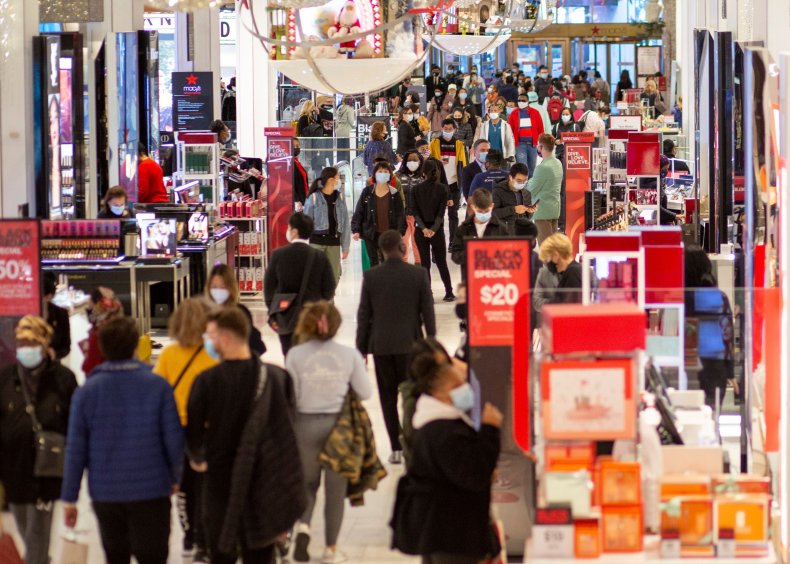 About the writer
Soo Kim is a Newsweek SEO Reporter is based in London, UK. She reports on various trends and lifestyle stories, from health, fitness and travel to psychology, relationships and family issues. She is also a South Korea expert who regularly covers Korean culture/entertainment for Newsweek, including the latest K-dramas, films and K-pop news, and is the author of the book How to Live Korean, which is available in eight languages. Soo also covered the COVID-19 pandemic extensively from 2020 through 2021 after joining the general news desk of Newsweek in 2019 from the Daily Telegraph (a U.K. national newspaper) where she was a travel reporter/editor from 2010. She is a graduate of Binghamton University in New York and the journalism school of City University in London, where she earned a Masters in international journalism. Languages spoken: English and Korean.
Follow her on Twitter at @MissSooKim or Instagram at @miss.soo.kim
You can get in touch with Soo by emailing s.kim@newsweek.com