Black LAPD Officer Taunted by Protesters in Wake of Breonna Taylor Decision
A video captured a group of protesters as they stood in front of a Black Los Angeles Police Department (LAPD) officer, yelling racial slurs and holding up their middle fingers in the wake of a decision Wednesday in the Breonna Taylor case.
The video, posted on Twitter by videographer Tomas Morales early Thursday morning, shows several people standing in front of the officer and shouting at him. At least two of the people are wearing costume masks covering their entire faces.
While much of what the protesters are saying to the officer cannot be clearly understood, they can be heard yelling racial slurs and curse words as they hold up their middle fingers inches away from the officer's face.
WARNING: Video contains offensive language.
LAPD deployed officers Wednesday night to protect the First Amendment rights of peaceful protesters in downtown Los Angeles, Captain Stacy Spell, an LAPD spokeswoman, told Newsweek in a statement.
"Images and video of protesters have circulated throughout the internet including instances where protestors attempted to provoke officers by yelling racial slurs and offensive remarks, including a confrontation in front of Police Headquarters," Spell wrote. "LAPD officers, exhibited professionalism and restraint that has been the hallmark of the dedicated women and men of this Department."
Hundreds of protesters flooded the streets of downtown Los Angeles Wednesday evening to demand that Los Angeles County District Attorney Jackie Lacey leave her position—prompted by the grand jury's decision in Jefferson County, Kentucky, to charge only one of the three officers directly involved in Taylor's March 13 death.
The grand jury indicted former Louisville Police Officer Brett Hankison on three felony counts of first-degree wanton endangerment for firing his weapon a total of 10 times while positioned outside Taylor's apartment. Some of the bullets traveled through a neighboring apartment where three residents were present at the time, including a male, pregnant female and a child.
Ultimately, the grand jury indicted Hankison for "wantonly placing three individuals in apartment three in danger of serious physical injury or death," Kentucky Attorney General Daniel Cameron said Wednesday.
The grand jury found that the other two officers involved, Sgt. Jon Mattingly and Detective Myles Cosgrove, were justified in their use of force. Mattingly and Cosgrove fired a total of 22 shots into Taylor's home after her boyfriend shot at them, believing the officers to be intruders.
Hankison's charges relate to his allegedly reckless behavior toward Taylor's neighbors, meaning that no one has been charged specifically in her death—a decision angering those who've been demanding justice for more than six months.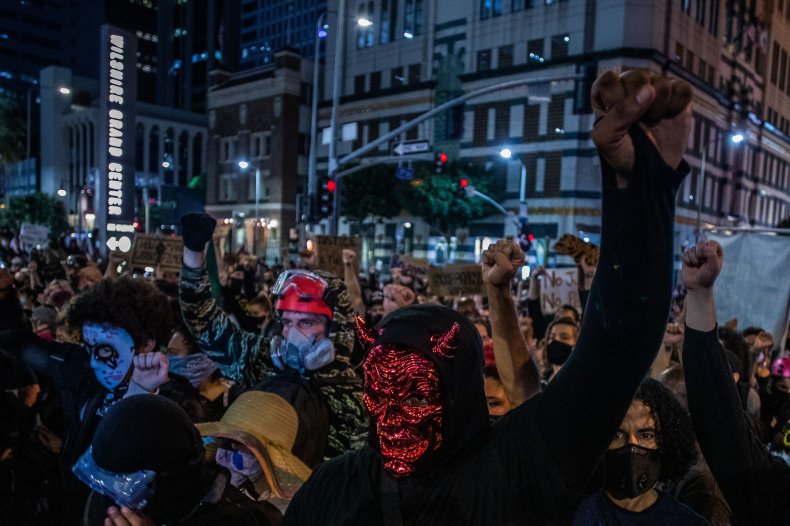 In Los Angeles, protesters assembled outside the Hall of Justice in the city's downtown area, as many of them have every Wednesday, The Los Angeles Times reported. Willie Baker, who has shown up each week in recent months, told the newspaper that more people had joined that day's protest because of the upcoming presidential election and the decision in the Taylor case.
"More should have been indicted. If we do something, we go to jail like that," Baker, 35, told the Times, snapping his fingers for emphasis. "It's time to start locking up the police, too."
Vincent Irby, a 49-year-old criminal defense attorney, told the Times he wasn't surprised by the grand jury's decision. "I understood this was going to come down to legalese," he said, "and I had a sneaking suspicion it would come down to this."
Irby, who is Black, described himself to the Times as "not a huge 'defund the police' kind of guy," saying he instead supports smaller reforms, such as requiring that police officers be partnered with social workers.
Many Black Lives Matter protesters and other activists have called for the defunding of police, meaning that some of the department's funding would be reallocated toward other community initiatives, such as health care or education. Others have called for the full abolishment of police departments in the U.S., claiming that the system is too broken to be reformed.
For Irby, however, "reform is cooperation," like his example of police officers partnering with social workers during their shifts.
"I hear the voice of the mother who lost her kid," he told the Times. "It's horrible. There is no mitigating that. But the answer is not saying, '[expletive] you, you're horrible.'"
The vast majority of protesters in Los Angeles Wednesday called for peaceful resistance, KABC-TV reported. The station's cameras did capture one person spray-painting graffiti on a building and another trying to damage a building with a hammer. A wall outside the LAPD was also sprayed with graffiti, according to KABC.
There were isolated incidents of vandalism, and the LAPD arrested one man for assaulting an officer by attempting to direct a laser into his eyes, Spell told Newsweek.
Update (09/24/20, 10:02 p.m.): This article has been updated to include a comment from the LAPD.