Black Lives Matter Activist Grabs Microphone at Pete Buttigieg Hometown Event
A Black Lives Matter activist took a microphone off a black community leader in South Bend, Indiana, who was speaking in support of Mayor Pete Buttigieg at a local event on Wednesday night.
The protester, wearing a Black Lives Matter T-shirt, was filmed shouting down local councilwoman Sharon McBride and eventually grabbing her microphone as some in the audience grew disgruntled with his disruption.
He was one of several Black Lives Matter activists at the event aimed at promoting black community support for the city's mayor, according to Buzzfeed News.
The disruption of the 2020 Democratic primary candidate's event, reportedly billed by his campaign as a "special announcement," came as questions have been raised about Buttigieg's ability to appeal to minority voters in the wake of poor polling.
In a video of the Wednesday incident shared by radio host Jason Rantz, the Black Lives Matter protester shouts "release the tapes" in an attempt to interrupt McBride, who said: "I'll address you guys in a few minutes. If you give me my time and the respect, I will do the same thing."
"Where are the black leaders that don't have three-piece suits, leather jackets and nice jewelry?" the protester responded.
One audience shouted "let her talk" at the activist as he continued his interruption of the local councilwoman.
"These black leaders are here to talk about Pete Buttigieg when there is black people having a crisis because of police violence," the activist shouted.
One woman in the second row of the audience appeared to have had enough of the protester as she rose from her seat and raised her cane before others quickly stopped the situation from escalating.
Walking to the front of the hall, the Black Lives Matter activist then took McBride's microphone and asked: "Who chose these people as the black leaders? Who organized this? We have a police crisis in this town."
Two people managed to wrestle the microphone off the protester, who shouted "this is a farce" as he was ushered toward the exit.
WSBT nightbeat reporter Max Lewis tweeted that the event was "back to order" with only a few protestors shouting at the back of the hall following the mic grab.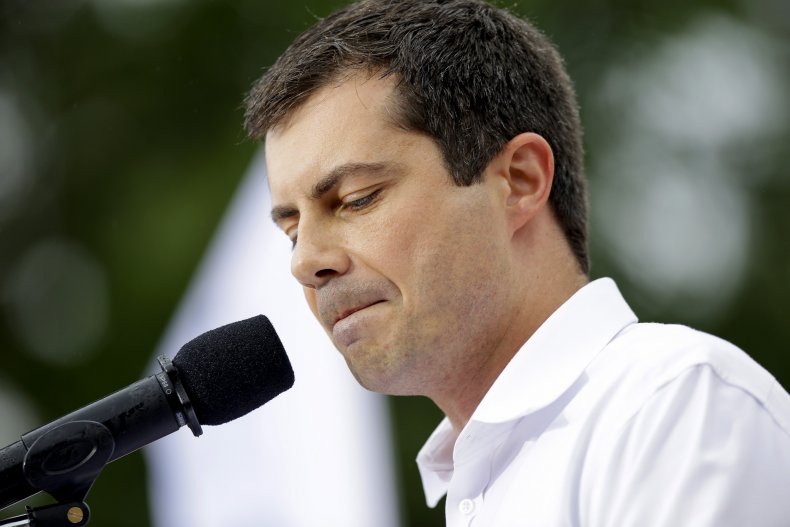 Responding to video of the disruption, Buttigieg's traveling press officer Nina Smith said: "This is what Black folks who support Pete experience all the time on Twitter. White men, grabbing the mic, insulting us, calling us 'uppity' 'purchased' and 'tokens' all in support of certain white male candidates. Careful YOUR racism is showing."
Newsweek contacted South Bend councilwoman McBride, Black Lives Matter and Pete Buttigieg's campaign for comment, but did not receive a response by time of publication.
The graphic below, provided by Statista, illustrates the level of support for Democratic candidates among black voters, with former President Joe Biden enjoying a strong lead.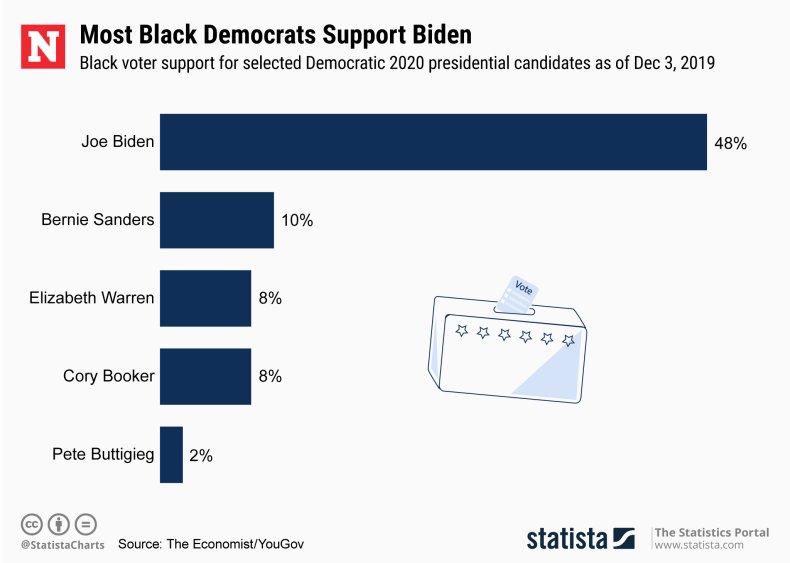 The incident last night came months after Buttigieg faced questions from members of South Bend's black community protesting in response to the shooting of 54-year-old Eric Logan by a white police officer.
When the city's mayor appeared before the June rally, one woman hit out at the 2020 Democratic candidate's presidential ambitions.
She said: "You're running for president and you want black people to vote for you? That's not going to happen."
Buttigieg has struggled to gain support among minority Democrat voters since throwing himself into the party's 2020 primary race, due in part to criticism of his record as South Bend's mayor—including his attempt to fire the city's African-American police chief back in 2012.
Speaking to Newsweek in November this year, Democratic strategist Estuardo Rodriguez said Buttigieg faced an "insurmountable roadblock" with minority voters, adding that he "hasn't made a dent" with the black and Latino communities.
A Quinnipiac University poll published on November 26 found that the South Bend mayor was supported by only 4 percent of black Democrat and Democrat-leaning voters, while another survey from the pollster revealed less than 1 percent of black Democratic voters in South Carolina backed Buttigieg.
Overall primary polling puts the candidate in a better position, with Real Clear Politics' average of polls showing him in fourth place with 11.4 percent of the Democratic vote.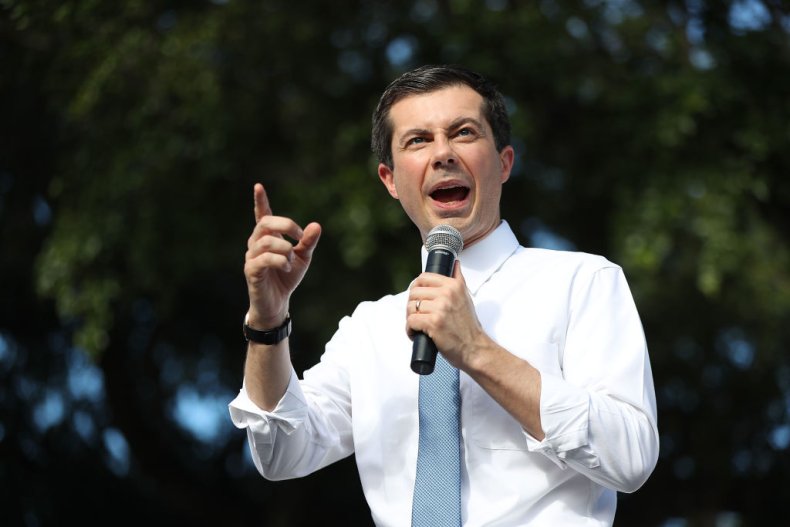 This article was updated to include an infographic.
Black Lives Matter Activist Grabs Microphone at Pete Buttigieg Hometown Event | U.S.