Pete Buttigieg Faces 'Insurmountable Roadblock' with Minority Voters, Says Democratic Strategist
A Democratic strategist has called Pete Buttigieg's struggle to appeal to minority voters an "insurmountable roadblock" after the Democratic primary candidate landed in hot water over comments he made about minority children in a 2011 interview.
Estuardo Rodriguez, a co-founder of The Raben Group public affairs firm, told Newsweek that the resurfaced video went to the "root of why there may be a lack of interest" in Buttigieg among black and latino voters, and said the mayor of South Bend, Indiana would "do well to interview this 2011 Pete and dissect the bias and white privilege he so clearly demonstrated."
But the strategist and founder of a campaign pushing for the creation of a Latino Museum also gave Buttigieg some benefit of the doubt, saying he was "sure that his views may have evolved" since the historic interview.
A clip of a 2011 TV interview with Buttigieg, then a candidate for the South Bend mayoralty, resurfaced on social media Sunday. In the video, the Democratic primary candidate said "a lot of kids" from "low income, minority neighbourhoods" did not personally know a role model "who testifies to the value of education."
"Kids need to see evidence that education is going to work for them," Buttigieg said. "You're motivated because you believe that at the end of your education, there is a reward; there's a stable life; there's a job. And there are a lot of kids—especially [in] the lower-income, minority neighborhoods, who literally just haven't seen it work. There isn't someone who they know personally who testifies to the value of education."
His comments in the resurfaced video were widely derided on social media, and eventually became the subject of a viral essay by The Root senior writer Michael Harriot, who called Buttigieg a "lying MF" who was "willing to perpetuate the fantastic narrative of negro neighborhoods needing more role models and briefcase-carriers."
After the article caused "Pete Buttigieg is a Lying MF" to trend online, the South Bend mayor called the writer to discuss the video, but stuck by his remarks.
A spokesperson for the mayor told Newsweek the conversation was "substantive," and Harriot wrote about the call, saying: "The only thing I actually know about Pete Buttigieg is that he is a white man. But Pete Buttigieg listened, which is all you can ask a white man to do."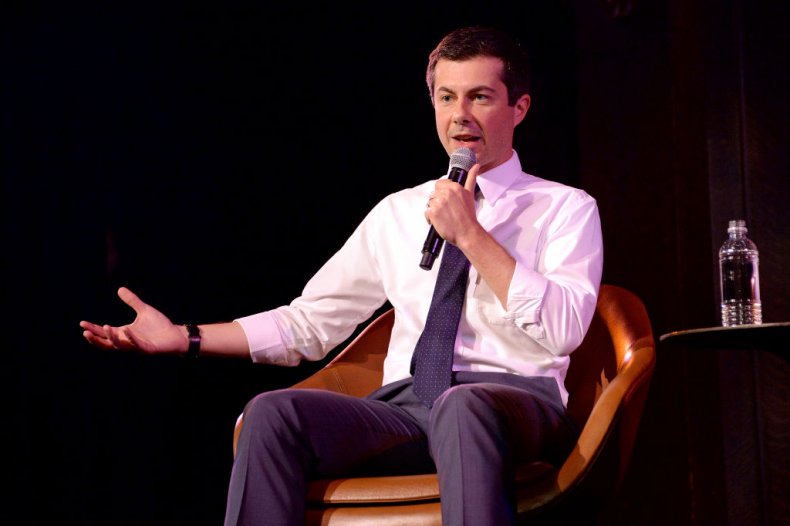 Speaking to Newsweek about the video yesterday, the strategist Estuardo Rodriguez said: "This video goes to the root of why there may be a lack of interest in Mayor Pete from Black and Latino voters. His remarks in the video oversimplify the challenges some communities face."
"In addition, his remarks assume that low income students primarily lack a good role model and they would then more easily be able to overcome the socio and economic barriers facing them and their parents, the institutional racism and bias encountered by these students many times overlooked for opportunities or entirely ignored."
He added that he was "sure" Buttigieg's views had "evolved since this video," but encouraged the mayor to "interview this 2011 Pete and dissect the bias and white privilege he so clearly demonstrated before he continues with this new, more arrogant, Mayor Pete that assumes he is currently best positioned to win even though he hasn't made a dent with black and Latino voters."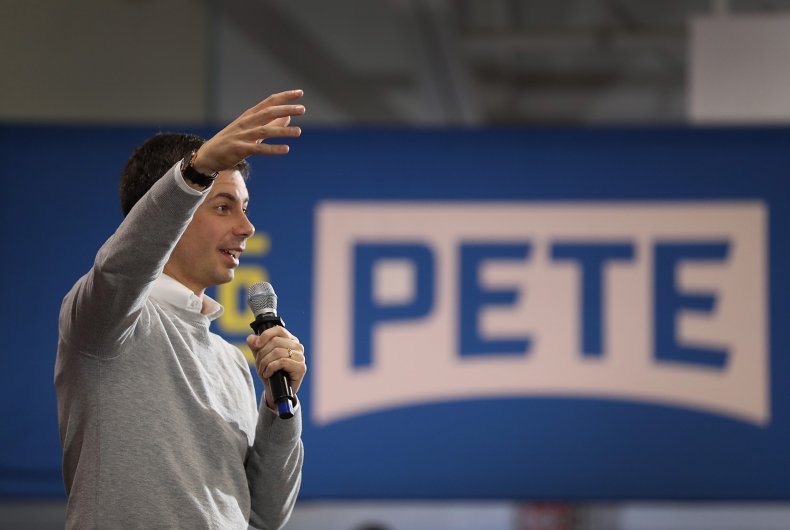 "If he were truly enlightened since 2011, he would know that the road to the White House goes through these same communities and so far it appears he is facing an insurmountable roadblock," Rodriguez concluded.
Another progressive strategist, Andrew Feldman of Feldman Strategies, had a different takeaway from the 2011 video and the ensuing fallout.
"What is most important to take away from this episode is what Pete Buttigieg did when this video came out, he didn't get defensive, he didn't call foul, but he called the author of a very critical essay to just listen and learn," Feldman said. "This move by Mayor Pete is rare in today's world of politics and could pay dividends for him in the coming months."
As polling numbers stand, Buttigieg's ratings with minority voters bode poorly for his campaign following a series of missteps in office and on the trail—such as his attempt to fire South Bend's African-American police boss back in 2012.
A Quinnipiac University Poll released yesterday found that Buttigieg was supported by just 4 percent of black Democrat and Democrat-leaning voters nationally, while another recent FiveThirtyEight/Ipsos poll found that only around 16 per cent of black and hispanic voters backed the South Bend mayor.
Yet perhaps the most alarming poll for his campaign came from a November 18 Quinnipiac survey of likely Democratic voters in South Carolina, which revealed that less than 1 percent of black voters in the state supported Buttigieg.
Overall polling has not been quite so negative for the candidate. A CNN poll published today found his support among Democrats and Democrat-leaning independents had grown to 11 percent following the fifth televised debate, putting him in a solid fourth place just three points behind Sen. Elizabeth Warren.
His national polling average has also steadily risen to 10.5 per cent, according to Real Clear Politics numbers, which also show Buttigieg leading the pack among Democratic voters in Iowa and New Hampshire ahead of their respective caucuses and primaries early next year.