Buttigieg Slammed for 'Racist Paternalism' After Saying Minority Children Lack Role Models for Education
"Pete Buttigieg is a Lying MF" was trending on social media Tuesday morning after a scathing essay under that headline, on the Democratic candidate's widely-criticized comments about minority children went viral.
The Root senior writer Michael Harriot slammed the South Bend, Indiana, mayor for claiming that children from poorer, minority neighborhoods had no role models who testified "to value of education." He also said the mayor's remarks about minority and poor children were "bulls***tery" and "insidious double-talk" that camflouaged a real problem.
In a resurfaced 2011 TV interview with Buttigieg, which was picked up on social media Sunday, the then-South Bend mayoral candidate said there were "a lot of kids" from "especially low income, minority neighborhoods" that didn't know someone personally "who testifies to the value of education."
The Democratic primary candidate was scorched on social media shortly after the film surfaced, with commentators calling his argument "bulls**t bootstraps racist paternalism" and "victim blaming."
The Root essay not only highlighted Buttigieg's difficulty in connecting with black voters—a crucial Democratic demographic—but likely deepened it. He is polling strongly in Iowa and New Hampshire, the first caucus and primary states, but the battle for the Democratic nomination quickly moves (after Nevada) to South Carolina, where African-American support will be key.
Former Vice President Joe Biden currently leads the Democratic field in black support—a November 18 Quinnipiac Poll showed Biden supported by 44 percent of black voters and Buttigieg with less than 1 percent—and Buttigieg has acknowledged that he needs help.
He's been questioned about the paucity of black officials in his campaign, about his firing of South Bend's African-American police chief, and after the shooting of a black man by a white police officer in June, about his failure to hire more African-Americans into the South Bend police force.
In a statement to Newsweek yesterday a Buttigieg spokesperson said: "Pete's point is that we have to recognize that structural barriers persist in our public education system, and that these barriers disproportionately impact low-income and minority communities."
But The Root's Michael Harriot had a different take on the mayor's comments in the resurfaced video in his essay titled: "Pete Buttigieg is a Lying MF."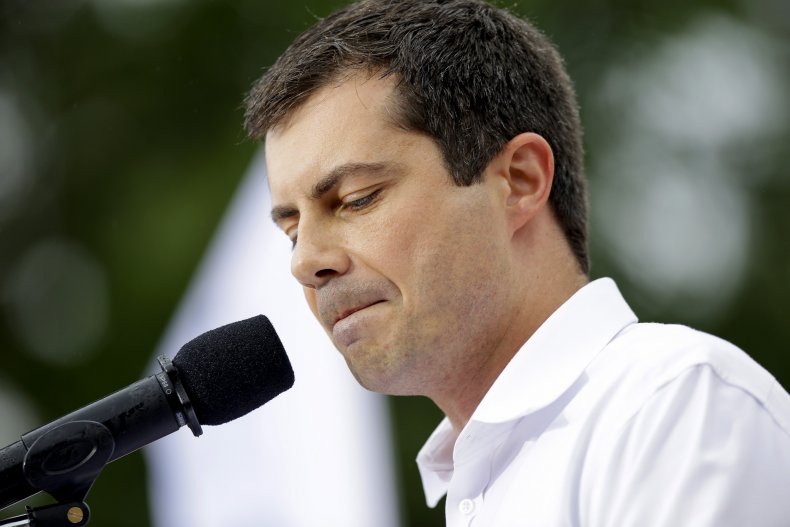 "It proves men like him are more willing to perpetuate the fantastic narrative of negro neighborhoods needing more role models and briefcase-carriers than make the people in power stare into the sun and see the blinding light of racism," he wrote last night.
"Get-along moderates would rather make s*** up out of whole cloth than wade into the waters of reality. Pete Buttigieg doesn't want to change anything. He just wants to be something."
The senior writer also pointed out that Buttigieg was of a privileged background, having "attended one of the best private schools in the country" before going on to Harvard University, suggesting he was likely well aware of the material disparities between majority-minority schools and majority-white schools, as well as the gaps between BAME college graduate outcomes and white graduate outcomes.
"Pete Buttigieg went to the best educational institutions America has to offer and he—more than anyone on the goddamned planet—knows that everything he just said is a baldfaced lie," Harriot wrote.
Update: 11/26, 12:15 p.m. The headline of this story has been changed to better reflect the story.