Black Lives Matter Raising Half a Million for Democrats in Georgia Senate Runoffs
Black Lives Matter plans to raise $500,000 to help the campaigns of Democratic candidates Raphael Warnock and Jon Ossoff as they look to overturn the Republican Senate majority in Georgia's runoff elections in January.
In an email to voters seen by Fox News, the Black Lives Matter PAC said the outcome of Georgia's Senate races would have a direct impact on efforts to reform the criminal justice system, electoral processes and access to health care.
It was also reported by Fox News that the email said Georgia's Senate runoff races could also affect the future of progressive policy proposals, such as the BREATHE Act—which looks to divest funds from policing and redirect federal money to other agencies and initiatives.
"We know how important this election is going to be in determining what decisions will be made in the Senate for the next few years," the Black Lives Matter email, seen by Fox News, reportedly read.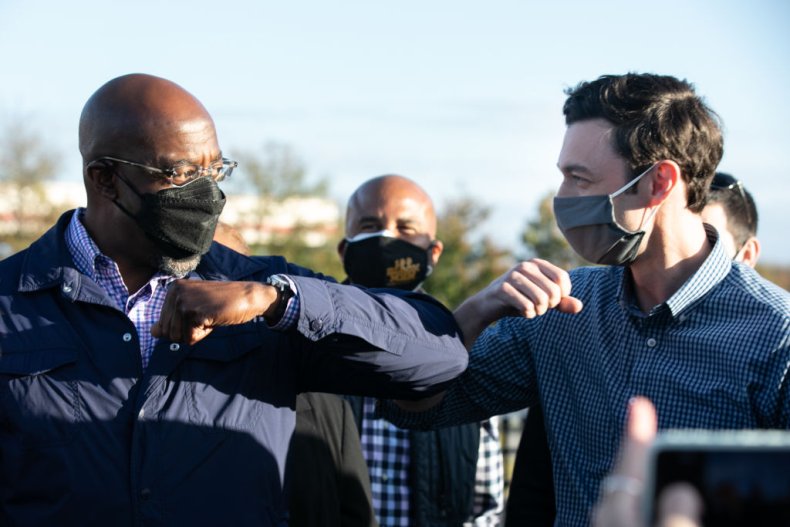 "Decisions that will impact us directly, like access to quality and affordable health care, reforming the criminal justice system, all the way to major electoral reform like passing the BREATHE Act."
Newsweek has contacted Black Lives Matter for further details and comment. This article will be updated with any response.
Fox News reported on the group's plans to back Ossoff and Warnock in the Georgia Senate runoff elections as millions of dollars flooded into the races—putting them in the running to be two of the most expensive Senate contests in U.S. history.
Republican Senator Lindsey Graham said he had wired $1 million from his own re-election campaign fund to Republican Senators Kelly Loeffler and David Perdue earlier this week, as the Georgian incumbents sought to hold onto their seats in the upper chamber.
The South Carolinian lawmaker also called on his colleagues to send in any left over funds from their campaigns to Loeffler and Perdue before the January 5 elections.
It was reported by The New York Times last week that more than $125 million had been donated to the Georgia Senate runoff campaigns within the space of a fortnight. Similar sums have also been spent on campaign advertising.
Even romance writers have gotten in on the act, with the Democratic Romancing the Runoff group raising nearly $400,000 for the Ossoff and Perdue campaigns in the hope of winning effective control of the Senate.
Should the Republican incumbents lose their seats in the upper chamber, the Senate will be taken to a 50-50 split. Under that composition, Vice President-elect Kamala Harris would have a crucial tiebreaker vote.