The Black Lives Matter movement is "more energized than ever" after being nominated for the 2021 Nobel Peace Prize, co-founder Patrisse Cullors told Newsweek.
Petter Eide, a Socialist Left member of Norway's parliament, nominated Black Lives Matter for the award as he felt its call for systemic change has spread far beyond the U.S.
"BLM's call for systemic change has spread around the world, forcing other countries to grapple with racism within their own societies," he wrote in his nomination letter.
Eide cited Black Lives Matter's "online platform to provide activists with a shared set of principles and goals," and said the movement "comprises many views and a broad array of demands."
He added that awarding the peace prize to Black Lives Matter "will send a powerful message that peace is founded on equality, solidarity, and human rights, and that all countries must respect those basic principles."
Black Lives Matter was founded by Cullors, Alicia Garza and Opal Tometi in 2013 after the acquittal of the man who killed Trayvon Martin. It gained additional momentum the following year amid protests over the police killings of Michael Brown, Eric Garner and Tamir Rice.
Last year, Black Lives Matter protests triggered by the death of George Floyd in Minneapolis police custody spread across the U.S. and abroad and prompted a wider reckoning on race.
"We are the largest social movement in history, and people around the world are waking up to the fact no one is free until Black folks are free," Cullors told Newsweek.
"And this call isn't one that just lives in the United States, it is a global call for racial justice and an end to economic injustice, environmental racism and white supremacy.
"We are honored the movement is being recognized, and are more energized than ever to continue to fight for Black lives."
She thanked Eide for the nomination and "for seeing that our call to action is one rooted in justice, love, and dignity."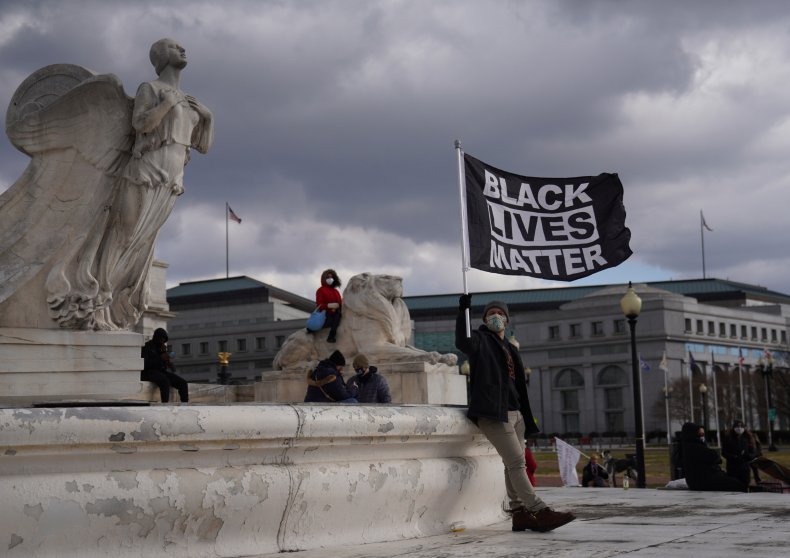 On Sunday, Eide said he had been inundated with "hateful" messages from Americans since he nominated Black Lives Matter.
Eide told ABC News he was not prepared for the backlash, but said he had no plans to withdraw the nomination.
"This weekend I have received so many negative responses from individual Americans telling me that Black Lives Matter is a violent and aggressive organization, that they are deliberately using violence as a political communication tool and that nominating them for the Nobel Peace Prize is quite insane," Eide said.
He did not elaborate on the messages he had received, but said: "They were very nasty, and some of them were also threats. They were hateful." Eide has been contacted for additional comment.
Nominations for the 2021 Nobel Peace Prize were due by Monday. The winner will be announced in October.
The nominations aren't announced by the Norwegian Nobel Committee, but those doing the nominating can choose to make it public.
Also among the 2021 nominees are voting rights activist Stacey Abrams and former White House adviser Jared Kushner.