Black Lives Matter Support for Socialism Creates Sharp Divide with Cuban Americans
As Cuban protesters spilled onto the streets and allies took to social media to express their solidarity with historic demonstrations unseen in Cuba over the last half century, one statement received outsized attention and derision.
Black Lives Matter, the organization behind the movement that The New York Times called the largest in American history, condemned the U.S. embargo in the first line of its statement, while lauding Cuba for "historically demonstrating solidarity with oppressed peoples of African descent."
For Cuban-Americans across the political spectrum who put the blame for the desperation Cubans on the island feel at the feet of the dictatorship that runs the country, it was seen as a slap in the face.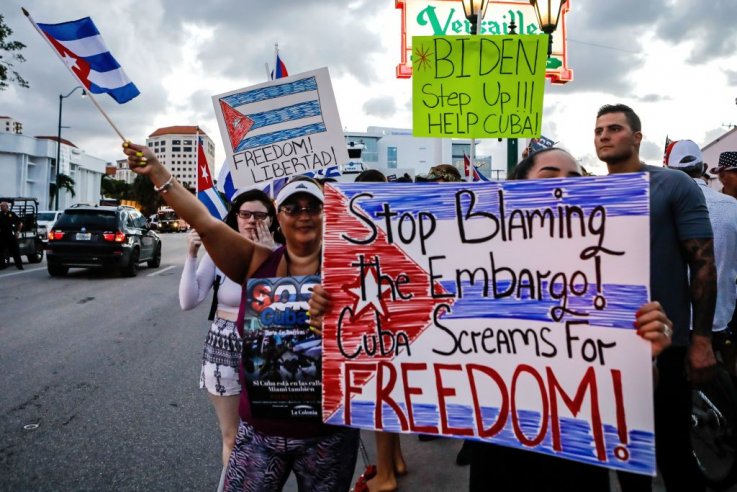 People hold Cuban flags and placards during a protest showing support for Cubans demonstrating against their government, in Miami, Florida on July 16, 2021.
Eva Marie UZCATEGUI / AFP/Getty Images
"So many of us have marched at Black Lives Matter rallies," said filmmaker Tony Hernandez, whose parents fled Cuba on freedom flights in 1967, and who has made ads for Democrats.
"My daughters and I, we believe wholeheartedly that Black Lives Matter and you shouldn't get the sh** kicked out of you by cops, and a 12-year-old shouldn't be shot because he has a toy gun," he said. "But when it comes to Cuban suffering we see Black Lives Matter take the side of the oppressor, rather than the side of the oppressed."
"What happened to George Floyd is happening to hundreds of people on the island," he told Newsweek.
In the wake of the BLM statement, Laz Alonso, a Black actor of Cuban descent, released an Instagram video that has received more than 750,000 views. In it he states bluntly that to reduce Cuba's problems to simply the U.S. embargo, which began in 1962, is "unethical," "insensitive," "tone-deaf" and "willfully ignorant."
Many Cuban-Americans who spoke with Newsweek reiterated their support for the group's central tenet that Black lives matter, while denouncing and distancing themselves from leaders of the organization who support socialism. After the BLM statement, a Miami Herald op-ed declared "Afro-Cuban lives don't matter to the shameful leaders of Black Lives Matter."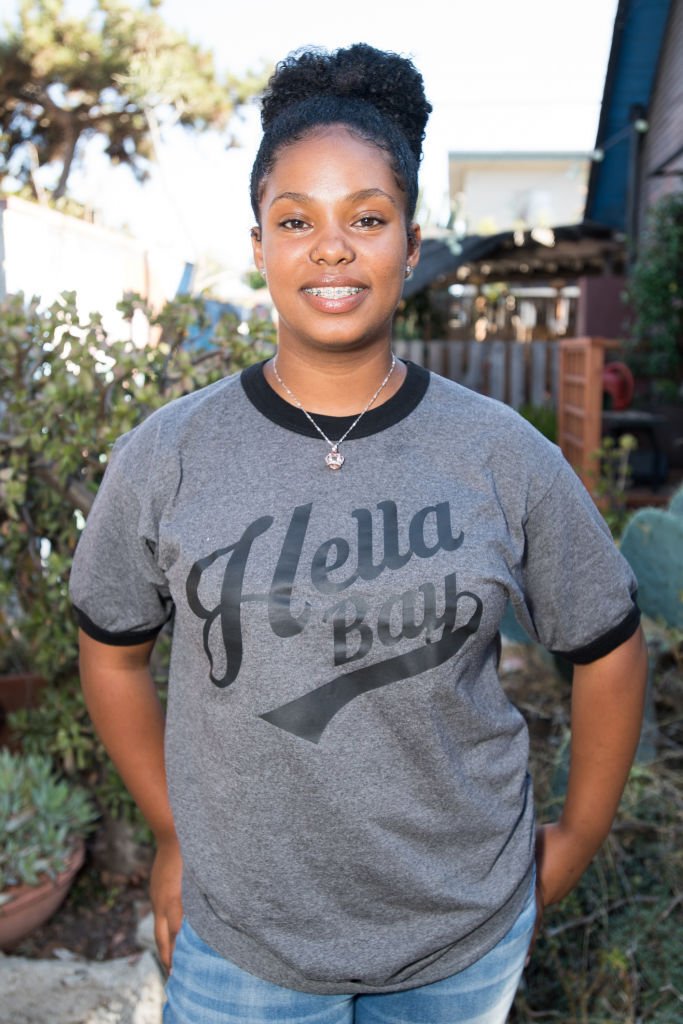 Co-founder of Black Lives Matter Los Angeles Youth Vanguard Thandiwe Abdullah attends 'Women's March Los Angeles hosts March For Our Lives LA: Road to Change & the Parkland survivors & activists' at St. Elmo's Village on July 20, 2018 in Los Angeles, California.
Emma McIntyre/Getty Images
Thandiwe Abdullah, a Black Lives Matter activist who wrote the first draft of the Cuba statement, told Newsweek a widely held belief within the organization, regardless of race, is that "As Americans, our job is not to talk about the Cuban government, we don't live in Cuba, we don't know the intricacies and nuances. That is not our lived experience. Our lived experience is with the American regime."
"Many people within BLM believe it's our responsibility as people who live in America to speak up when our country is destabilizing other countries," she said.
As the Cuban government engages in a brutal crackdown to stamp out the embers of protest, including arrests and mass trials with swift convictions, the regime change that many Cuban-Americans pray for many not come soon.
But the legacy of the protests will continue to reverberate from Miami to Washington, and the rift between an ascendant but controversial Black-led organization and south Florida's influential Cuban-American bloc is likely to continue to fester, and could have political repercussions moving forward.
Black Americans and Cubans in south Florida have a history fraught with tension.
The Civil Rights Movement and Cuban Revolution 'Collide'
According to "On the Edge: Blacks and Hispanics in Metropolitan Miami Since 1959," written by Raymond A. Mohl in 1990, more than 800,000 Cubans arrived in south Florida from 1959 to 1980 to escape the Cuban revolution, "just as the civil rights movement was opening things up for long-depressed and long-repressed black communities,"
By June 1963, Mohl notes, discussion of "Cuban economic competition with Miami Blacks" had become commonplace. That's when Ebony magazine published a piece on the "Cuban invasion" of south Florida.
Cubans, Ebony wrote, injected "new life" into the city, but "also brought in the wake of their invasion a host of grave social and economic problems." Those problems included competition for jobs, housing, schools, and government services.
"The Cubans are slowly taking over the business of Dade County," complained the Miami Times, the city's Black weekly newspaper, in 1966.
Protests in 1968 during the Republican National Convention in Miami Beach led to racial violence, with Cuban economic competition and government favoritism among the official explanations.
The book includes a New York Times quote from 1974 that summed it up as, "The role of the Cubans in the Miami job market of the early sixties contributed to a legacy of racial tension that hangs over black-Cuban relations today."
But economic anxiety wasn't the only thing worrying Black Americans in south Florida at the time.
Police brutality, including the shocking killing of Arthur McDuffie, a 33-year-old former Marine who ran a red light and was beaten by a dozen police officers, fell into a coma and later died, also enraged African-Americans. Five months after his death, an all-white Tampa jury acquitted the cops, leading to the 1980 McDuffie riots.
While the officers are often described as white, one was 25-year-old Cuban Alex Marrero, who was charged with second-degree murder after testimony that he swung his heavy-duty flashlight with two hands and struck the forehead of McDuffie, according to "McDuffie: The Case Behind Miami's Riots," written by Patrice Gaines-Carter.
Some people in the Cuban community raised money for Marrero's defense, claiming he was given a heavier charge because he was a minority, Gaines-Carter wrote.
The claim received some support in the Black community. However, the Black community also called for murder charges against all of the officers involved in the beating, Gaines-Carter concluded.
"The Black and Cuban community have experienced tension for decades," Danielle Clealand, associate professor of Mexican American and Latina/o studies at the University of Texas at Austin and author of "The Power of Race in Cuba," told Newsweek.
But she said one need not look all the way back to race riots and the economic anxiety of the 1960's to find it. She said it was just last year when BLM protests were counter-protested by Cuban-Americans waving Trump flags.
"Cubans on the left who might feel betrayed by BLM's statements have to put all of this in context with the relationship with all white Cubans and Black Americans in Miami, calling it an outgrowth of "significant anti-Blackness."
Another example, she said, was the way police escorted Cuban-American protesters down the main thoroughfares in Miami recently, in contrast to how BLM protestors were treated.
"There's a lot of privilege that white Cubans hold," she said. "And sometimes the anti-socialism rhetoric can be a cover for anti-Blackness."
Where Black Lives Matter Stands on Cuba Now
When Fidel Castro died in 2016, Black Lives Matter tweeted "Rest in Power #FidelCastro." So it did not come as a surprise when, in the wake of the group's comments about the Cuban embargo, the old tweet began to rocket around social media by disgusted Cuban-Americans who were angry at the organization's leaders.
Clealand said Cuba was often "romanticized" by Black Cubans, which came out of the early years of the revolution and Castro's talk about marginalization and ending racial segregation, including missions abroad and opening borders to the Black Liberation Movement.
Clealand said she agreed with BLM's comments about the U.S. embargo, but was also critical of the organization's statement.
"The part I didn't agree with was Cuba being historically in solidarity with Black folks. I took issue with that," she said. "Although Cuba has engaged with missions abroad to support Black countries, they have not been in solidarity with Black folks in Cuba. For me, I couldn't stay silent when BLM was praising a government that would not allow BLM to exist in that country."
Marc Lamont Hill, the host of Black News Tonight on BET, said that BLM as a movement "is committed to dismantling structures of exploitation."
But he acknowledged the complexities in a conversation with Newsweek and in a recent segment on his show that featured Clealand as well.
"The contradictions of the Cuban revolution are not unclear to many of us," Hill said. "There's a tendency to romanticize revolutions in Cuba, Syria, and Venezuela, and we have to hold space for that critique as well."
A source close to Black Lives Matter, who asked for anonymity because the backlash to the group's Cuba statement has led to insults and #SOSCuba supporters calling them the N-word via email, acknowledged there is nothing "revolutionary" about "state violence" by the Cuban government.
But they said there is a political aspect to the Black Lives Matter Global Network Foundation's response to the unrest in Cuba.
"The way in which this movement is kind of honing in on Afro-Cubans as a legitimate voice I find to be very important and also tricky," the source said. "Some of what seems to be happening here is people telling us to listen to the Black people in Cuba tell us how terrible the government is but using it to pursue more of an anti-communist agenda, rather than a pro-democracy agenda."
Abdullah, the co-founder of the Black Lives Matter Youth Vanguard and author of the original draft of the group's statement on the embargo, is part of the ongoing legacy of the organization, but also represents the hard lines that may keep some Cuban-Americans from wanting to further engage with the group.
She is only 17, yet she was been affiliated with the group since she was 9, when her single mother began organizing around the galvanizing killing of Trayvon Martin as an original Black Lives Matter member.
"I keep thinking about that myself, all these bold people are really beefing with a 17-year-old," she told Newsweek.
"I compare the Cuban government to the government I know," she said. "I definitely do view Fidel and the revolution as more pro-Black than the government I'm living in. Cuba stood in solidarity with Black revolutionaries, like Assata Shakur, and going to African countries. That's more than I can say for my own country."
Political Legacy On U.S. Shores and Obstacles for Democrats
When word got around that the original leaders of Black Lives Matter were "trained Marxists," it wasn't just shared by rightwing provocateurs or Trump supporters, like Mark Levin and Rudy Giuliani, but by Cuban-Americans of all political stripes who had found an old interview with one of the group's original co-founders, Patrisse Cullors.
"We actually do have an ideological frame," she said then of herself and co-founder Alicia Garza, who stepped away long ago.
"Myself and Alicia in particular are trained organizers. We are trained Marxists. We are super-versed on, sort of, ideological theories," she said. "And I think that what we really tried to do is build a movement that could be utilized by many, many Black folk."
"We don't necessarily want to be the vanguard of this movement," she added. "I think we've tried to put out a political frame that's about centering who we think are the most vulnerable amongst the Black community, to really fight for all of our lives. And I do think that we have some clear direction around where we want to take this movement."
Cullors left Black Lives Matter leadership in May.
Vanessa Garcia, a Miami playwright, created the acclaimed "The Amparo Experience," which traces the history of Havana Club Rum by transporting the audience back to Cuba in the 1950s, showing how the distillery's founding Arechabala family was ripped apart by Fidel Castro's revolution.
Married to a Black man, supportive of BLM, and "voting blue" in recent years, Garcia said "the problem that I and the Cuban-American community had with Black Lives Matter is the leaders of the organization saying they were trained Marxists and essentially that a solution to the problems in this country is Marxism."
Even if the Cuban protests fade, this thorny political dynamic could create an ongoing headache for Democrats looking to claw back Latino support in south Florida.
"The politics is difficult for Democrats," said former Miami Dade GOP chair Nelson Diaz. He stressed that while he "strongly" believes "that Black lives do matter," he is not a supporter of the organization because of its political views.
"It's a big political problem for the Democrats, who essentially have to choose between regaining what they lost with the Hispanic vote in south Florida and the Black Lives Matter movement," he said. "And it seems you can't have both because the organization, not the movement, has chosen to side with a socialist dictatorship."
Felice Gorordo, who was a member of the Biden campaign's national finance committee, met last week with President Joe Biden at the White House, along with national security advisor Jake Sullivan and other Cuban-American activists.
He told Newsweek that Biden made it very clear he stands firmly with the Cuban people who are risking it all. Gorordo said Biden pledged to do everything he can to hold the Cuban government accountable, provide humanitarian assistance and access to remittances, and work to improve the internet on the island, saying "every option is on the table."
Fernand Amandi, Obama's former pollster on the Latino vote, told Newsweek that for many like him who support the larger BLM movement "and the necessary idea that Black lives matter," the leaders that have co-opted it "are doing tremendous damage to the larger movement that millions of people around the world support."
"Tone deaf and factually inaccurate statements allow Republicans working in bad faith to further weaponize and poison the otherwise tremendous goodwill that exists for many around the BLM movement," he said.
Abdullah, like others around BLM, said more dialogue between Black organizers and Cuban-Americans could help bridge some of these gaps, but she said that dialogue must begin in an honest place.
"It was funny to me when there was all this outrage, a lot of Cuban-Americans took Black Lives Matter out of their bio," she said, pointing to accounts on social media.
"If this is something that makes you question your solidarity with Black people, then I don't think you understand what Black people want, Black radical history, and what liberation would mean," she said. "When we have these conversations, what does it mean to be an ally? The black square doesn't make you an ally."
"Cuban-Americans are asking Black folks to have an understanding of history with the Cuban government, but they have to have that understanding on both sides," Abdullah said.