'Black Lives Matter' Will Be Painted on Streets in Every NYC Borough
"Black Lives Matter" will soon be painted on prominent streets in each of New York City's five boroughs, Mayor Bill de Blasio announced Tuesday.
The decision was made Sunday at Gracie Mansion, the mayor's official residence, during a discussion with activists about how to move the city forward in light of the recent protests against police violence, de Blasio said during a Tuesday news briefing.
"The activists said, 'It's time to do something officially representing this city to recognize the power of the fundamental idea of Black Lives Matter—the idea that so much of American history has wrongly renounced but now must be affirmed," de Blasio said.
The mayor was joined during his briefing by five civil rights leaders and activists, including the CEO and founder of Harlem-based Street Corner Resources, Iesha Sekou. During the briefing, Sekou said the mother of Eric Garner, who died while in police custody in 2014, and other families whose loved ones died as a result of police violence against black Americans supported the decision to paint the city streets with the Black Lives Matter movement's message.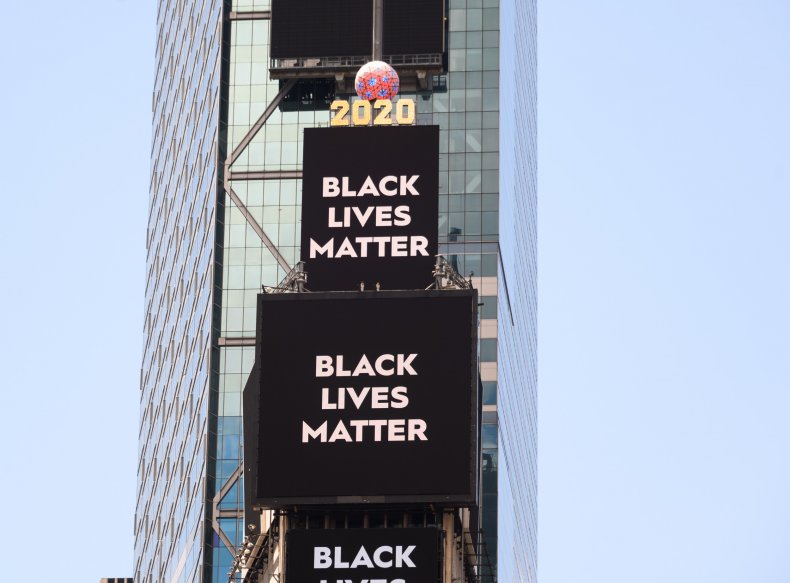 "I have to say that they are in support of the street renaming, and that there are good vibrations coming from that," Sekou said. "But I would be remiss if I stood here and didn't talk about those mothers and grandmothers like myself."
Sekou spoke of her 23-year-old grandson, whom she said she worried about every time he came to visit her in New York. "I'm glad that we're in conversation about actions that need to be taken, about the consequences for wrong police behavior," she said. "We also want to make sure that police are not allowed to act in the way that we've been seeing."
According to de Blasio, Sunday's meeting inspired a "powerful, moving, thoughtful" conversation that left him hopeful about the city's path forward.
"We spoke for quite a long time about just how much pain there is, about just how many challenges people feel in their everyday life, how much racism affects every moment of every day—particularly policing," de Blasio said. "We talked about the culture of policing that has to change. We talked about how pervasive the problems were."
New York City, like countless other cities across the U.S. and around the world, has been the site of protests against police violence over the past two weeks. The protests began after George Floyd, a 46-year-old black man, died while in police custody in Minneapolis on May 25. Like Garner in 2014, Floyd in the final moments of his life uttered "I can't breathe," a phrase that has become synonymous with the Black Lives Matter movement.
Last Friday, Mayor Muriel Bowser of Washington, D.C., unveiled the city's own tribute to the movement a few blocks away from the White House, where thousands of protesters gathered peacefully this past Saturday. In addition to painting "Black Lives Matter" in large yellow letters on the street heading to the White House, Bowser announced the official renaming of "Black Lives Matter Plaza" near St. John's Episcopal Church.
In New York City, de Blasio said he and activist leaders on Sunday sought to find ways they could bring about immediate change in the wake of the protests that have swept the nation and captured international attention. "Deeds, not words," de Blasio said of the meeting's focus.
To start, "Black Lives Matter" will be painted on a street near City Hall in lower Manhattan. The other four locations will be determined in conversations with activist leaders and the New York City Council in the days to come, the mayor said.
"What will be clear in the street names and on the streets of our city is that message that now this city must fully, fully, deeply feel, and this nation must as well: Black lives matter," de Blasio said.
Black Lives Matter did not respond to Newsweek's request for comment before publication.