Black Lives Matter Won the Election, But They Don't See Biden as a Savior
2020 saw Black Lives Matter protests spread across the world after a white Minneapolis police officer kneeled on George Floyd's neck for almost eight minutes.
Fueled by the fury over police killings like Breonna Taylor's and compounded by the fact that Black people are disproportionately dying of COVID-19, this year saw the U.S. grapple with its legacy of slavery and the racial inequality that continues to this day.
Many saw this year's election as a referendum on race—and view President Donald Trump's defeat as a huge victory for the Black Lives Matter movement.
Patrisse Cullors, one of the co-founders of Black Lives Matter, told Newsweek that Joe Biden's win is "an important first step toward showing our power is growing, and that safe, strong, and healthy Black communities are our future."
Her point is underscored by Cori Bush's historic win in Missouri. Bush, who got into politics after protesting the 2014 police shooting of Michael Brown in Ferguson, Missouri, was elected the state's first Black congresswoman.
Cullors added: "While Joe Biden is far from perfect, with a leader in office who will condemn white supremacy, we can begin the work of dismantling a system that for too long hasn't worked for the Black community."
The Black community was "the catalyst for Biden's win—especially Black women who vote at the highest levels of any demographic in the country," Cullors said.
And indeed, exit polls show that 87 percent of the Black vote went to Biden, compared to just 12 percent for Trump.
Black votes were also crucial in flipping key battleground states—Wisconsin, Michigan and Pennsylvania—that clinched the presidency for Biden. In fact, it was mail-in ballots cast in Philadelphia, a city that has seen many protests over police brutality and racial injustice over the course of the year, that pushed Biden over the threshold of the 270 Electoral College votes needed to win the White House.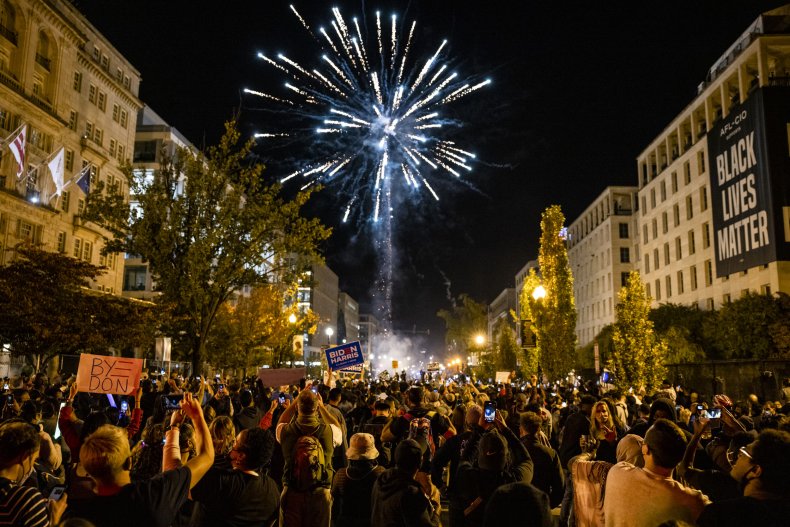 Jessica Byrd, the founder of the Movement for Black Lives' Electoral Justice Project and a leader of The Frontline, a Black-led, multiracial coalition effort to galvanize voters, said the months of protests against police brutality and racial injustice "changed the political conditions for [Biden] to win."
"I don't view Biden as a savior," she told Newsweek, "but I do view him as an organizing target, that allows for us to negotiate the terms of what it means to be here and to build, to co-create this country with each other."
Although the Democrat is set to take office in January, Byrd said the Movement for Black Lives will start organizing on a local and federal level immediately.
Byrd says they'll fight for Biden to make good on the promises he made on the campaign trail that would "immediately support Black lives" in his administration's first 100 days. "This election has always seen as one step in our long fight for liberation," Cullors added.
Both Biden and Harris have already acknowledged the role that Black voters had played in securing their victory, and pledged to work to address the issues of systemic racism in the U.S.
"The African American community stood up again for me," Biden said in a victory speech in Wilmington, Delaware on Saturday night. "They always have my back, and I'll have yours," he added.
Harris, who has made history after becoming the first woman as well as the first Black person to be elected vice president, gave a nod to the Black Lives Matter protests that have taken place over the course of this year.
Americans "marched and organized for equality and justice, for our lives, and for our planet. And then, you voted. You delivered a clear message," she said.
On the official Biden-Harris transition website, racial equity is listed one of its four priorities. The website says the administration intends to work with Congress to pass legislation on police reform, including: a nationwide ban on chokeholds; to stop the transfer of weapons of war to police forces; to improve oversight and accountability; and to create a national police oversight commission.
Cullors on Saturday sent a letter to Biden and Harris, requesting a meeting and urging their transition to "take your direction from Black grassroots organizers that have been engaged in this work for decades."
A spokesperson for Cullors told Newsweek they have yet to receive a response. The Biden-Harris transition has been contacted for comment.
With Biden set to take office in January, there is "an opportunity for the movement to push its divest/invest policy," Cullors said, citing the BREATHE Act which she described as "our modern-day Civil Rights Act."
The proposed federal legislation would drastically change the nation's criminal justice system and specifically would divest federal resources from incarceration and policing.
"We need to hold all our leaders—including our allies—accountable toward building a more just system. We have much work ahead of us," Cullors said.
"Even with Joe Biden's win, voter suppression is far too prevalent in our country. It is one more reason why we must keep fighting for election reform, to ensure Black people are allowed to vote and that their votes are counted."
Byrd added that other goals include ending cash bail, securing amnesty for protesters who were arrested over the summer's demonstrations and a "engaging meaningfully" in a conversation about policing in the U.S.
"We are going to organize federally to apply that pressure and to demonstrate that when 26 million people protest over the course of four months in defence of Black lives, that provides us a mandate," she added.
"We have a rightful stake in building the future of this country. Black activists need to be heard and so we will be organizing as he puts together his administration, organizing political pressure as they build the first 100 day agenda. We are not going to let up."