Black Man Finds Racist Statues Outside Customer's Home
A Black tech support worker was stunned to discover two racist statues in the garden of a customer's home.
In a video posted to TikTok by malacheeman, the internet support worker shared clips of what he encountered during a visit to help a woman struggling to connect to her Wi-Fi in Atlanta, Georgia.
"So I went to this lady's house to fix her wifi, and I see this," a voiceover on the footage explains.
The video then zooms in on a figurine of a small Black racial caricature eating a watermelon.
"Is it really eating watermelon?" the voiceover asks,
A moment later, the camera pans over to a statue with similarly racist connotations, positioned close to the walkway and front door of the woman's house.
"My God, I just knew this was racist," the voiceover tells followers.
He then turns the camera on himself, zooming in while the commentary track explains "My manager isn't answering the phone, welp."
The video then cuts to a shot of the I.T. worker wearing a mask inside the unidentified woman's home as he prepares to assist with her internet outage.
"Now I am inside, wish me luck."
His experience continues across a second video, with malacheeman assuring his followers that he is "all good guys."
He then goes on to reveal "She offered me coffee but I have watched Get Out too many times."
Later he pans the camera pans down to reveal a book, titled Let Trump Be Trump on a side table close to an armchair.
The clip ends with the internet service worker confirming that his manager did eventually arrive to "save" him.
First posted to TikTok on Friday, the original video has now been viewed more than 3.1 million times, racking up more than 4,000 shares and comments in the process.
For many, the presence of the statues was cause of alarm.
Kayst88 wrote: "'Get Out' just became real."
"Oh hell no I would've walked away," ilike_smellingfarts added.
Badboival simply commented: "Oh dear God."
Momomariselafuego said "These people let you know before you walk up to they house what they about."
Virrrgo85 went further, writing: "Nope, nope, nope, do not go in there!!!"
There were lots of references to Jordan Peele's Get Out.
Markpanganiban107, for instance, wrote "If she starts stirring her tea with a tiny spoon, get out asap."
There were some who attempted to argue that the minstrel statues were not racist in their origin.
One user, herlover4.20.21, explained: "Back in the day that meant it was a safe house for runaway slaves."
Simplym.m.m stressed the same point, claiming that the statues helped highlight "places for black people to hide during the underground railroad."
Ebonisia84 agreed: "They were used to notify the escapees which homes were safe during their travels into freedom."
However, others like deepfried_chicken_wings felt the statues remained inappropriate in a modern context.
"It's 2021 that's definitely not what they mean now," she wrote.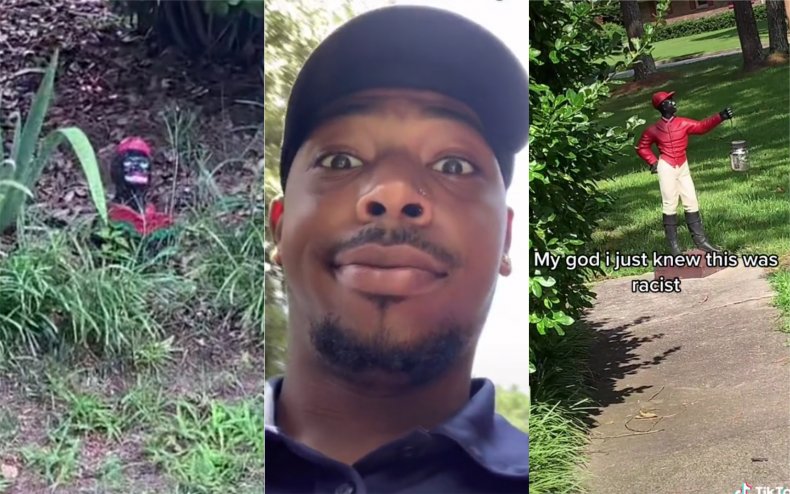 Minstrels and the use of blackface are deeply rooted in racism.
The practice was popularized in the U.S. in the years after the Civil War as a means of demeaning and dehumanizing African Americans.
David Leonard, a professor of comparative ethnic studies and American studies at Washington State University explained the practice as "an assertion of power and control."
He told History.com: "It allows a society to routinely and historically imagine African Americans as not fully human. It serves to rationalize violence and Jim Crow segregation."
Newsweek has reached out to malacheeman for comment.