A Black Man From South Central, Why Doesn't the Christian Left Back Larry Elder?
On paper, California recall candidate Larry Elder seems like the perfect candidate for Christian progressives known for championing the oppressed and propping up diverse members of the community.
A Black man born in a blue-collar family, Elder grew up in the Pico-Union and South Central areas of Los Angeles. He graduated from Crenshaw High School, the same school featured in the award-winning 1991 film Boyz N the Hood examining race, relationships and gang violence.
Despite the racial prejudice that existed in the 1970s, Elder went on to earn a Bachelor of Arts in political science from Brown University and a Juris Doctor from University of Michigan Law School in 1977. He established himself as a successful radio show host— first on the local KABC in Los Angeles followed by national syndication on ABC Radio Networks and then Salem Media Group.
Through hard work and a no-nonsense approach to the tough issues, Elder has become one of the leading conservative voices in America. Tune into Fox News and viewers are likely to see him guest commentating on any one of their numerous programs. If Elder were to win the recall election, he would be the first Black governor of California.
So why then aren't leaders from the Christian Left—the "conscious Christians" as they're dubbed, known for their support of Black Lives Matter, criticism of white patriarchal dominance, and a desire for those historically persecuted to succeed— voicing support for "the Sage of South Central" as Elder has come to be known?
That's the question some of his supporters are raising—those who say it's the moment of truth for the Christian Left preaching reparations and support of the disadvantaged to support a candidate like Elder. After all, regardless of Governor Newsom's record leading the state of California, as a multi-millionaire intertwined by blood, marriage and money to previous California Democrats and political families including the Browns, the Pelosis and the Gettys, there's no debating he's the epitome of white privilege.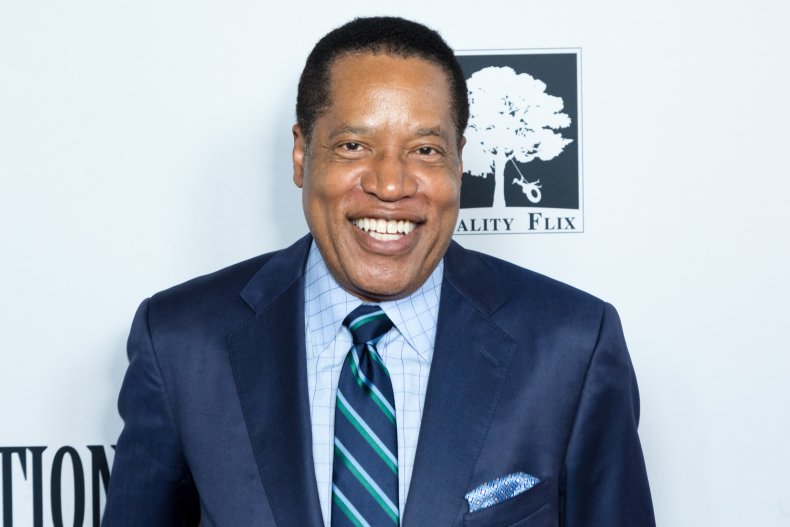 Conservative Christians in support of Elder say the answer is simple: his politics simply don't fit the politically correct liberal narrative.
"The Left-wing clergy in this case show that, for them, it ultimately comes down to total Democrat control. Everything else takes a back seat to that eternal objective, even race," Deroy Murdock, a conservative African American political commentator/columnist and Fox News contributor told Newsweek.
Murdock said that the same people who scream about and denounce white privilege are lining up to support the white rich Newsom over a Black man who is not super wealthy.
"These folks will march in the streets and demand diversity. But now that they have the chance to support what could be the first Black governor of California, they embrace the rich white guy. What utter hypocrisy," said Murdock.
In terms of well-known figures publicly endorsing Elder, conservatives including former Secretary of State Mike Pompeo and evangelical Pastor Jack Hibbs are on the list. Elder's campaign on Monday released a statement noting that Pulitzer prize-winning playwright and filmmaker/screenwriter David Mamet had endorsed him.
While Newsweek reached out to Mamet for comment, the legendary scribe did not respond in time for publication. However, in the release Mamet used a metaphor to describe the situation in California and Elder's candidacy: "The addicted gambler sits over his last few chips and says to his friend, 'Just wait for me until I've lost these.' A good friend would drag him away from the table. Elect Larry Elder."
Elder joins the list of candidates running in the recall election on September 14 including Republicans John Cox, Kevin Faulconer, Kevin Kiley and Olympic athlete and Keeping Up With the Kardashians star Caitlyn Jenner. Kevin Paffrath, a YouTuber and financial analyst is the only Democrat on the ballot; a move Politico reported Newsom's team helped manufacture.
In Elder's case, even the process of running has had its challenges for him. After strategically announcing his run in mid-July, California Secretary of State Shirley Weber tried to disqualify him, claiming he failed to file complete tax returns. Elder's attorneys swiftly reconciled that not only making him an official candidate but also generating headlines that the other candidates probably wished were theirs.
A recent UC Berkeley Institute of Governmental Studies poll shows Elder currently favored by 18 percent of likely voters who support the recall. However, an August 4 survey from the San Diego Union-Tribune found Elder leading his Republican counterparts with 43 percent of GOP voters' support.
Still, a recent story by Newsweek noted that even if the disproportionate percentage of Republicans leading the charge to oust Newsom all vote, they'd still be out-numbered by about 80,000 Democrats.
Meanwhile, Elder has been making the rounds publicly addressing the state's urban housing, public safety and environmental problems. In terms of California's mounting homeless crisis, he's criticized the state's "housing first" policy and advocates for an approach that includes low-cost housing, treatment centers and getting more local churches involved in the rehabilitation process. He's set to hold a press conference via Zoom on Friday to discuss crime, anti-Asian violence and Critical Race Theory.
Dr. John Jackson is a Christian leader and president of William Jessup University in California, who said that while he doesn't specifically support Elder, he is supportive of many of the candidates with conservative positions. Jackson claims that regardless of whom you support, the recall of Gov. Newsom is appropriate.
"He has violated the norms of constitutional government and abused his constitutional authority and is acting unilaterally and inappropriate with the legislature," said Jackson, referring to Newsom's overreaching use of power during the COVID-19 pandemic, and in general.
"What I love about Larry Elder is that he is desiring to govern from a set of principles that returns authority to the local community and to families and does not have centralized authority in the government," said Jackson.
While Newsweek reached out to multiple figures known as progressive Christians, including Veggietales creator Phil Vischer, pastor and New York Times best-selling author David Platt, Wheaton College's Ed Stetzer, theologian and preacher Russell Moore and author Gregory Thompson, only Thompson responded.
Thompson, an author, scholar and theologian whose work focuses on racial healing in America, said that while he can't speak for progressive Christians in general—and that he's not even certain he'd consider himself one—it doesn't surprise him that people would vote "for a white, privileged guy with hair slicked back with policies that match their own."
"My assumption is that they are looking for candidates who embrace policies that are focused on interventions for the sake of the poor and that conservatism as a political ideology historically has portrayed itself as the hope for that but hasn't backed that up," said Jackson, noting he's not versed on Larry Elder or his politics.
Thompson grew up in a conservative context in South Carolina.
"The simple fact that every intervention towards racial integration has to be federally mandated—the fact is that those local communities have not in fact done that," said Thompson. "In principle it would be awesome if less government was involved and federal agencies didn't have to meddle in communities but communities have maintained a basic racial status quo so a lot of times what you see is that federal intervention has to happen."
Jackson, who grew up in Southern California when Tom Bradley was mayor of Los Angeles, said Thompson's basic point is a fair one but a sad one.
"The challenge is that many of our liberal politicians say the right things but they literally don't incarnate them by living them out," said Jackson. "We in the faith community need to live out our principles by supporting politicians of all colors and all backgrounds who embrace principles that we're in alignment with and return authority and responsibility to individuals and families and not centralized government."
Jackson, who predicts that conservatives will vote for the recall but will probably split their vote among the crowded field of candidates, noted that while in the 1950s and 60s federal intervention was required in regards to desegregation and ensuring fairness in education, the nation has come a great distance since then.
"We're seeing really strong education and advancement for people of color and for society as a whole—the election of President Obama is an indication of that. We didn't require federal intervention to accomplish that," he said.
"When you think about someone like Herman Cain, Thomas Sowell, the Secretary of Health and Human Services Ben Carson—we don't celebrate those folks because that doesn't fit the narrative," added Jackson. "They often use persons of color to fit their agenda, to have a strong centralized government. So when a Larry Elder comes up, they do not know what to do with him. So they either ignore him or accuse him of not caring about "his people," which to me is a racist statement in itself."