'Black Panther' Fans Demand Injured Letitia Wright Is Replaced If She's Unvaccinated
Black Panther fans are demanding that Letitia Wright be removed as the lead actor in the hit Marvel movie's sequel, if claims she has refused to take the COVID vaccine turn out to be true.
The Hollywood Reporter last week published an article stating that production on Black Panther: Wakanda Forever will be paused, as Wright recuperates at home in London from an injury she sustained on the set in Boston in August.
According to the publication, director Ryan Coogler had pressed on with shooting as much footage as could be filmed in Wright's absence over the past two months in Atlanta, but the shutdown will reportedly start at Thanksgiving and last until early 2022.
"Letitia has been recovering in London since September from injuries sustained on the set of Black Panther 2 and is looking forward to returning to work early 2022," a representative for Wright said. "Letitia kindly asks that you keep her in your prayers."
Following the August 2020 death of Chadwick Boseman, who played the titular character in the first Oscar-winning movie, Wright's character, Shuri—the sister of Black Panther T'Challa—has reportedly been elevated to the lead in the sequel.
However, Wright's return to U.S. shores could prove problematic, as the Centers for Disease Control and Prevention (CDC) implemented rules on November 8 requiring all non-immigrant, non-citizen arrivals to provide proof of being fully vaccinated. Guyanese-born British actress Wright isn't a U.S. citizen, per The Hollywood Reporter.
With the possibility that Wright's vaccination status—which has not been publicly disclosed—may cause production issues, fans of the franchise have taken to Twitter en masse to demand a casting change to keep everything on track.
Newsweek has contacted representatives of Wright and Disney for comment.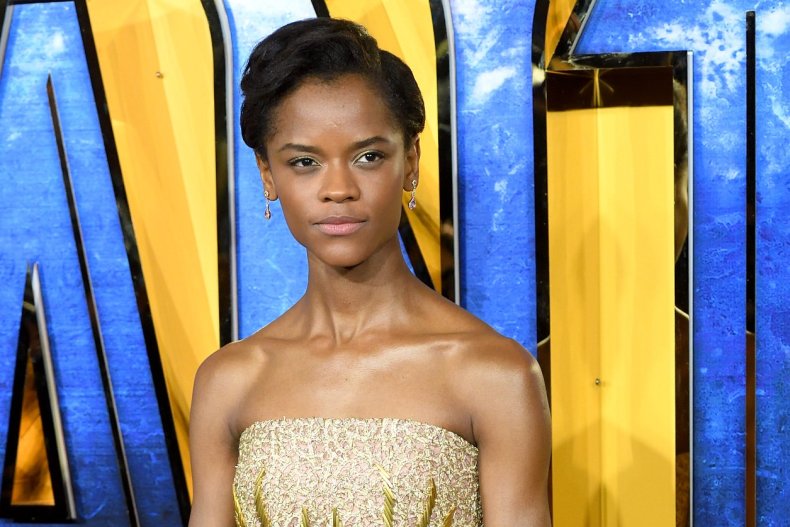 Screen star Wright faced a backlash in late 2020, after sharing a video on social media that questioned the safety of the then-upcoming COVID vaccines.
The Daily Beast columnist Wajahat Ali wrote in reaction to the delay: "Shut it down and re-cast it. Enough of this nonsense. Also, Shuri is a BRILLIANT SCIENTIST being played by an unrepentant anti-vaxxer who believes in nutty conspiracies. Ridiculous."
"It's time to let Letitia Wright go," tweeted writer Richard Newby. "A lot of Black actresses who would love to play the role and not halt a $200 million production because of imaginary microscopic vaccine demons."
Author and activist Darlene McDonald weighed in: "Does Letitia Wright not realize that if Chadwick Boseman, a cancer patient and immunocompromised, was still with us, her selfish views would have endangered his life? To vaccinate is to protect yourself and to protect those around you, known and unknown."
Writer and filmmaker Jesse Hawken cited Terrence Howard and Edward Norton being replaced in their Marvel roles in the past.
"This drama over Letitia Wright is also irritating because the actors playing superheroes are ultimately all replaceable," said Hawken. "Marvel gave Terrence Howard the heave-ho after one movie and literally no one except Terrence Howard cared. I also seem to remember Edward Norton as the Hulk.
"The anti-vaxxers should consider things like 'losing a cushy job' over their beliefs as God testing them, testing their belief systems. And they can then congratulate themselves for passing the test with flying colours!"
Meanwhile, one fan offered that Wright's co-star Lupita Nyong'o should step into the lead role, given the framing of her character's trajectory in the first film.
They said: "Letitia Wright's increasingly bad takes aren't even the biggest problem with Shuri being the lead; my issue is that Lupita Nyong'o's Nakia was explicitly setup as wanting to be the Black Panther, she's an incredible actress, and yet ever since 2018 they've forgotten she exists."
Another added: "Wright's performance as Shuri was one of the things I liked most about the original, but I'm so disappointed in her recent behaviour. And when push comes to shove, Terrence Howard learned this lesson the hard way. They've filmed everything bar her. She gets jabbed or recast."
In October, Wright denied a previous article published by The Hollywood Reporter, in which the actress was accused of espousing anti-vaccine sentiment on the Atlanta set of the Black Panther sequel.
Taking to Instagram, she wrote: "It saddens me to have to address the reports published by The Hollywood Reporter on October 6th 2021. The report spoke about my conduct on the set of Black Panther 2. I honestly assert that this was completely untrue."
She went on: "Anyone who knows me or has worked with me, knows that I work incredibly hard at my craft & my main focus is always to do work that's impactful and inspiring. That has been & will continue to be my only focus."
Last year, Wright shared a 69-minute video on her Twitter account which questioned the legitimacy of the COVID vaccine, among other claims.
Responding to the resulting backlash, Wright tweeted: "If you don't conform to popular opinions, but ask questions and think for yourself....you get cancelled" followed by a crying laughing emoji.
The star eventually removed the tweet, and stated her reasons for sharing the video, writing: "My intention was not to hurt anyone, my ONLY intention of posting the video was it raised my concerns with what the vaccine contains and what we are putting in our bodies. Nothing else."