Black Voters Are Disproportionately Having Mail Ballots Rejected in North Carolina
Black voters in the battleground state of North Carolina are having their mail ballots rejected at a disproportionate rate, early voting statistics show.
Almost 360,000 ballots have been returned and processed in the state as of Monday, according to The U.S. Elections Project, which was launched by University of Florida professor Michael McDonald to provide "timely and accurate" election statistics and other information about the U.S. electoral system.
Black residents account for less than 16 percent of overall ballots returned in North Carolina, but more than 40 percent of those rejected.
Of the 6,020 mail ballots rejected in North Carolina, 2,477 (41.1 percent) were from non-Hispanic Black voters while 2,634 (43.7 percent) were from white voters.
But Black people make up only around 22 percent of North Carolina's population, while white people account for more than 70 per cent, according to U.S. Census figures.
The difference between rejection rates is particularly striking in Guilford County, where the city of Greensboro is located.
Almost three times as many Black voters have had their mail ballots rejected in the county compared to their white counterparts. According to data, 712 of the 4,239 mail ballots returned by non-Hispanic Black voters in Guilford County have been rejected—a rate of 16.8 percent.
In comparison, only 5.7 percent (685) of the 12,098 mall ballots returned by white voters in the county were rejected.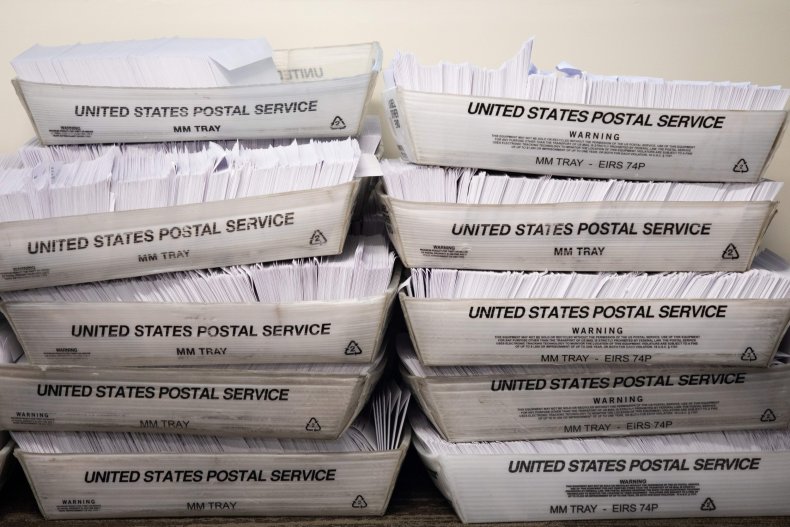 Only one other county in the state had a higher rate of rejection for Black voters' mail ballots—but Dare County has only had a total of 11 mail ballots from Black voters, two (or 18.2 per cent) of which have been rejected.
Other counties in the state had mail ballot rejection rates up to around 12 per cent for Black voters, according to the data.
The statistics also reveal that more mail ballots from Democrats—3,728—were rejected than Republicans (992). However, rejection rates were similar—1.6 percent of Republicans had their mail ballot rejected compared to 1.9 percent of Democrats.
The U.S. Elections Project and the North Carolina State Board of Elections have been contacted for comment.
Why are these ballots being rejected?
The U.S. Elections Project notes that most of the mail ballots were rejected because the witness information was incomplete. North Carolina is one of several states with witness and or notary requirement for absentee ballots.
But why does this appear to be impacting Black voters more than anyone else? It could be because there are indications that far higher numbers of Black people will be voting by mail this year than in the past.
Black voters accounted for only 2.1 percent of the absentee votes cast in the 2016 election in North Carolina, compared to 5.1 percent from white voters and 3.1 percent from Latino voters, according to the Brennan Center for Justice. Black voters account for around 16 percent of the mail ballots returned in North Carolina so far.
Black people are also the most likely to register as Democrats in North Carolina. Black people make up 46 percent of Democratic voters in the state, according to Carolina Demography, and recent polls have shown that Democrats are more likely to vote by mail than Republicans. A Democracy Fund/UCLA poll found far more Democrats (47 per cent) have expressed interest in voting by mail than Republicans (28 per cent).
Enrijeta Shino, an assistant professor of political science at the University of North Florida, told Newsweek that the data from North Carolina "reinforces the argument that invalidated ballots and not voter fraud is the main problem with the mail voting process this election."
Shino said the ballots in North Carolina were being rejected "because of an error on how they were filled, due to either a missing signature or failing to complete the witness section."
While the rates of rejection are "absolutely concerning," they were also expected, she says, because so many people are voting by mail for the first time and unfamiliar with the process.
"Most of these voters, constrained by COVID-19 health concerns, are voting by mail for the first time. If there's one thing we know about mail voting is that it is not very 'voter/user friendly' especially for voters who are casting a mail ballot for the first time."
Absentee voting rules halted in election battleground state
On Saturday, a federal judge halted voting rules that had given voters some leeway to fix problems with their mail ballots, according to The Associated Press.
Election officials had agreed that voters could correct mail ballots lacking the required witness signature by signing an affidavit rather than filling out a new blank ballot.
But Republican legislative leaders and President Donald Trump's campaign sued to block state officials from enforcing the rule changes, which could have seen a rise in the number of ballots counted in the crucial battleground state. Trump beat Clinton in North Carolina by 173,315 votes in 2016, but a CBS News poll from September 25 put Biden ahead of Trump by two points.
U.S. District Judge James Dever, who presided over the suits, issued a temporary restraining order blocking the rules, having raised concerns about changing the rules when numerous ballots have already been cast.
According to the AP, Dever also blocked a rule that would have permitted county boards six more days to accept mail ballots that arrived after Election Day, providing they were postmarked by November 3.
"Vote by mail should not be a partisan issue, this is a voting rights issue," Shino said. "All eligible voters, who have cast a mail ballot containing an error that might invalidate it, must be allowed the opportunity to cure it. A right that is being taken away from the NC voters at this time."
Earlier this year, Shino and other experts warned that the number of mail-in ballots that are rejected in November's election could soar as millions more people eschew in-person voting amid the ongoing coronavirus pandemic and get to grips with voting by mail, many for the first time.
"COVID-19 has brought to light many issues with the vote by mail process, which most states have not experienced before," she said. "Therefore, adjusting the laws to ensure a fair process and making it easier for voters to vote and for their vote to count, sounds like the right thing to do."
North Carolina voters concerned about the status of their mail ballots can check it at the North Carolina State Board of Elections website. Frequently asked questions about voting by mail in the stare are answered here.