With an unprecedented number of Americans expected to vote by mail in November's presidential election, fears are rising that the number of mail-in ballots that are rejected will also soar.
Election officials are expecting a massive surge in mail ballots this fall as more Americans eschew voting in person to avoid the risk of spreading coronavirus.
But data shows that mail ballots are rejected at a far higher rate than in-person votes, raising concerns that millions of voters could be disenfranchised when they vote by mail, many for the first time ever.
According to the U.S. Election Assistance Commission (EAC), of the 33 million or so votes that were cast by mail in the 2016 presidential election were by mail, around 1 per cent were rejected. Daniel Smith, a political science professor at the University of Florida, told Newsweek that in comparison, his calculations found that ballots cast in person in the 2016 election were a third less likely to be thrown out.
Recent analysis by NPR determined that at least 558,000 mailed ballots were rejected in this year's presidential primaries—almost twice the number of mail ballots that were not counted in the 2016 election.
Thousands of those rejected ballots were in key battleground states, raising the possibility that the outcome of this year's election could be swung by small margins—and if higher numbers of mail ballots aren't counted, it could be the deciding factor.
A Democracy Fund/UCLA poll found that 37 per cent of registered voters were planning to vote by mail, compared to another 37 per cent planning to vote in person on Election Day and another 20 per cent in person before Election Day.
And while President Donald Trump has repeatedly claimed, despite a lack of evidence, that mail-in voting will lead to fraud, the method could end up benefiting him and Republicans more than Democrats if rejection rates rise.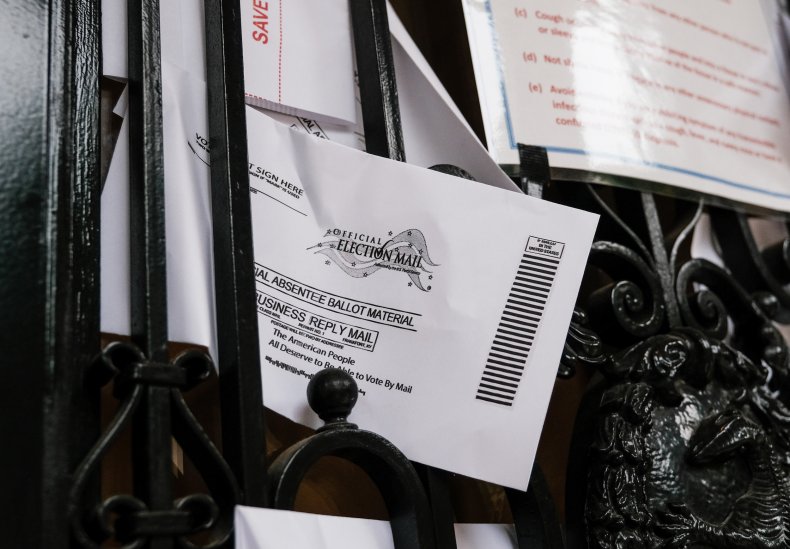 According to the poll, far more Democrats (47 per cent) have expressed interest in voting by mail than Republicans (28 per cent).
And 48 per cent of respondents who said they planned to vote for former Vice President Joe Biden said they'll use mail-in ballots, compared to just 23 per cent of Trump voters.
"What we saw in the primaries this year was a marked increase in ballot rejections from the standard rates of rejection" Tammy Patrick, a senior advisor at Democracy Fund told Newsweek.
"Given the pandemic, states have experienced a massive infusion of voters opting to get their ballot handed to them by their postal carrier not a poll worker, and states that have traditionally had single digit participation in vote by mail skyrocket to 60 to 70 per cent, even 80 per cent and higher."
"It is inevitable that we're going to see higher levels of rejections."
Research published in May found that it was mail ballots from younger voters, people of color and first-time voters that were the ones most likely to be thrown out. The study, which analyzed rejected ballots in Georgia during the 2018 midterm elections, found that newly registered, young, female, and minority voters had rejection rates that were up to 7 percentage points higher than their counterparts.
Smith, one of the study's co-authors, said he estimates the number of people voting by mail this November could be as much as 50 per cent higher than previous elections.
"I think it's safe that, compared to the 2016 General Election, we'll see a 50 per cent increase in the use of vote by mail ballots in November, not only in Florida, but in other states that don't have all-mail voting," Smith told Newsweek. Some jurisdictions could even see twice as many people vote by mail compared to previous years, Smith says.
"Overall rejection rates for vote by mail ballots will also undoubtedly increase, as there will be an influx of voters who are inexperienced with casting a mail ballot, and we know those who do not typically vote by mail are more likely to have their mail-in ballots rejected."
Whether that means 50 per cent more mail-in ballots will be rejected is hard to say, but Smith says he "wouldn't be surprised" if that's the case.
Enrijeta Shino, another of the study's co-authors and an assistant professor of political science at the University of North Florida, agrees that it's likely that higher numbers of mail-in ballots will be rejected this year.
"A higher number of people are going to vote by mail because of COVID-19 health concerns and as such, I would expect the number of rejected ballots to be higher than what would have been during a normal election year," she told Newsweek.
She pointed to the figures seen from the presidential primary elections as indicators of what's to come.
"So far, we have seen that 1 in 5 mail ballots were rejected in the New York primary election. And that about 500,000 mail-in ballots have been rejected during this primary election season," she said. "This is concerning because there are at least 500,000 voters whose voice is not going to be heard."
Smith notes that rejection rates will likely be higher in states where fewer people have traditionally voted by mail.
"What we're seeing in places like New Jersey and New York, where they had upwards of 10 per cent rejected votes by mail, because those are two states where virtually no one votes by mail traditionally," he said. "[These voters] had no problem voting in person, now they're voting by mail and they are having their ballots rejected."
But Mara Suttman-Lea, who also co-authored the study, says it's not "set in stone" that more mail-in ballots will be rejected at a higher rate this election year because of the amount of conversation surrounding the issue.
Suttman-Lea, an assistant professor at Connecticut College, said: "If you have an increase in the number of folks who are voting by mail who aren't familiar with this system, they may be more liable and likely to make mistakes in the process of voting by mail that could lead to rejection.
"This is all compounded by a lot of concerns about whether or not the United States Postal Service (USPS) is going to handle the massive influx of mail ballots that will inevitably happen in this coming election cycle. So I think that there is cause for concern there."
But she adds: "I know that local election officials and many key critical states are making every effort to educate voters about how to you properly cast a mail ballot so it gets counted so it doesn't get rejected.
"So I wouldn't say that it's a deterministic outcome, that it is inevitable that we're going to see higher levels of rejections. It is more likely just simply because you have more people voting by mail. But at the same time, I do see what I feel is an unprecedented level of conversation surrounding voter education and state and local election officials educating voters on the process of voting by mail."
Why mail-in ballots are rejected more than those in-person
The study's authors agree that one of the main reasons why mail-in ballots tend to be rejected at higher rates than in-person ballots is because the eligibility of the voter is done remotely. This allows "little room for correcting any issues as they arise," Shino said.
Smith notes that people don't always understand that voting by mail is a completely different system to voting in person. "The fundamental difference is that when you are voting in person, you authenticate your identity first and then vote. When you vote by mail, you cast your ballot first, your identity is authenticated in absentia," he said.
"The voter is not present when election officials are using a simple scribble on the back of an envelope to authenticate an individual's eligibility."
Patrick says the top two reasons why ballots are rejected is because they were delivered late and due to issues with signature verification.
The top reason for rejecting a ballot reported in 2016 was because the signature on the ballot didn't match the one on the state's records, according to the EAC—it was listed for more than a quarter (27.5 per cent) of ballots that weren't counted. Other reasons cited in 2016 included the ballot not being received on time or the ballot was missing a signature.
In contrast, those who vote in person have ample opportunity to identify themselves before casting their ballot. Even if they're unable to do so, those voters have the option of casting a provisional ballot, Smith notes.
But with mail-in voting, "you have cast your ballot and at a point later on, your authenticity is going to be determined by a signature on the back of an envelope," Smith says.
Unfamiliarity with the system of voting by mail is a big reason why so many more mail-in ballots are rejected, the study's authors say—and because so many Americans are expected to do it for the first time this November, it could mean higher rejection rates than previous elections.
"Mail-in voting requires the voters to be super careful when they fill out the ballot and make sure that the information they provide matches the one on their registration card," Shino said.
"If you are a first-time voter or first-time absentee voter there is a high chance that you are not familiar with the absentee voting rules. In other words, inexperience with voting in general and with mail-in voting in particular makes these groups of voters more likely to make an error when they fill out their mail-in ballot or envelope."
Shino says the data from the Georgia study shows that those who voted by mail in 2016 were less likely to have their ballot rejected in the 2018 midterms.
"That is why experience and familiarity with this voting method helps to have your ballot count," she said.
Smith adds: "My major concern is that because of the pandemic, we are pushing people into a system of voting for public health concerns and there's not adequate civic education, about the rules and regulations that can disenfranchise individuals who are otherwise very capable of voting in person.
"It's a necessity," he says. "We need to make sure that this is available, but we also need to make sure that we're not disenfranchising, otherwise eligible voters."
Given that most people voting by mail this November are doing it for the first time, they're more likely to make errors when filling out the mail ballot or the envelope, Shino says.
Fill out every line or box where information is required carefully and make sure it matches with the information on your registration card, she adds. Make sure you mail the ballot using the envelope provided by election officials and not any another envelope and don't forget to sign it as well.
"I think that this election cycle, it will be really important for voters to do everything they can to double check they are following the requirements to a tee," Suttman-Lea adds.
"Make sure you have everything on the ballot envelope filled out correctly and those requirements will vary from state to state.
"If you mail your ballot, make sure that you can track it. If you can't track it, call your local election official to make sure that your ballot was returned. Vigilance, I guess, would be the word that I would use to describe what I think voters need to do to make sure their ballots are counted."
Fears over mail-in ballots missing the deadline
But some issues may be outside the control of voters, like whether the USPS will be able to handle the expected rise of mail ballots in November and deliver them on time.
More than half of the mail-in ballots in the 2018 Georgia election were rejected because they were received late by election officials, Shino noted.
"Voters should request their ballot as soon as possible and not wait until the deadline. Requesting early means that the voter (depending on state mailing date) can get their ballot weeks, even a month before Election Day," Patrick said.
"This gives plenty of time for USPS to get the ballot to the voter, the voter to have time to vote it, and then decide how they want to return it.
"Planning ahead allows the option of mailing back the ballot and getting it in the mail a week before it is due or dropping it off in person as their state allows. Focusing on the front end of the voting period rather than the deadline may help 'flatten the curve' of requests and allow election officials to stay on top of the incoming applications.
"Voters should also read the voting instructions to know if the state requires the ballot to be back by Election Day or if postmarked by then is accepted—not all states allow the postmark! If the voter is in a postmark state and have decided to mail their ballot back in that last week they can go into any USPS office and ask that their ballot be hand postmarked (or "round-stamped") to be certain it gets postmarked."
Smith adds that while voters need to understand the rule and regulations in their local jurisdictions, election supervisors need to make sure that they are "equally prepared to handle this inevitable surge of mail ballots."
Suttman-Lea urged voters, if they can, to take advantage of ballot drop boxes to avoid having to rely on the USPS to deliver their mail-in ballot.
"I do think that drop boxes for ballots are going to be really, really important in order to cut out that middleman and that uncertainty," she said. "So if you're a voter and you can use a drop box, you know that that will provide you with a little bit more certainty and security that your ballot is going to be delivered on time."
Patrick adds: "Although some voters do encounter issues with requesting and mailing back ballots close to Election Day, it is important to know that for the vast majority of voters there are no issues at all. I have been voting by mail for almost 20 years."