A Black Woman Was Awarded $725,000 In a Lawsuit Against A Neo-Nazi Who Led a Harassment Campaign Against Her
A federal judge ruled Andrew Anglin, founder of the neo-Nazi website The Daily Stormer, and one of his followers must pay over $725,000 to a victim of one of the site's "troll storms."
On April 30, 2017, Taylor Dumpson was inaugurated as the first black female student government president at American University (AU) in Washington, D.C.—the next day, the lawsuit says, a masked man hung nooses around campus. The nooses held bananas inscribed with racist messages against black people.
After news of the harassment broke, Anglin posted an article mocking Dumpson on The Daily Stormer, writing "No one feels safe around bananas. Some racists have taken to calling this African Queen 'Dumpy Dumpson,' smdh [shaking my damn head]." Anglin also included Dumpson's name, photo, and links to her Facebook account and the Twitter account for the AU student government.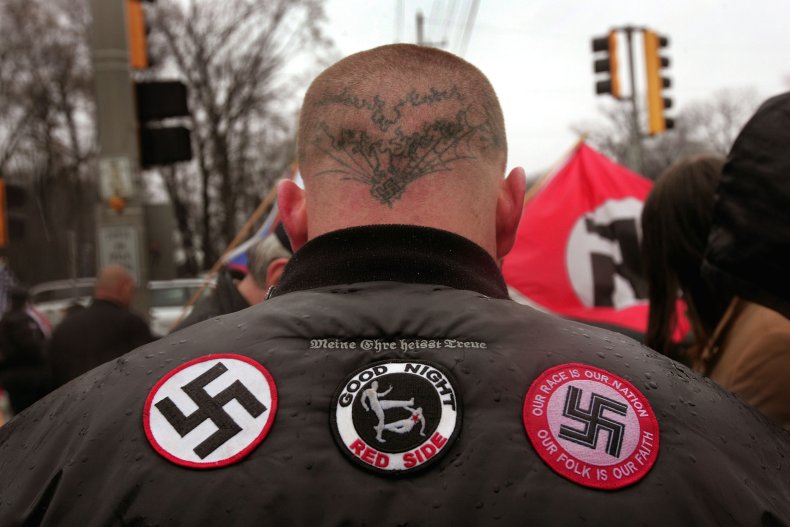 "Be sure to send her some words of support on Facebook, and hit up the AU Student Government on Twitter. Let her know that you fully support her struggle against bananas," Anglin wrote, encouraging his followers to "troll storm" her.
One of her biggest harassers was Brian Andrew Ade, who was also named in the lawsuit. Ade posted a number of tweets containing anti-black slurs and other harassing messages towards Dumpson.
According to the suit, when the harassment started, Dumpson started to fear for her life and safety. She no longer felt safe on campus. She missed exams and dropped her minor in sociology.
She filed suit in 2018 against Ade, Anglin and Moonbase Holdings, LLC, a shell company owned by Anglin and used by The Daily Stormer. However, as the defendants did not contest the case, Dumpson moved for a default judgement against them.
Friday, the judge agreed and found Anglin, Ade and Moonbase Holdings owed Dumpson compensatory damages of $101,429.28, punitive damages of $500,000 and attorney's fees and costs of $124,022.10. The judge also granted a restraining order against the defendants and banned Anglin and The Daily Stormer from publishing anything more about Dumpson.
This is the second judgement against Anglin this week. Thursday, a federal judge in Montana ordered Anglin to pay $14 million to Tanya Gersh, the target of another Daily Stormer troll storm. Anglin neglected to contest that lawsuit as well.
Dumpson was represented in her case by members of the Lawyers' Committee for Civil Rights Under Law. Kristen Clarke, President and Executive Director of the organization said on Twitter, "This case should send a strong message to other racists across the US."
"Our victory against the Daily Stormer marks the first decision to ever hold that online harassment can interfere with equal rights to enjoy public accommodations," she wrote.