BLACKPINK Confirm World Tour 2022, Album Release Date and More
BLACKPINK are almost ready for their next comeback.
The South Korean girl group, which consists of members Jisoo, Jennie, Rosé and Lisa, will soon be back in fans' area with a new album and world tour.
BLACKPINK's members have been busy with their own projects in recent years, like Lisa's solo album Lalisa and Jisoo's acting debut in drama Snowdrop, but soon their fanbase, Blinks, will see the band back together again.
Here is everything you need to know.
When Is BLACKPINK's World Tour 2022?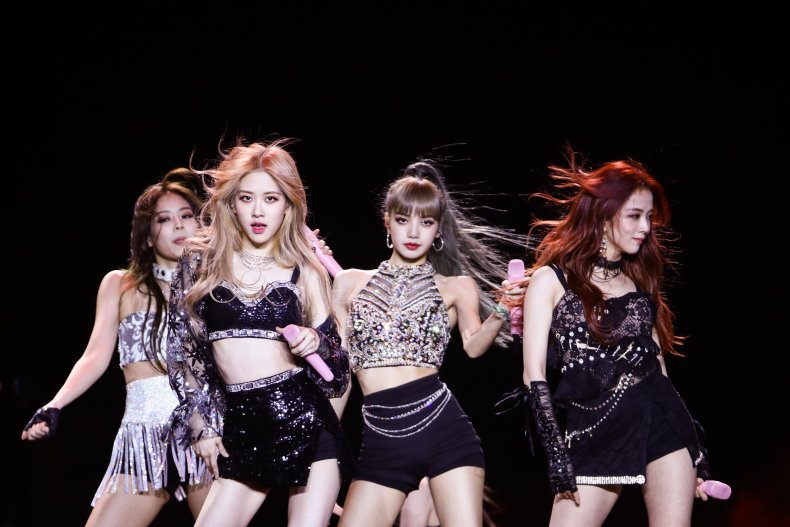 On Sunday, July 31 the official YouTube page for BLACKPINK shared a video that confirmed the group would be going on a world tour in October.
The clip did not specify when or where the tour would begin, but the group's record label YG Entertainment previously described the forthcoming event as the "largest world tour in the history of a K-pop girl group" in a press statement in July, per Billboard.
On Monday, August 8 YG Entertainment shared on Twitter the first dates of BLACKPINK's world tour, with shows confirmed from October 2022 to June 2023.
Their tour is going to start in Seoul, South Korea before the girl group head over to the U.S. for several stops from October through to the end of November.
At the end of November, BLACKPINK will go head to Europe through to December, and in January the band will then go do several concerts in Asia before heading to the United Arab Emirates, Australia and New Zealand.
Here Are the Dates for BLACKPINK's World Tour So Far:
October 2022
15-16 - Seoul, South Korea
25 - Dallas, Texas
29 - Houston, Texas
November 2022
2 - Atlanta, Georgia
6-7 - Hamilton, Ontario, Canada
10-11 - Chicago, Illinois
14-15 - Newark, New Jersey
19 - Los Angeles, California
30 - London, England
December 2022
1 - London, England
5 - Barcelona, Spain
8 - Cologne, Germany
11-12 Paris, France
18 - Berlin, Germany
22 - Amsterdam
January 2023
7-8 - Bangkok, Thailand
13-14 - Hong Kong
20 - Riyadh, Saudi Arabia
28 - Abu Dhabi, UAE
March 2023
4 - Kuala Lumpur, Malaysia
11 - Jakarta, Indonesia
18 - Kaohsiung, Taiwan
25 - Manila, Philippines
May 2023
June 2023
10-11 - Melbourne, Australia
16-17 - Sydney, Australia
21 - Auckland, New Zealand
What Is the Release Date for BLACKPINK's New Album 'Born Pink'?
The aforementioned YouTube clip confirmed that BLACKPINK have made plans to release a single in August, which is described as a "pre-release single" and so may not be the album's title track.
The pre-release single, titled "Pink Venom," will be released at 12 a.m. ET on August 19.
BLACKPINK did also confirm that the album would be called Born Pink and it will be released officially in September, a track list has not yet been revealed.
On July 29, the group released a music video for their new song "Ready for Love," which was released in collaboration with the game PUBG (PlayerUnknown's Battlegrounds). The song is likely to appear on their new album.
In their press statement in July, YG Entertainment confirmed that BLACKPINK were in the "final stages of recording a new album" as of July.
Their new music is said to be the first stage of "a continuous large-scale project which will extend through the second half of the year," according to the label.
Per their statement, YG Entertainment said of the comeback: "A lot of BLACKPINK-esque music has been prepared over a long period of time.
"On top of new music and large-scale projects, BLACKPINK will also go on the largest world tour in the history of a K-pop girl group by the end of the year to expand their rapport with fans worldwide."
Update 08/08/22 11:29 a.m. ET: This article was updated to include the official tour dates for BLACKPINK's world tour and information regarding the pre-release single.