BlackRock Could See Short End of the Stick in Potential Divvy Up of Evergrande Assets
The Chinese government continued to send signals that it may allow its second-largest property developer, the Evergrande Group, to fall to its over $300 billion worth of debts. In a recent message sent to local governments, Beijing called on these bodies to prepare for a potential Evergrande collapse.
Readying its domestic investors appears to stand as a priority for the Chinese government. Along with instructing local administrations to prepare, Beijing recently injected $18 billion into its financial sector.
While the victims expected to suffer most from an Evergrande collapse are likely the Chinese firms who benefit from its construction and the businesses it has invested in, a number of Western companies, including America's investment giant BlackRock, stand to lose from the situation as well.
Between January and August 2021, BlackRock acquired 31.3 million notes of Evergrande's debt, Reuters reported. This jump in its stake in the firm, pushes Evergrande's assets to a total of one percent of BlackRock's $1.7 billion Asian High Yield Bond Fund. BlackRock is not the only Western firm invested in the company.
Britain's HSBC Holdings increased its stake in the failing giant by 40 percent through July, Reuters noted. Switzerland's UBS Group boosted its position by 25 percent through May. When it comes time for Beijing to restructure Evergrande's assets, Stephanie Segal, an expert on Asian economics with the Center for Strategic and International Studies, said Chinese institutions could come before the West at the dividing table.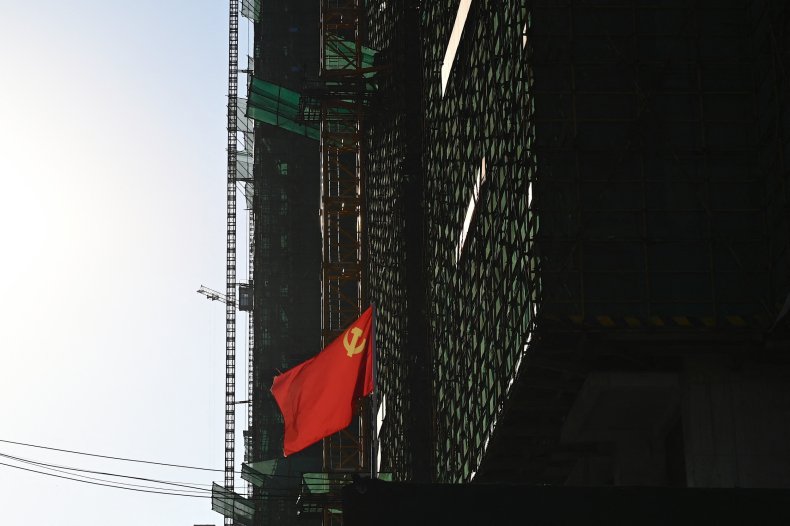 "You have past restructurings where there was differentiated treatment between domestic and foreign investors, so that's part of the playbook when it comes to these kinds of restructurings," Segal told Newsweek.
Should Evergrande indeed collapse, BlackRock and others will lose out on the bet that the company could bounce back, potentially through a government bailout. Those invested in a payoff from the Evergrande loans through BlackRock could face a significant financial blow.
In the restructuring, should the government take the lead, Beijing will decide which creditors get what pieces of Evergrande's assets. Given the company's massive debts, these creditors could face major cuts to their initial investments, Segal said. When the government goes to split the pie, foreign investors like BlackRock could get the least appealing pieces left. Segal said, "there's concern that they will be receiving less favorable terms than the domestic investors."
This moment could set a new standard when it comes to investing in China. If Beijing does not step up to save its second-largest property developer, Segal said investors may see Chinese investments as having greater credit risk than before.
"Chinese authorities actually have been wanting to get more market discipline in the sense of having investors appreciate that there is credit risk so that they need to take that into account," Segal told Newsweek. "But, they're taking a gamble that they're going to be able to keep it contained and prevent a massive spill over to other Chinese assets."