Woman Dreading Living With Teen Step Kids Cheered: 'No Alone Time'
A mother has asked Mumsnet for help after her partner of 18 months asked her to move in with him, and his three teenagers. She explains she already has two children herself, aged 8 and 10, and she describes his household as "chaotic." She writes that although he has been asking her for months, "This has recently ramped up with him understandably worrying about the cost of living."
Writing, "The thought fills me with dread" and describes how she lives "harmoniously" with her two children, whereas "his house on the other hand always feels so chaotic, nothing bad just normal teenager stuff, rooms a total disgrace, eating all the food, always shouts of 'where's my charger, who's took my straighteners, dad will you tell DS/DB he's done thiiiisss or that, I need money, I need a lift' bathroom always full of clothes on the floor, teenagers in pyjamas all day."
Describing them as "lovely children" she explains that "the 17yr old boy is autistic and that comes with obvs difficulties (mainly personal hygiene, excessive eating, mess, in the house 24/7 as no friends to socialize with, constant requests to play/draw/watch TV with him) he's a kind gentle soul though."
Explaining that she works from home, she describes a situation involving "4x more washing, constant noise, food not being there as expected, all that mess, no alone time. (I work from home so when my DC are at school I thrive off the silence)."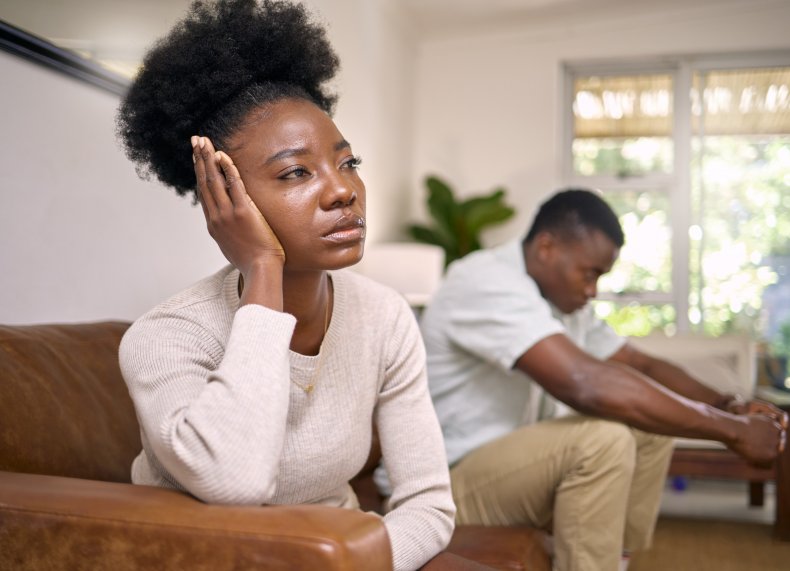 After describing herself "in tears" at the prospect of blending their families, the father allegedly said, 'Dawn that's the second time you've got upset at the prospect of us living together, and your only reason is you don't want to live with my children, if this is the case then it really is a non starter and I can't see a future.' The thought of losing him breaks my heart. It's shit, I know we can set ground rules etc but the risk and loss if it doesn't work out is huge. I don't know what I'm asking really, feel like I'm stuck between a rock and a hard place."
User Fraaahnces urged the original poster to "Listen to your red flags shrieking. This will not lead to happiness - especially as his reason for moving in is financial. Just no."
Psychotherapist Karen Holmes says on her website Brighterday.com that when blending families, it's important to put your relationship at the forefront. "Some clients find this tip a bit shocking," she writes, "But remember that your partner is best placed to soothe you and take care of you. This then has a trickle-down effect on children which means a less reactive household in general.
"It is not a child's job to do this for us, so it makes sense that the couple take the roles of 'king and queen' presenting a strong, united front in the household, instead of the alternative: a bickering, unstable couple."
User KangarooKenny wrote, "No, no, no. Stay in separate houses and date. If he threatens to end it because he's not got his way, you've dodged a bullet."
User RudsyFarmer said, "Do Not Do It."
User Mojoj commented, "No, just no. And if he walks because you don't want to completely change your life, then he's not the one."
Newsweek was not able to verify the details of the case.
Have you noticed any red flags that made you end a relationship? Let us know via life@newsweek.com. We can ask experts for advice, and your story could be featured on Newsweek.