Blind Cat Who Had Both Eyes Removed Captures the Hearts of Millions in Adorable Videos
A cat who's completely blind after having both eyes removed has captured the hearts of millions online with his endearing spirit.
Dmitri was originally from Greece, but developed a severe eye infection when he was a kitten living on the streets.
Sadly both his eyes were amputated, leaving the cat completely blind. But he hasn't let it hold him back, with his owner, Emma Pelkiewicz, saying he's as happy as can be.
Pelkiewicz, based in London, got Dmitri three years ago, but only recently started sharing videos of her pet on her TikTok account, @blind_cat_dmitri.
Pelkiewicz began posting in August 2021 and now Dmitri has a formidable fanbase, with some videos of his antics amassing more than 54 million views.
Chatting to Newsweek about her beloved cat, Pelkiewicz said: "Dmitri was found as a stray on the streets of Athens. His eyes were severely infected and they had to be surgically removed—he is completely blind!
"I adopted him from a London based charity. I fell in love with him when I went to visit him—he hugged my foot when I walked into the room and I knew I had to adopt him!"
Dmitri, who turns 4 in March, is an indoor cat, but loves exploring the garden and the balcony, Pelkiewicz revealed.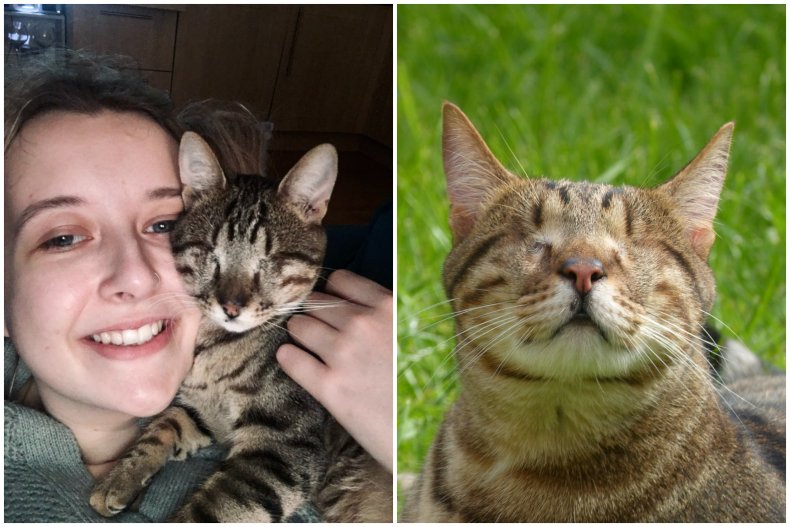 "He acts like any other cat, except he can't go outside," she said. "He knows his way around my flat, jumps onto furniture, plays with toys and is very affectionate.
"Occasionally, when he is hyper, he'll accidentally run into something and bump his head—it's very cute!"
Commenting on the outpouring of love Dmitri has from his global fans, Pelkiewicz raved: "I'm so happy that so many people around the world adore him and are learning how wonderful blind cats can be.
"I am hoping his online presence will encourage others to adopt pets with disabilities."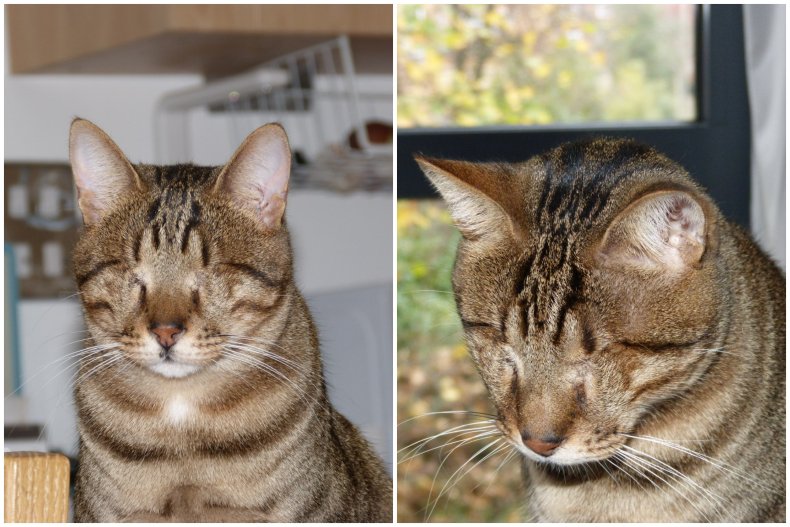 Despite Dmitri being blind, Pelkiewicz confirmed: "I wouldn't change a thing about Dmitri—I think he's perfect the way he is, although I wish I had my own garden that he could safely explore.
"Despite the fact he can't see, he's a very happy and healthy boy."
Some of his most popular videos show Dmitri meowing, yawning, napping and enjoying the grass in the garden.
Commenting on one, Gabriella wrote: "I'm literally crying right now."
КOT commented: "Oh, poor cat, but we love you the same way!"
LoveU2 said: "He's soo cute! even though he doesn't have any eyes!
While @katzuu_____ added: "The fact that Dmitri is blind doesn't stop him from being cute :) give him a pat pat on his head and tell him he is loved."