Angry Cat Hissing and Squaring up to Every Dog Has the Internet in Stitches
An angry cat who hisses and swipes at nearly every dog she meets has the internet in stitches, after her owner recorded their adventures riding around on his bike.
Trevor Nelson, originally from San Francisco, moved to London two years ago, and brought his beloved white cat, Sigrid, with him.
He bought her from Hermosa Beach, down by L.A., and initially flew to Paris to ensure he could bring his pet into England.
The pair settled into life across the pond, but Nelson got made redundant last year, during the height of the pandemic, from his role as director of data at a finance company.
As a result Nelson, 45, took to riding his bike more around the capital, but decided to take Sigrid with him. He captured their adventures on his GoPro, including his cat's fearless reaction to dogs.
He told Newsweek: "She's been leashed trained since she was a kitten, then last year I got made redundant. So I was riding my bike a lot, what with lockdown and everything. so it just seemed kind of obvious to pop her on the bike, and she took to it right away."
The footage documents their picturesque rides, but also Sigrid's hatred of other dogs, and cats.
From the perch in the bicycle basket, the four-and-a-half-year-old hisses at canines big and small, while she takes a swipe at any dog which gets too close when on the ground.
Explaining her dislike for her fellow four-legged creatures, Nelson said: "Well she loves to hunt birds and squirrels. Other cats are the worst though, they really upset her. She gets very growly and upset, not even hissing so much. I think it's a territorial thing."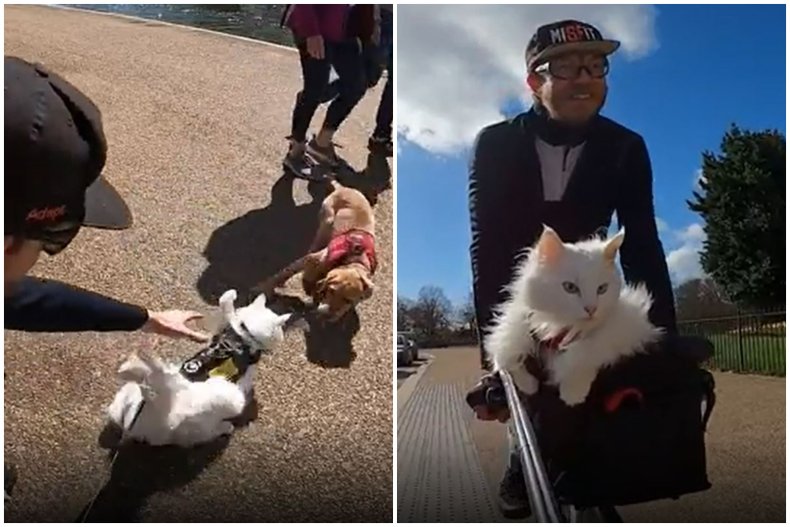 He clarified: "She doesn't always hiss, kind of depends on her mood, and also how rowdy the dog is. Often if they mind their business she'll mind hers. But yeah, she really hates dogs, that's for sure."
And Nelson confirmed she does have a soft side, adding: "She's normally pretty relaxed actually, I mean you can see in the videos almost nothing bothers her.
"She just really, really hates dogs for some reason. With dogs, she just kind of puts them in their place, with cats she really gets upset. trembling, growling, etc."
Nelson has been sharing their bike rides to TikTok, @sigirides, and Instagram, @skintension, where people have marvelled at Sigrid's feisty spirit.
Some of Nelson's videos have amassed more than a million views, with Sigrid—sometimes dressed in a fetching red coat—the undisputed star of the clips.
Commenting on one popular video, Royston8791 joked: "That cat has no fear."
Dina Hamade commented: "No dog is safe."
BeebS quipped: "Spicy little thing."
While Haydee baby noted: "She's ready to square up each time."
And Gemma Murphy added: "This cat goes after dogs like nobody's business!"
Nelson admitted other pet owners usually react with "confusion" when faced with Sigrid's wrath.
He said: "We've had a few bad reactions... notably one woman lost control of her 3 dogs and got mad at me for having a cat in the park. A bit odd, that.
"One time she made a dog bleed. but that was at our local pub so we were fine... they love us there."
Nelson, who takes Sigrid out almost every day, continues to delight her growing fan base with video updates.
"I want this cat," Blkwlf_ added on one video.