Firefighters Forced to Cut Through Couch to Rescue Trapped Kitten
Firefighters are well known for rescuing cats stuck in trees, but it seems their area of expertise also extends to furniture.
A group of firefighters from Manotick, a suburb of the Canadian capital Ottawa, was called out to reports of a trapped kitten—which had somehow managed to get its leg stuck inside a pull-out sofa.
Firefighters from the Ottawa Fire Services attended the scene this week and were forced to cut through the couch to rescue the terrified black cat.
Snaps from the daring rescue show at least three firefighters wrestling with the sofa, as they lift it and turn it sideways to try to free the cat.
The team shared snaps of their efforts to the Twitter page @OttFire on Thursday.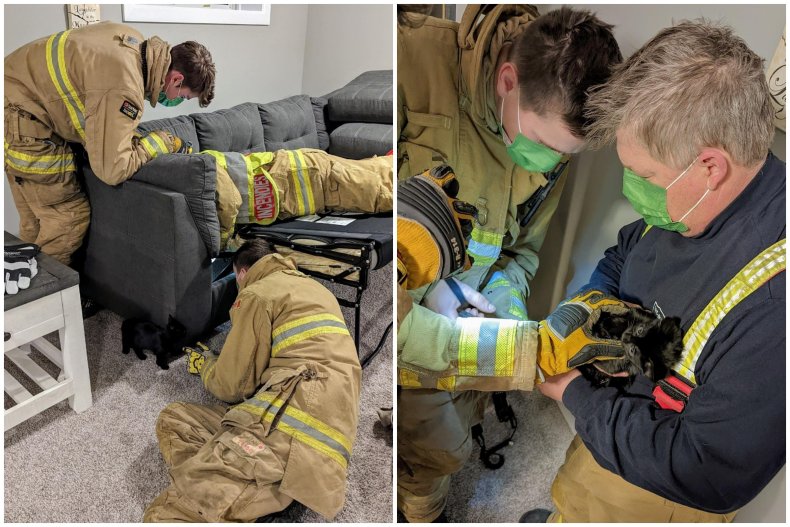 The post read: "@OttFire rescued a kitten this morning in Manotick that had his leg stuck inside a pull-out sofa.
"Firefighters had to cut through the couch to access the kitten. The kitten was safely taken out and handed back over to his owner."
The four photos chart the heroic mission, with the final image showing the adorable cat snuggled in a firefighter's arms.
Although the pet managed to escape in one piece, it's likely the owners will be shopping for a new sofa.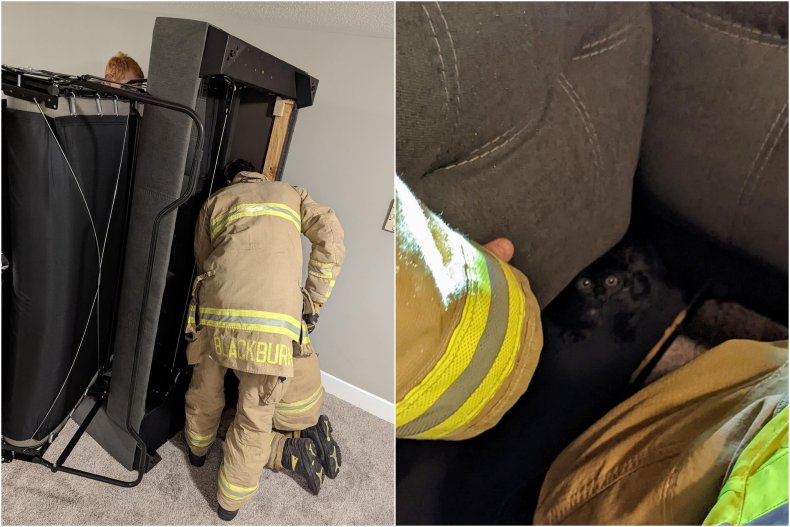 The tweet has already attracted close to 200 likes and many replies praising the firefighters. Duchess of the Burg comment: "I truly LOVE you Ottawa Fire, every moment of every day. Truly you are heroes in every sense. Thank you! Now I am sobbing uncontrollably, because you saved a kitten!!!!!"
Bonnie Teet raved: "How fantastic you guys/gals are. Everyday heroes."
Dawn asked: "Great job. Was the kitten injured?"
Nessie added: "You guys/gals are heroes, nothing less! Thank you for all you do!"
In other cat rescue news, a Michigan firefighter has described how he developed a "special bond" with a kitten after freeing it from a storm drain.
Brandon Mulvaney and his colleagues from the Saginaw Fire Department were called out in August, after passers-by heard a cat's cries.
Mulvaney told Newsweek: "Upon arrival we were able to figure out that there was a very small kitten, trapped below ground, running back and forth between a main drain and a curb-style storm drain."
After retrieving the ginger car, the firefighter said he knew immediately he "wanted the kitten because it came right to me."
The kitten, named Huntley after the intersection where he was found, was adopted by the firefighter and his wife, and is now settling into life with their four children and dog.