Like moths to a flame (or parasites to a partisan host), national media outlets and leftist activists seized on a recent left-wing report claiming racial justice demonstrations during the "summer of love" were, indeed, mostly peaceful. This proves, as The Guardian notes, "protests are peaceful despite Trump narrative."
Not only is the data spotty, ignoring violent acts and their repercussions, but the use of it as propaganda is both hypocritical and, in some cases, rather nefarious.
According to the Armed Conflict Location & Event Data Project (ACLED), about 93 percent of summer demonstrations tied to Black Lives Matter (BLM) were peaceful. The other 7 percent? Violent. But ACLED strongly implies the violence might have been justified. They simply claim the violence is a result of "a multitude of concurrent, overlapping risks—from police abuse and racial injustice, to pandemic-related unrest and beyond—all exacerbated by increasing polarization." After all, ACLED claims, "police killings continue unabated," as they call out the "heavy-handed approach" by "militarized" law enforcement.
The pro-demonstration, anti-law enforcement analysis itself should raise serious red flags. It reads like it was co-authored by a CNN anchor and a BLM activist, blaming cops and right-wing militias for much of the violence while making the case that the riots shouldn't garner much media attention. This bias shouldn't come as a shock. In June, The Washington Post reports ACLED expressed solidarity with the very same social justice demonstrations they are now studying.
But it's the incomplete data that should first cast doubt on their conclusions.
The report, generally speaking, classifies demonstrations as either peaceful or as riots. This simplistic view is troublesome because in many big cities where these violent demonstrations have unfolded, police departments have purposefully stood down and not declared a riot—and, in some cases, haven't even been involved in quelling them for fear it would exacerbate the problem. Additionally, mainstream media outlets don't cover all the events, making it harder to track.
The "peaceful protest" narrative is helped when you include the first days of the movement, when they were not just peaceful but widespread because the entire nation was united in anger over the killing of George Floyd. Since then, that's not been the case, with violence escalating and overshadowing any BLM message. And as someone who has extensively covered the movement in Seattle, where I live, a dive into ACLED's dashboard shows the data is incomplete.
Over the summer, radical BLM activists, mixed in with Antifa, anarchists and other agitators, took over a six-block radius in Seattle known as the Capitol Hill Occupied Zone (CHOP). It was police-free. As a consequence, there were two murders, an attempted rape, daily assaults and a whole lot of vandalism. But ACLED describes CHOP as a success: "Although riots were reported before 8 June (when CHOP was established) and after 1 July (when it was dismantled), only peaceful protests were recorded during the intervening period."
Their dubious conclusion aside, there was a riot—it was inside CHOP. In the early morning of June 14, Seattle's Car Tender, an automotive shop inside CHOP, faced a mob of activists. The owners found a man trying to burn down the business. They called the police over a dozen times, but an activist mob outside wanted the suspect first. If they didn't get him, the mob threatened to destroy the business. They vandalized the property, breaking down the fencing and stormed the property. They ended up getting the arson suspect, who got away. This incident—dare I call it a riot—isn't listed in the ACLED data.
There were also several demonstrations-turned-into-vandalism that don't register in ACLED's data. During one August 21 march, which blocked traffic in downtown Seattle, there were social media reports of damaged property. Concurrently, a black bloc mob surrounded and vandalized a police precinct in north Seattle.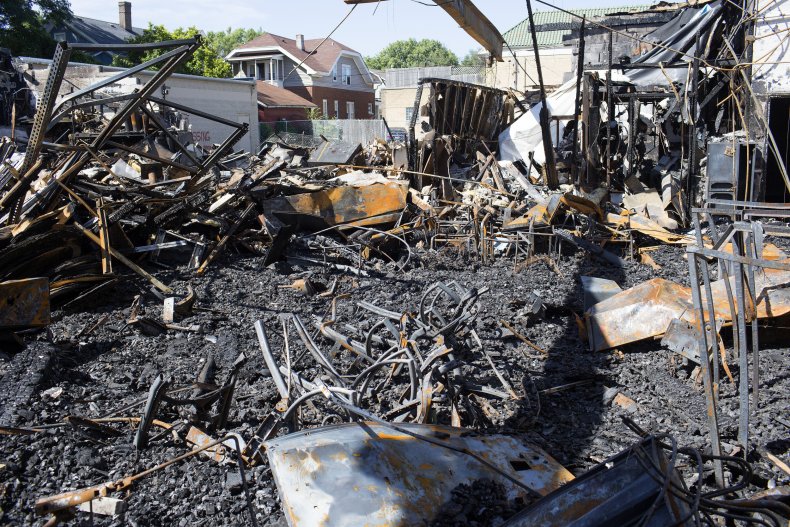 Also missing in the data is the mob that targeted white Seattle homeowners, surrounding their homes and demanding they leave and pay reparations. This was the same mob that threatened to hurt a council member who didn't vote to defund the police.
I only looked into a small handful of Seattle-only events. There's a likelihood that the data are missing similar events in other American cities. But beyond the incomplete data, it's also being abused and misanalyzed.
ACLED uses the data to criticize media outlets that focused on the violence, as if national media even covered this well. Outside of Fox News, mainstream national outlets mostly ignored the violence, instead parroting the approved talking point that now comes from ACLED: "There is little evidence to suggest that demonstrators have engaged in widespread violence." Tell that to the families that lost loved ones and businesses due to the unrest. Now the outlets are presenting the report uncritically to further their preexisting narrative.
CNN is using this report to claim violence is really just coming from police and right-wingers—not Antifa and other agitators acting out in the name of BLM. TIME positions the data to blame Trump for the violence. The Guardian condemned the report's "stark contrast to claims made by the Trump administration, and widely circulated by Fox News and other right-wing media outlets." These also happen to be conclusions ACLED published in its report.
In 2020, widespread riots and violent demonstrations over a period of months—be it 7 percent or not—is simply unacceptable. That warrants widespread media coverage. Mobs of activists regularly commit acts of arson, they assault police officers with Molotov cocktails, wander city streets in mobs harassing homeowners, diners and business owners, and they've committed murder. This isn't a big deal to ACLED? Ignoring the rioting, or even downplaying it, is nothing more than a P.R. campaign meant to strengthen the movement's policy goals. Highlighting the violence weakens BLM's support, and many media outlets and ACLED don't seem willing to do that.
The report isn't just intended to further help push the ridiculous "Trump's America" line. It's meant to justify, again, less coverage of the violence. After all, it's only 7 percent of what's going on. Some media outlets will happily use that logic here.
Well, what percentage of police shootings this year have killed unarmed Black men? Less than 1 percent, according to The Washington Post, and that doesn't account for whether or not the use of force was justified. There have actually been more deaths directly related to the "peaceful" protests.
Yet national outlets have spent months covering the issue of police violence, the Democrats devoted much of their convention to the topic and, of course, there are marches to highlighting what they call an epidemic of police violence. These are major events and should obviously be covered. But using this logic, shouldn't the sustained riots and criminal activism warrant just as much, or even more, coverage? Meh. Not all that important to the national media, I guess.
Jason Rantz is a frequent guest on Fox News and is the host of the Jason Rantz Show on KTTH Seattle, heard weekday afternoons. You can subscribe to his podcast here and follow him on Twitter: @jasonrantz.
The views expressed in this article are the writer's own.