Blood of Critically Ill COVID-19 Patients Found to Be Thicker Than Normal in Small Study
The blood of some patients with COVID-19 is thicker than normal. That's according to the authors of a small study, who say this may explain the prominence of blood clotting in those with the disease caused by the novel coronavirus.
Researchers from Emory University in Atlanta found what is known as hyperviscosity is linked to COVID-19. In general, this can happen for a number of reasons, including a rise in components of blood plasma—such as red and white cells, platelets or proteins—or because red blood cells are misshapen.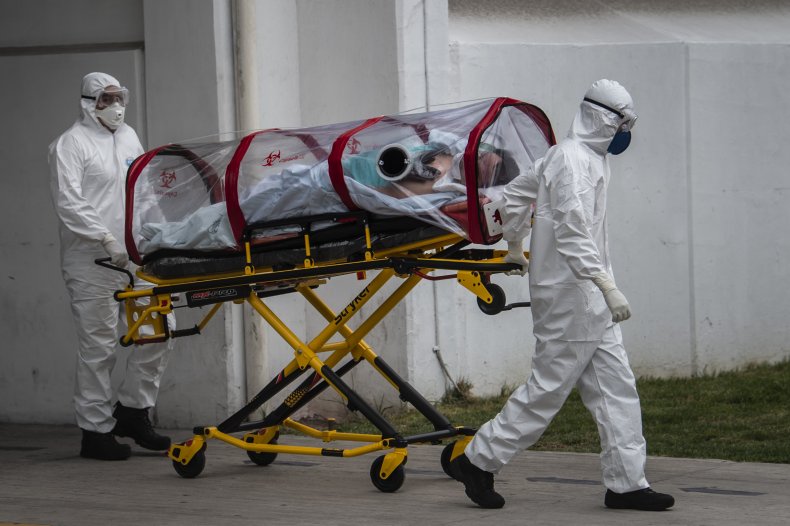 Reports of blood clots in COVID-19 patients are "increasingly prominent," even in those who are given drugs to prevent them, said the authors of the research published in the journal The Lancet. After they noticed this pattern in patients at their institution, the team set out to find an explanation.
The study involved 15 critically ill COVID-19 patients in an Emory University intensive care unit. All of the patients were given drugs to prevent blood clots, but the viscosity of their blood plasma was 95 percent higher than normal, the team said. Four of the patients had blood clot-related compilations, including a pulmonary embolism, restricted blood supply in a limb and clotting related to a kidney support machine. The researchers also found a strong correlation between plasma viscosity and a measure of how seriously ill a patient is called the Sequential Organ Failure Assessment score.
According to the team, the patients had "substantially increased" levels of fibrinogen, a protein present in blood plasma. This mirrors previous reports of increased levels of the substance in COVID-19 patients, they said.
More research is needed to explore which components of the blood may lead to hyperviscosity in COVID-19 patients, according to the authors.
This is the latest study to shed light on blood clotting as a characteristic of COVID-19, a little-understood disease that is thought to have emerged late last year in the central Chinese city of Wuhan.
Five months into the COVID-19 pandemic, more than 5.6 million cases have been confirmed, according to Johns Hopkins University. More than 355,700 people have died, and over 2.3 million people have recovered. The U.S. is the country with the most recorded cases, as shown in the graph by Statista below. It is also the country with the most reported deaths, at over 100,000.
One such study published in the journal The Lancet Respiratory Medicine showed the lungs of African American patients in New Orleans contained blood clots. The findings were based on the autopsies of ten patients who had died of COVID-19, which were carried out with the consent of their next of kin.
Senior author Dr. Richard Vander Heide, professor and director of Pathology Research at Louisiana State University Health New Orleans School of Medicine, said in a statement: "We found that the small vessels and capillaries in the lungs were obstructed by blood clots and associated hemorrhage that significantly contributed to decompensation and death in these patients.
"We also found elevated levels of D-dimers—fragments of proteins involved in breaking down blood clots. What we did not see was myocarditis, or inflammation of the heart muscle, that early reports suggested significantly contributes to death from COVID-19."
Robert Storey, professor of cardiology at the University of Sheffield, U.K., who did not work on the studies, told Newsweek: "It is now well-recognized that inflammation in the body leads to increased risk of clot formation because the concentrations of proteins in the blood plasma responsible for clot formation increase in line with the extent of inflammation.
"What has surprised many clinicians is the dramatic nature of the inflammatory response in COVID-19 that leads to the life-threatening complications and it seems we are seeing an exaggerated clotting response in some hospitalized patients."
This means that low doses of anticlotting medication are likely to be insufficient to deal with this problem, explained Storey, "partly because the dose is low and partly because the effects wear off before the next injection is given.
"However doctors have to balance the risk of clotting with the risk of bleeding, particularly in COVID-19 patients who develop failure of multiple organs including the liver (which produces clotting proteins) or need invasive procedures performed."
People with diseases in the arteries which supply the heart muscle or brain are more prone to conditions such as deep vein thrombosis are at risk of blood clotting, Storey said. "We need to develop personalized strategies for controlling clotting risk in patients with COVID-19 or other conditions associated with excessive inflammation."
This article has been updated with comment from Professor Robert Storey.