Skywatchers in Asia, Africa, Europe, South America, Oceania and Antarctica will be able to watch at least some of the longest lunar eclipse of the century on the night of July 27-28.
But moongazers in the U.S. are set for disappointment. The country is about as far from the viewing zone as possible and won't even catch a glimpse of the spectacle.
But have no fear. If you live in America you can still bathe in the blushing glow of the blood moon... from your computer screen. Websites like the Virtual Telescope Project and Timeanddate.com are offering free live streams of the exciting event. So grab your lunch, draw your curtains and brighten your laptop display. Spanish speakers can enjoy the eclipse via sky-live.tv, which will broadcast the eclipse from Namibia.
The Virtual Telescope Project stream will capture the blood moon from Rome, Italy, from 6:30 p.m. UTC—that's 2:30 p.m. ET and 11:30 a.m. PT. Timeanddate.com's coverage begins a little earlier at 6:00 p.m. UTC (2:00 p.m. ET and 11:00 a.m. PT). It will track the glowing orb using telescopes in Greece, Australia and South Africa. Sky-live.tv's coverage will start at 6:20 p.m. UTC (2:20 p.m. ET and 11:20 a.m. PT).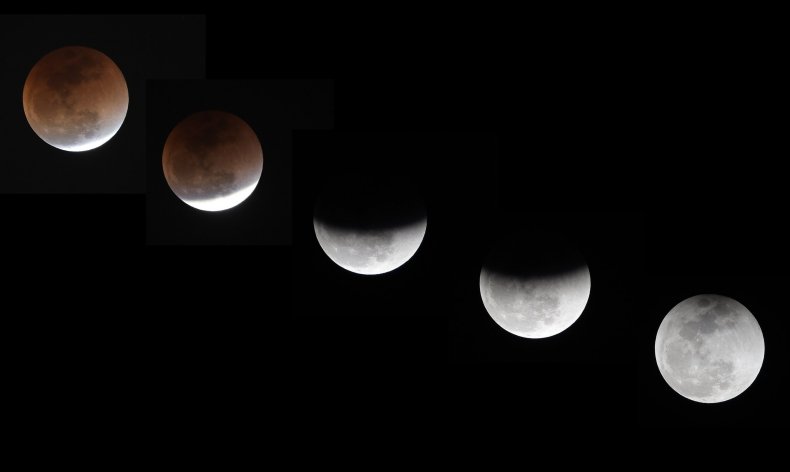 The total eclipse itself will last a mammoth 1 hour 43 minutes, beginning at 7:30 p.m. UTC (3:30 p.m. ET and 12:30 p.m. PT) and ending at 9:13 p.m. UTC (5:13 p.m. ET and 2:13 p.m. PT). The greatest eclipse will occur at 8:22 p.m. UTC (4:22 p.m. ET and 1:22 p.m. PT). If you live outside the U.S., check out this eclipse map from timeanddate.com to see if you'll be able to view thie eclipse in person.
U.S. skywatchers will have to wait until January 2019 for a blood moon to grace their own skies.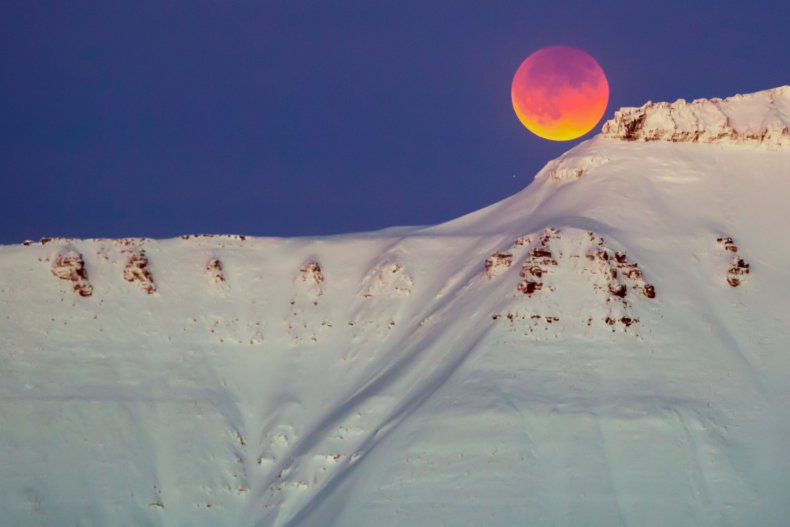 A lunar eclipse occurs when the Earth casts a shadow on its rocky satellite. Our atmosphere filters sunlight traveling through our atmosphere. When this light hits the moon, it makes the orb glow an orange-red color.
"Shorter wavelengths [greens and blues] get scattered more than longer wavelengths [reds and oranges], the same phenomenon that gives us red skies at sunrise and sunset," NASA programme scientist Sarah Noble previously explained to Newsweek. "You can think of the reddish color as all of the sunrises and sunsets on Earth at that moment reflected off the surface of the Moon.
"Like our sunrises and sets, the exact color will depend on the dust and clouds in the atmosphere and can vary from brown to brick red to copper or orange."