Blood Spatter Evidence to Play Key Role in Kohberger Trial: Ex-FBI Agent
Blood spatter analysis will likely play a role in the Idaho murders trial involving suspect Bryan Kohberger, according to a former FBI agent.
"#bryanchristopherkohberger's defense team also has experts; look for blood spatter analysis to play a role in #idahohomicides," former FBI agent Jennifer Coffindaffer wrote in a tweet on Monday.
Kohberger, a 28-year-old Ph.D. student studying criminology at Washington State University, was arrested last month and faces four counts of first-degree murder and one count of felony burglary. His arrest came more than a month after police in Moscow, Idaho, began their investigation into the fatal stabbings of four college students: Kaylee Goncalves, 21, Madison Mogen, 21, Xana Kernodle, 20, and Ethan Chapin, 20.
Kohberger's former attorney in Pennsylvania, Jason LaBar, said that the accused was "eager to be exonerated of these charges."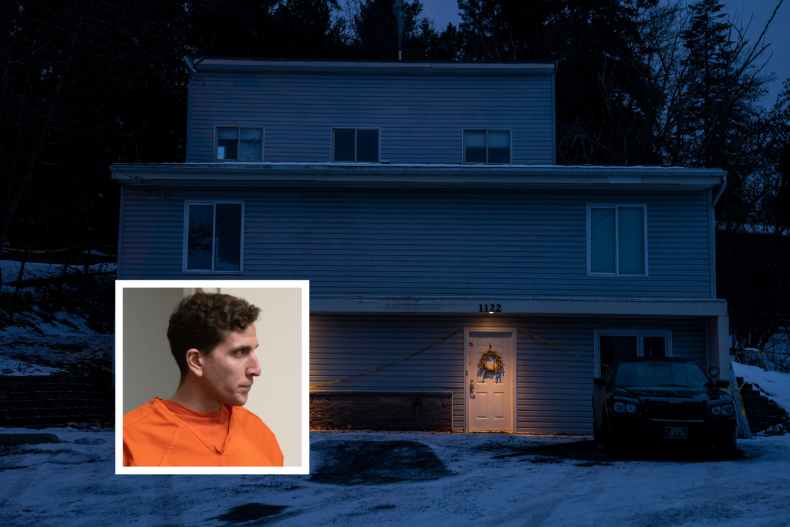 Coffindaffer told Newsweek on Monday how blood spatter, or bloodstain pattern analysis, will be used in the trial, which is scheduled to begin in June.
"One of the things they look at are voids and so sometimes it's not where the blood spatter hits but where it doesn't hit," Coffindaffer said. "Because that gives a reference as to how the crime was committed, what direction the perpetrator was facing, was the perpetrator on the victim, did they hit an artery."
Coffindaffer said that Kohberger's defense team could use bloodstain pattern analysis to possibly argue that someone "with a different stature" committed the crimes.
According to Coffindaffer, evidence related to the bloodstain pattern analysis is "going to tell a story," and both the defense team and the prosecution will have experts in the field to provide testimony.
"The prosecution is going to lay that story out in large part, based on not only spatter but also blood location, footprints, other blood," Coffindaffer said. "That blood is going to tell the story and that's going to be one of their key tools to be able to recreate a crime scene, blood evidence."
Coffindaffer also said that the prosecution and defense teams will have different opinions on what the bloodstain pattern analysis evidence shows.
Last week, Coffindaffer and former federal prosecutor Neama Rahmani told Newsweek that Kohberger's trial will likely be a "battle of the experts" while speaking about the cellphone tower pings and surveillance footage that was included in the probable cause affidavit.
"You don't need actual innocence, you just need reasonable doubt," said Rahmani, who is president of West Coast Trial Lawyers.
Newsweek previously reached out to Kohberger's public defender, Anne Taylor, for comment.