Bloodhound Puppy Who Is 'Scared of Rain' Melting Hearts Online
Given their history and status as hunting dogs, you might have assumed bloodhounds were among the most fearless of dog breeds.
But one young pup named Salem appears to have bucked the trend.
In a clip posted to TikTok under the handle scottypnahmsayin, the canine can be seen cowering under a set of steps leading up to a house while the rain pours down around him.
Salem can be heard howling in the clip, while an accompanying caption explains: "big man scared of rain." The video has racked up over 2.1 million views and counting. Watch it here.
Though Salem's howls and general fearfulness might be a source of concern to some viewers, the reality is that dogs, by and large, are an anxious bunch.
A 2020 study published in the scientific journal Nature found that 72.5 percent of pet dogs exhibit at least one form of canine anxiety. Finnish researchers surveyed the owners of some 13,700 pet dogs as part of the study, gathering data on 14 breeds as well as several prominent mixed breeds.
Noise sensitivity was identified as the most common form of canine anxiety, with 32 percent of pet owners polled noting their canine companion experienced fear of this kind.
Fireworks were identified as the most common of these particular noise concerns, with 26 percent of dogs experiencing anxiety related to them. That's not a huge surprise. One video recently shared online showed a group of rescue dogs cowering in a closet to avoid a New Year's Eve fireworks display.
The study identified fear as the second-most common form of anxiety, with 29 percent of dogs experiencing it. Fear of other dogs was listed by 17 percent of those polled, just ahead of fear of strangers (15 percent) and new experiences (11 percent).
In this context, it's entirely plausible that Salem's scaredy-cat behavior might be simply because he's not familiar with the concept of rain—he is a puppy after all. Though he might not have enjoyed it much, footage of the incident proved popular among pet fans, with animal lovers taking to the video's comments section on TikTok to reach out to the frightened puppy.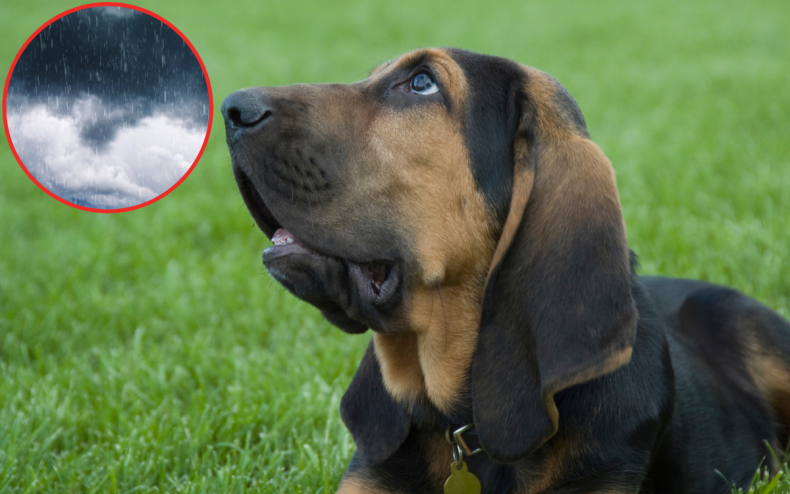 One user posting as butter_biscuits gushed: "That's the cutest thing get that baby inside for some snuggles." Gaylienkayla59, meanwhile, wrote: "I love this pup! Reminds me of my babies being babies out in the rain."
Elsewhere, billyjuul666 said: "He was not built for the wet" with eleanor snodgrass commenting: "Bloodhounds are so dramatic, I love it," while SabbyO added: "poor pup. but give him time, he'll be ok. everything is so new. treats and cuddles."
Thankfully, Salem has since recovered from that initial scare, with his owner posting several clips of him relaxing in the warmth inside their home. Summer cannot come soon enough for this dog.
There's help and advice available for anyone concerned about their dog experiencing symptoms of anxiety.
Do you have funny and adorable videos or pictures of your pet you want to share? Send them to life@newsweek.com with some details about your best friend and they could appear in our Pet of the Week lineup.