Michigan Man Uses Blowtorch to Kill Weeds, Sets Trailer Park on Fire
A man using a blowtorch to clear weeds in a mobile home community accidentally started a fire that forced dozens of residents to temporarily evacuate.
The blaze began Wednesday around 5:15pm in Green Oak Township, Michigan, about 50 miles from Detroit. According to Fire Chief Kevin Gentry, the fire began in a shed, but when firefighters arrived just a minute later, it had already spread to one trailer, and then another. In all three units were damaged.
At least one resident lost their home and their pet, reports Fox 2 in Detroit.
"My neighbor came knocking at my door," Brenda Vaughan told the channel. "This is, like, a family oriented [community]... there's so many different families that live here in trailers, so it's affecting everyone."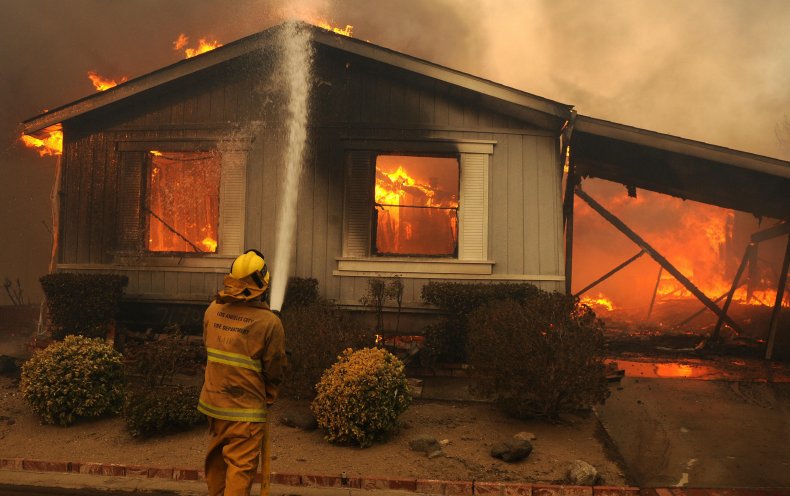 Firefighters extinguished the flames in about about 20 minutes, but two propane tanks began leaking so severely the Livingston County Hazmat Team was called in.
Authorities are still investigating the incident and have not released any information about who was responsible.
Residents were allowed to return to their homes by 10pm, while the Red Cross is helping families displaced by the fire seek temporary shelter.
This week, burglars used a blowtorch to try and break into the Daytona Spy Shop in Florida: Surveillance video shows a masked man pulling a large hose out of his car and igniting a professional welding torch. The man stopped when the curtains inside the store started to catch fire.
The shop owner claims the same suspects tried to break in last month using a hammer, but after more than 50 blows they failed to break the lock and departed.
And earlier this month, a plumber using a blow torch in an Akron, Ohio, apartment building accidentally set fire to the tower. Residents were evacuated though no one was reported injured.
Last October, 29 firefighters were called to a two-alarm fire in Fresno, California, that was started when a man tried to kill a spider with a blowtorch. The man escaped but the house's second story and attic were damaged by the flames.
There have been efforts to prevent future infernos: This spring lawmakers in New York banned flamethrowers after Elon Musk's Boring Company released its "Not-a-Flamethrower," a novelty incendiary device. The measure makes possession of a flamethrower "for recreational use" a felony punishable by up to four years in prison.
But we might see more accidental blazes, now that the Throwflame TF-19 Wasp has come to market: The device is a functional flamethrower attachment for commercial drones that can set fire to targets up to 25 feet away.
According to Throwflame, the $1,500 device's one-gallon tank can produce a stream of fire for more than one-and-a-half minutes.
Michigan Man Uses Blowtorch to Kill Weeds, Sets Trailer Park on Fire | News