Senator Seeks Oversight of Moving Scams Following Newsweek Investigation
Sen. Richard Blumenthal, a Democrat from Connecticut, sent a letter Thursday to Department of Transportation Secretary Pete Buttigieg, calling for tougher action against moving companies perpetrating scams – a nationwide problem that has proliferated in recent years with little federal oversight.
"It is clear investigations alone are insufficient to protect consumers," wrote Blumenthal, alluding to the limitations faced by the DOT's Federal Motor Carrier Safety Administration, which licenses and regulates household goods movers.
"While I understand the FMCSA is limited in the penalties it can assess without the U.S. Department of Justice (DOJ), such limitations do not preclude tough enforcement or referrals to DOJ for further action," Blumenthal wrote.

The senator's letter was sparked by growing reports – including a Newsweek investigation – about the rise in moving scams. Complaints about moving companies to the FMCSA totaled 7,647 in 2022, or more than double the 3,030 filed in 2015. A record 10,133 were made in in 2021, according to figures provided by the DOT to Newsweek.
Meanwhile, the FMCSA has pursued only 13 criminal cases (via the Department of Justice), and the DOT's Office of Inspector General has settled only six civil cases against household goods moving companies since Jan. 1, 2017.
"The FMCSA must use all of its authorities to enforce penalties against bad actors and protect consumers from widespread fraud, extortion, and theft within the moving industry," Blumenthal said.
The FMCSA says it has limited authority to fine or hold accountable bad-actor moving companies. A 2019 decision by an administrative law judge held that the FMCSA didn't have authority to assess penalties against household goods movers as an enforcement tactic. Agency officials have told Newsweek that the decision has dramatically limited their ability to take on the growing problem, and that it would require action by Congress to close the enforcement gap.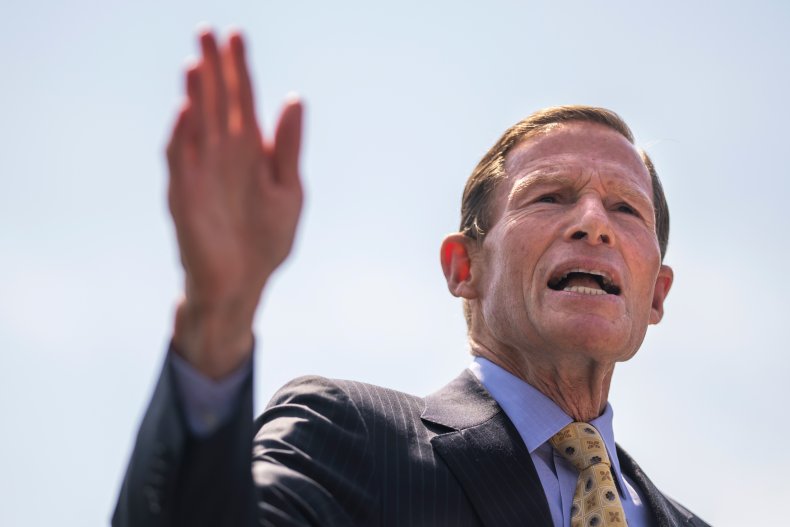 Blumenthal, a member of the Judiciary Committee, which has some oversight on the issue, declined to comment on whether he planned to introduce legislation to address the problem.
Lawrence Hawthorne, who retired from the FMCSA in 2020 after more than 40 years as an investigator focused primarily on movers, told Newsweek that the scams were far less common when he started his career.
Hawthorne said brokers—companies that charge customers to connect them with a low-cost mover—were previously not allowed to issue estimates that are often used by scam brokers to low-ball customers into making large upfront deposits. Reversing that and the agency's inability to fine movers could alleviate many scams, he said.
"It seems like nobody wants to go on the Hill to say, 'Hey Congress, we need this done,'" Hawthorne said.
FMCSA officials did not immediately respond to a request for comment. Blumenthal's office declined to provide further comment or answer questions about the apparent gap in the law that would require Congressional action.
"There's enough evidence that this is a problem for enough people and enough states that Congress absolutely should be paying attention ... people need to be held accountable ... at least we're getting the conversation started," said Teresa Murray, the director of consumer watchdog programs at the nonprofit Public Interest Research Group.
The senator's outreach to Buttigieg follows an investigation by Newsweek into the lack of oversight of the growing problem, which typically involves "reincarnation" of moving companies.
A bad actor moving company launches with phony online reviews and promises to save customers money. Then, the real reviews start, with people complaining they had been dramatically overcharged or had valued personal effects damaged or held hostage. When the bad reviews overtake the good ones, the owner renames the company or launches a new one—along with newly purchased five-star reviews and a new DOT license. Then the cycle starts all over again.
Blumenthal asked Buttigieg to respond to 10 questions by March 23. The inquiry seeks data on how many moving fraud complaints the agency has received in the past two years, and to what extent investigations played a role in resolving consumer complaints.
He also sought details on how often the agency refers these cases to the Department of Justice; how many full-time employees are focused on investigating household good moving complaints, and what barriers the FMCSA faces during investigation and enforcement of bad actors in the industry.
FMSCA officials told Newsweek that they had eight employees investigating complaints into household goods movers, and plan to expand that to 17 inspectors this year.
The Infrastructure Investment and Jobs Act, signed into law in November 2022, requires the GAO (Government Accountability Office) to review FMCSA's consumer complaint database and make recommendations on how to improve the complaint process. In addition, it provides $4.4 billion to FMCSA in largely discretionary funding over five years, providing an average 21% increase in annual funding for FMCSA during that period.