Boa Constrictor Found in Backyard Bushes One Week After Ball Python Was Discovered Nearby
Nestled in a bush in a homeowner's backyard in Niles, Illinois was a large snake, which was found by a landscaper.
The Niles Police Department published a post to its Facebook page with photos of the reptile asking for the owner or people who know the owner to contact officers. Officer Stephanie Hofer, a spokesperson with the police department, told Newsweek they were not sure exactly what kind of snake they found, how it got to the homeowner's backyard or the exact size of the slithering reptile.
"The snake was brought to the Niles Police Department by the person who found it," Hofer said. "We do not know the temperament of the snake. It was taken to a local caretaker before going to the reptile facility."
She said the owner did not come forward before the snake was transferred to the local reptile facility and noted that the department does not handle many incidents with snakes.
Sara Ruane, a snake expert for the Field Museum, told CBS 2 the snake was a boa constrictor that may have been someone's pet.
According to National Geographic, boa constrictors are nonvenomous and are native to Central and South America. Although they are strong swimmers, they tend to gravitate toward dry land and can be found living in hollow logs and empty mammal burrows.
They can grow up to 13 feet long and weigh more than 100 pounds. The boa constrictor tightly wraps around its prey until it is suffocated. National Geographic wrote that boa constrictors will eat anything they can catch, like birds, monkeys and wild pigs.
CBS 2 reported that this find comes just one week after a ball python was found under a woman's car at Herrick Lake Forest Preserve, about 30 miles away from where the boa constrictor was spotted.
"Came across this ball python at Herrick Lake today!" a Facebook post published by the Dupage Forest Preserve Police read. "A reminder not to release your pets or wildlife into the forest preserves. It's not only unlikely they will survive but also unlawful."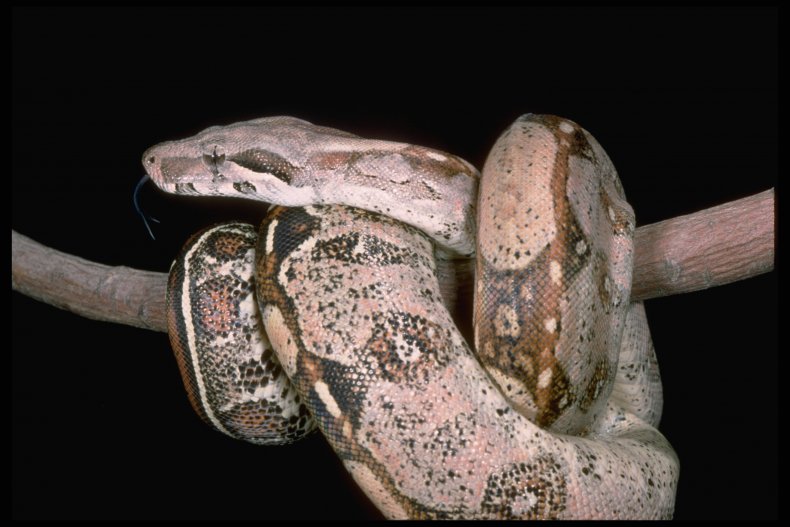 Ruane told CBS 2 that both species of snakes are typically shy around humans and will only strike if they are provoked.
"There's no concern about, in Illinois, snakes like this starting a breeding population or becoming established or anything like that," she said.
Elsewhere in the United States, however, an annual competition takes place to remove the invasive Burmese python from the Florida Everglades.
Newsweek previously reported that the 10-day competition is meant to protect the ecosystem of the Everglades. This year, a team of snake hunters successfully captured a 16-foot Burmese python from the Everglades.