Bob Dole Tributes Pour in After Former GOP Senator Dies at 98
Tributes for Bob Dole, the former senator and GOP presidential nominee, poured in after he died Sunday at the age of 98.
"It is with heavy hearts we announce that Senator Robert Joseph Dole died early this morning in his sleep. At his death, at age 98, he had served the United States of America faithfully for 79 years. More information coming soon," the Elizabeth Dole Foundation announced in a tweet.
Dole represented Kansas in the U.S. Senate from 1969 to 1996. Throughout his tenure, he served as the Republican majority and minority leader. He was the Republican nominee for president in 1996.
A member of the U.S. Army, Dole also served in World War II, where he was hit by a shell fragment that temporarily paralyzed his arms and legs. During his 36-year tenure as a senator, Dole went on to be a key player in passing the 1990 Americans with Disabilities Act, which prohibits discrimination based on disability.
He announced in February that he was diagnosed with Stage 4 lung cancer, according to the Associated Press.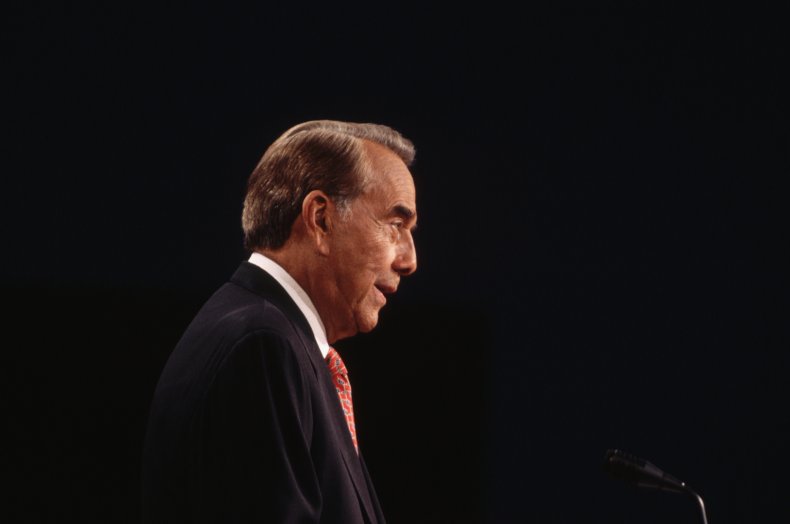 Many took to Twitter to pay their respects to Dole.
"@SenatorDole was an American hero, a statesman of the highest order & one of the greatest legislators of all time. Most importantly, he was forever a Kansan who always put service above self. Laina & I join Kansans in holding Elizabeth, Robin & the entire Dole family in our prayers," Senator Roger Marshall, a Kansas Republican, tweeted.
"Barbara & I are sad to hear of passing of war hero/Senate Majority Ldr /presidential nominee Bob Dole He was a dedicated public servant + kind + funny + hard worker + a true patriot We send our love to Elizabeth & his family," Senator Chuck Grassley, an Iowa Republican, wrote. "Bob took me under his wing when I came to the Senate & I couldn't hv had a better senator to learn from He was a best friend & mentor God bless the gr8 Bob Dole."
Democratic National Committee Chair Jaime Harrison wrote: "Sending heartfelt condolences and prayers to the family of Senator Bob Dole. We honor his service and dedication to the nation. May he Rest In Peace."
Utah Senator Mitt Romney wrote: "When I think of the greatest generation, I think of Senator Bob Dole—a man who dedicated his life to serving our country. Rest In Peace, my friend. Ann and I will be praying for Elizabeth, their family, and loved ones."
"Bob Dole served his country with courage on the battlefield, and with dignity in the Senate. Jane and I send our condolences to his family," Senator Bernie Sanders of Vermont tweeted.
"It is with a heavy heart that we say goodbye to Bob Dole, an American hero & a proud Kansan. We offer our sincere condolences to the Dole family; we share your deep loss. Thank you,@SenatorDole for an amazing life of service to Kansas and the United States," the Republican Party of Kansas tweeted.
Former Vice President Mike Pence wrote: "His courageous service in World War II, his heroic recovery, his service in the House and in the Senate where he served as Majority Leader and his service on two national tickets, including as Republican nominee for President in 1996... were all driven by a love of country and patriotism synonymous with the Greatest Generation."
"Bob Dole was a soldier, a legislator, & a statesman. He always stood for what was just & right. I was honored to award him the Congressional Gold Medal & I'll always be grateful for his service to our country. My thoughts are with the Dole family as we mourn this American hero," former Speaker of the House Paul Ryan wrote.
"I long for the respected and 'class' days of Bob Dole and know he was mighty frustrated with the chaos of the current Congress. As a White House staffer, I worked out of his Capitol office for years and witnessed firsthand his leadership to get things done with both sides of the aisle," wrote Congressman Fred Upton, a Michigan Republican.
President Joe Biden wrote: "Bob Dole was a man to be admired by Americans. He had an unerring sense of integrity and honor. May God bless him, and may our nation draw upon his legacy of decency, dignity, good humor, and patriotism for all time."
In a lengthier statement released Sunday, Biden recounted his friendship with Dole. He noted that one of the first conversations he had with anybody outside of the White House after being elected president was with the former senator to offer him support following his cancer diagnosis.
"I saw in his eyes the same light, bravery, and determination I've seen so many times before," Biden stated.
He praised Dole for working across the aisle to pass legislation throughout his career, including the ADA.
"Bob was an American statesman like few in our history. A war hero and among the greatest of the Greatest Generation," he wrote. "And to me, he was also a friend whom I could look to for trusted guidance, or a humorous line just at the right moment to settle frayed nerves."
Former President Donald Trump wrote in a statement: "Bob Dole was an American war hero and true patriot for our Nation. He served the Great State of Kansas with honor and the Republican Party was made stronger by his service. Our Nation mourns his passing and our prayers are with Elizabeth and his wonderful family."
"Senator Bob Dole was a war hero, a political leader, and a statesman—with a career and demeanor harkening back to a day when members of the Greatest Generation abided by a certain code, putting country over party. Our thoughts are with Elizabeth and the Dole family," former President Barack Obama tweeted.
Former George W. Bush said in a statement: "This good man represented the finest of American values. He defended them in uniform during World War II. He advanced them in the United States Senate. And he lived them out as a father, husband, and friend. I will always remember Bob's salute to my late dad at the Capitol, and now we Bushes salute Bob and give thanks for his life of principled service."
Update 12/05/21, 3:16 p.m. ET: This article was updated with statements from President Joe Biden and former President Donald Trump.
Update 12/05/21, 2:49 p.m. ET: This article was updated with more tributes to Bob Dole.