Bob Saget Wanted To 'Live Forever' for His Wife, Daughters—'I Can't Die'
Bob Saget revealed a wish to "live forever" for the sake of his wife, Kelly Rizzo, and three daughters in an interview that has resurfaced after his sudden death.
Beloved comedian Saget, 65, was found unresponsive in his hotel room in Orlando, Florida, on Sunday, several hours after having performed at a stand-up comedy show in Jacksonville, Florida. He was pronounced dead at the scene.
As tributes continue to flood in for the star, Entertainment Tonight has shared its final interview with Saget, who left behind his wife of three years and his daughters—Aubrey, 34, Lara, 32, and Jennifer, 29—from his marriage to Sherri Kramer.
Speaking after his elimination from The Masked Singer in November 2020, Saget told the outlet: "I've got to live forever, I've got three daughters and a wife and a life, I can't die. I don't know what to do. I've got to live forever."
He also touched on his close relationship with his Full House co-stars, saying: "We all need to be an example for what we wish the world to be which is, you know, caring about other people…
"When you care about somebody, especially now I'm finding you got to let them know, you got to reach out and then it's nice to get that heart emoji back or whatever you get back.
"I think most people don't reread my texts. That's why I like the texts where you send a heart and then you screen slam it or the whole screen fills with hearts. That's like that one moment of, 'Oh, I'm getting pixie dust with a heart!' So you know that's when texting is good."
Saget's co-stars on his classic sitcom Full House on Monday shared a statement, in which they paid tribute to the late comedian.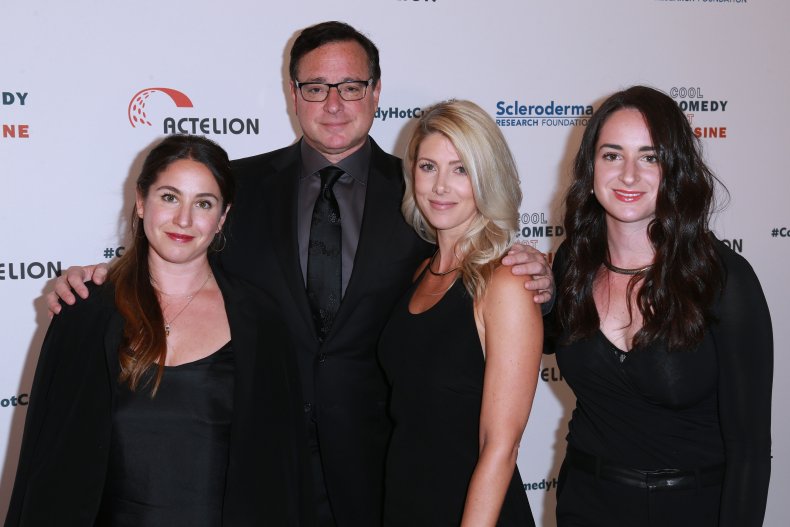 "Thirty-five years ago, we came together as a TV family, but we became a real family. And now we grieve as a family," read the statement. "Bob made us laugh until we cried. Now our tears flow in sadness, but also with gratitude for all the beautiful memories of our sweet, kind, hilarious, cherished Bob.
"He was a brother to us guys, a father to us girls and a friend to all of us. Bob, we love you dearly. We ask in Bob's honor, hug the people you love. No one gave better hugs than Bob."
The statement was signed by John Stamos, Dave Coulier, Candace Cameron Bure, Jodie Sweetin, Lori Loughlin, Andrea Barber, Scott Weinger, twins Ashley and Mary-Kate Olsen, and show creator Jeff Franklin.
Saget's family also issued a statement, which read: "We are devastated to confirm that our beloved Bob passed away. He was everything to us and we want you to know how much he loved his fans, performing live and bringing people from all walks of life together with laughter."
"Though we ask for privacy at this time, we invite you to join us in remembering the love and laughter that Bob brought to the world," the statement concluded.
An autopsy on Saget was completed hours after the Orange County Sheriff's Office stated on Twitter that there were "no signs of foul play or drug use."
The statement read: "Earlier today, deputies were called to the Ritz-Carlton Orlando, Grande Lakes for a call about an unresponsive man in a hotel room.
"The man was identified as Robert Saget & pronounced deceased on scene. Detectives found no signs of foul play or drug use in this case."