Bodies Found Tied to Tree in Brazil Amid Search for British Journalist
Two bodies were found tied to a tree in the Amazon rainforest more than a week after British journalist Dom Phillips and Indigenous expert Bruno Pereira disappeared, authorities said Monday.
The report comes just days after the high-profile search was dealt a blow when police said that "human organic material" was found near a spot along a remote river where the two men were last seen. Phillips, who has lived in Brazil for over a decade, had been writing a book about sustainable development in the area, while Pereira was assisting him as an expert field guide.
An aide to Brazil's ambassador to the United Kingdom delivered the latest discovery to members of Phillips' family during a phone call early on Monday, according to The Guardian.
"He said he wanted us to know that...they had found two bodies," Paul Sherwood, Phillips' brother-in-law, told the news outlet. "He didn't describe the location and just said it was in the rainforest and he said they were tied to a tree and they hadn't been identified yet."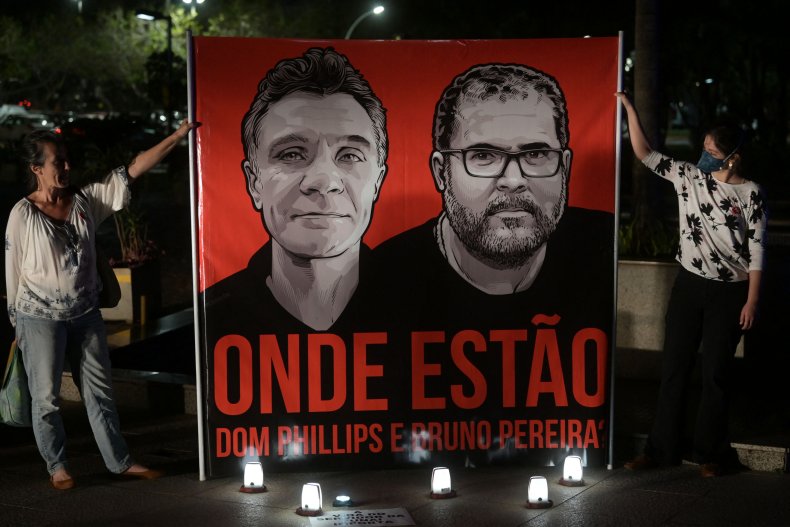 Federal police in the U.K. later emphasized that the bodies had not yet been identified, and that the families and media would be alerted as soon as authorities have conclusive evidence that the missing men have been discovered.
The two men were first reported missing on June 5, after they failed to show up in the town of Atalaia do Norte at the end of a trip near Brazil's border with Peru. Over the weekend, police confirmed that items belonging to both men had been found near the region where they were last seen. Among them, included a pair of trousers, a pair of boots, a healthcare card belonging to Pereira, and a backpack filled with clothes and boots belonging to Phillips.
Earlier this week, police arrested Amarildo da Costa de Oliveira, a local man whom sources said had threatened the two a day before they disappeared. He was found in possession of arms and ammunition, but police have so far said there is not enough evidence to link him to any potential crime, according to The Guardian.
Amid the harrowing search, Phillips' wife has made emotional pleas for authorities to "intensify" their efforts, referring to her husband as the "love of my life."
Phillips is an acclaimed journalist, who has contributed reports to The Washington Post, The New York Times, and The Guardian. Pereira is currently on leave from his post with Brazil's Indigenous affairs agency, and is considered one of its most experienced employees operating within the Vale do Javari area, Newsweek previously reported.
Newsweek contacted Brazil's embassy in the U.K. for additional comment.