Body Camera Footage Shows Andrew Brown Driving Away From Officers Before 'Justified' Shooting
Body camera footage released from the fatal shooting of Andrew Brown Jr. in Elizabeth City, North Carolina, last month showed deputies running toward Brown, a 42-year-old Black man, who was driving away in his car when officers began shooting.
On Tuesday, District Attorney Andrew Womble said a state investigation found that the officers involved were justified in their use of deadly force.
He said the shooting, "while tragic, was justified because Mr. Brown's actions caused three deputies to reasonably believe it was necessary to use deadly force to protect themselves and others."
Womble showed photos and clips from four body camera videos, the first time the footage has been shown publicly. Previously, a judge ruled that the footage would not be released to the public before the investigation was complete.
The footage had been sought by both the public and a number of media outlets, which filed court orders for the release after Brown was shot and killed.
Deputies from the Pasquotank County Sheriff's Office said they were attempting to serve an arrest warrant on April 21 when Brown was fatally shot. Three officers were placed on administrative leave for firing their weapons.
Womble said Brown began reversing his car when deputies approached him and that one of the deputy's hands was on the hood of the car as other officers yelled at Brown to stop the car. He said that because "Brown ignored officers' demands," the deputy had to take "evasive action" to move out of the way.
"Brown ignored the commands and drove directly at [the deputy]," Womble said.
At this point, the first shot was fired, entering the front window of Brown's car. Womble said as the car continued forward, several more shots were fired, with one entering through the passenger window and several more entering the rear passenger's door and window.
An independent autopsy conducted by Brown's family found that he died of "a penetrating gunshot wound to the head." It showed that there were five penetrating bullet wounds to his body and that the first few shots had not been fatal.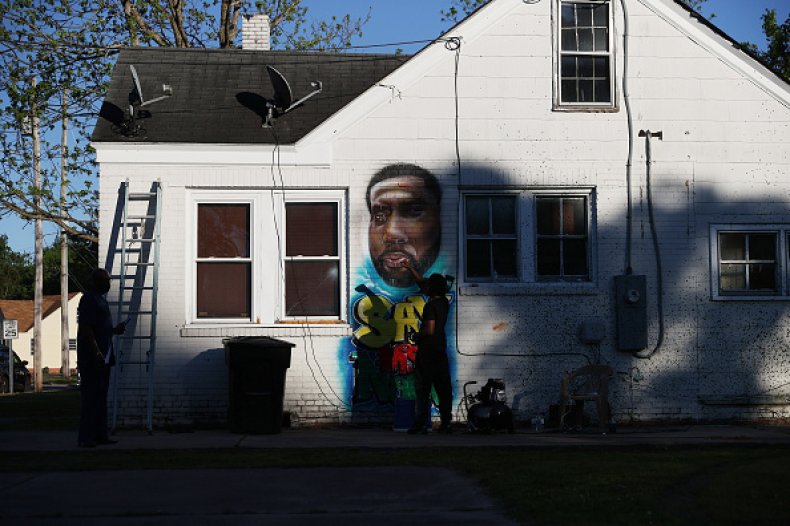 Brown's family watched the video ahead of its public release last month. His relatives were upset after being shown 20 seconds of a redacted video from one body camera, the family's attorneys said at an April 26 press conference.
"This was an execution," family attorney Chantel Cherry-Lassiter told reporters. "Andrew Brown was in his driveway. The sheriff truck blocked him in his driveway so he could not exit his driveway. Andrew had his hands on the steering wheel."
"They run up to his vehicle, shoots him. He still sat there in his vehicle with his hands on the steering wheel while being shot at," she said. "Now keep in mind this is 20 seconds. I have three pages of notes for 20 seconds."
Elizabeth City Mayor Bettie Parker and North Carolina Governor Roy Cooper had also called for the video to be released last month. Cooper called the shooting "concerning" and urged public release of the video "as quickly as possible."
"The city officials are getting more information from the media than we actually are getting from our county officials," Parker told CNN's New Day on April 26.
"Personally, I think after 24 to 48 hours that the investigation should be at a point that they can share more with the public, because the longer that there is no transparency or accountability, the public gets anxious," the mayor said.
Brown's death prompted a wave of protests just days after a jury convicted former police officer Derek Chauvin of murder in the death of George Floyd.
Last month, Parker declared a state of emergency in Elizabeth City amid heightened tensions over the video's potential release, but the footage was not made public until nearly a month later.