Body Camera Shows Police Officer Yelling 'Motherf***er' and 'You're Dead' at Detained Suspect In Wisconsin
Two police officers in Milwaukee have resigned after one of the officers repeatedly referred to a handcuffed suspect as a "motherf***er" and told him "you're dead" in a June 30 incident that was revealed via body camera footage.
Local Milwaukee NBC affiliate TMJ4 first reported on the incident Tuesday after previously receiving a tip. The news station reported that Eric Ratzmann and Eric Fields were on duty and searching for a robbery suspect when they detained a man walking in an area of their city's South Side.
After cuffing the suspect and placing him in the back of the car, Ratzmann can be heard yelling at the man: "You just spit at me, motherf***er! You motherf***er! You're dead." The man was not taken to the police station and booked but was given a ticket. When he was released, he had dropped the citation in the car and refused to take it with him.
"If you spit at me, dude, it's all over for you.... Shut your f***ing mouth. We are going on a long ride, dude, I can tell you that," the officers can be heard telling the man. They then arrested him again before he was released a second time.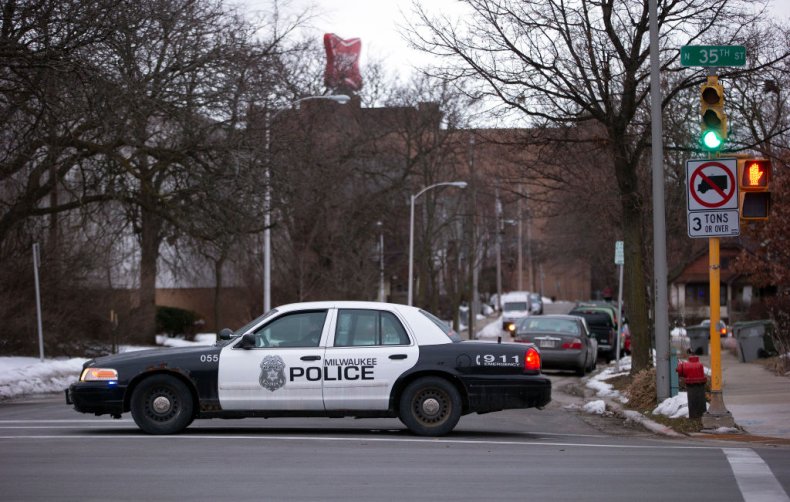 At the end of the incident, Ratzmann warns the man, "You better not talk s*** about BLM over here." The detained suspect appeared to be white.
An internal investigation at the Milwaukee Police Department led to charges against the officers, including one charge of lying on a police report. But just before the officers could be fired over the incident, they resigned on August 5, which allowed them to retire with their accrued vacation time, sick leave and pensions.
A Milwaukee Police Department spokesperson told Newsweek in an email that officers were required to watch the body camera footage as an example of what not to do at the start of their shifts.
"This is a pivotal time for our country and for our agency as we work to stop officer misconduct from occurring in our department. The Milwaukee Police Department is committed to working and engaging with our community to ensure that all of our neighborhoods are safe, vibrant and livable," the spokesperson said.
Similarly, acting Milwaukee Police Chief Michael Brunson told TMJ4 he is using the incident to instruct officers on what they should not be doing. "One of the things I believe is learning from our mistakes as a professional agency, so we've shown that video to our rank and file and to all of our personnel," he said.
Ratzmann previously had at least one complaint filed against him, in March 2018. Jeffrey Strasser filed a civil rights lawsuit against Ratzmann after he claimed the officer hit him in the head during an arrest after he took a friend's Lamborghini for a drive while he was drunk, according to the Milwaukee Journal Sentinel. Although a jury dismissed Strasser's claims, the Sentinel reported that a video shot by an onlooker showed a police officer "pounding Strasser while he was prone on the ground."
The incident in Milwaukee comes amid increasing scrutiny of policing practices nationwide. A series of high-profile incidents, including the May 25 death of George Floyd in Minneapolis police custody, have led to a wave of demonstrations against systemic racism in the U.S. justice system and police abuse. Protesters have called for major reforms, including "defunding" the police—or removing funding for some programs currently managed by the police and diverting them to other public services.
This story was updated on September 9 with additional comments from the Milwaukee Police Department.