How the Body Fights Coronavirus Infection Discovered by Scientists Studying COVID-19 Patient
Scientists who mapped how a COVID-19 patient fought off the disease hope their work will bring vaccines and treatments against the new coronavirus a step closer.
The team found four immune cells sprang into action to fight SARS-CoV-2—the name of the new coronavirus which causes COVID-19 (not to be confused with the SARS virus). The patient's body also appeared to attack the virus in a similar way that it would to the flu, according to the study published in the journal Nature Medicine.
The study involved a 47-year-old woman from the Chinese city of Wuhan, Hubei province, where the outbreak started last December. The woman visited an emergency department in Melbourne, Australia, and had what the team described as "mild-to-moderate coronavirus disease."
The woman had traveled from Wuhan to Australia 11 days prior to visiting the hospital, but neither had contact with the Huanan seafood market which has been linked to the start of the pandemic, nor with any known COVID-19 cases.
The otherwise healthy patient's COVID-19 symptoms kicked in four days before she presented at the ER, and included lethargy, a sore throat, dry cough, chest pains, trouble breathing, and a fever.
Doctors found the woman had a temperature of 38.5 degrees Celsius (101.3 degrees Fahrenheit), and tests confirmed she had SARS-CoV-2. After seven days, she no longer tested positive for the virus, and on day 11 was told to go home and self-isolate. Her symptoms had disappeared by day 13.
By taking blood samples from the woman before and after she recovered, the team found the her body was able to launch a multi-pronged attack against the virus, even though it had never encountered it before.
Co-author Professor Katherine Kedzierska, of The University of Melbourne Department of Microbiology and Immunology at the Peter Doherty Institute for Infection and Immunity, told BBC News her team worked around the clock to analyse the patient, and were able to look at the "whole breadth of the immune response."
Three days before the woman's symptoms began to fade, the scientists found certain immune cells in her blood which are also present at a similar time in flu patients, said Kedzierska.
Next, the authors wrote in their paper, scientists should map the immune responses of people with different severities of COVID-19 to try to predict how the body responds, and come up with new treatments and a vaccine for the virus.
Kedzierska said: "This [discovery] is important because it is the first time where we are really understanding how our immune system fights novel coronavirus."
Scientists must now work to understand why some patients develop more severe cases of COVID-19, or die "so we can understand how to protect them," Kedzierska said.
The professor told Australia's broadcaster ABC: "The immune cell populations we have seen emerging before patients recover are the same cells that we see in influenza… Based on our experience with patients with influenza, we could predict recovery and that's exactly what happened in COVID-19."
Kedzierska said: "This information will allow us to evaluate any vaccine candidate as in an ideal world the vaccine should mimic our body's immune response."
Irani Thevarajan, an infectious disease specialist at The Doherty Institute, told ABC she is in charge of platform set up to kick in when a new bug needs to be investigated.
"It's been set up so that everything from start to end—patient identification to sample analysis and storage—the framework is there ready to go," said Thevarajan.
By identifying which cells are activated when a person is infected with the new coronavirus, the team hopes to identify which patients will develop more serious symptoms so they can receive the appropriate care as soon as possible, ABC reported.
Australia's health minister Greg Hunt commented on the study at a press conference. He described the study as "probably the world's most advanced mapping of the immune response to coronavirus in mild to moderate patients. It's about fast-tracking a vaccine by identifying which candidates are most likely to be successful, but it's also about fast-tracking potential therapies and treatments for patients who already have coronavirus."
The study participant is among the over 79,000 people to recover from COVID-19 since the outbreak started late last year. A total of 7,158 people have died in over 182,986 confirmed cases, according to a map by Johns Hopkins University. As indicated in the map by Statista below the virus has spread to over 100 countries, prompting the World Health Organization to declare a pandemic.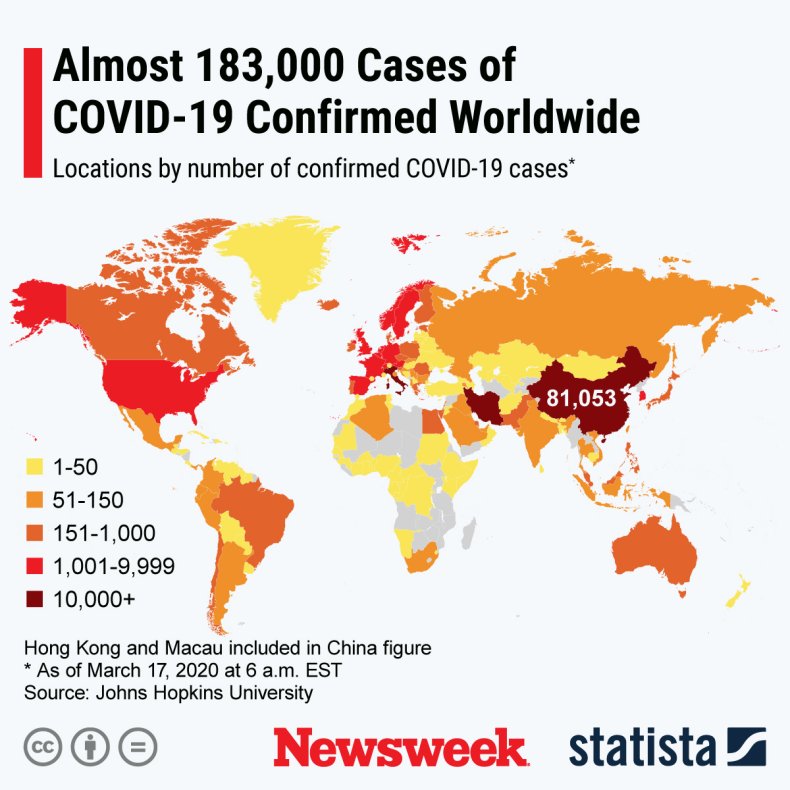 World Health Organization advice for avoiding spread of coronavirus disease (COVID-19)
Hygiene advice
Clean hands frequently with soap and water, or alcohol-based hand rub.
Wash hands after coughing or sneezing; when caring for the sick; before; during and after food preparation; before eating; after using the toilet; when hands are visibly dirty; and after handling animals or waste.
Maintain at least 1 meter (3 feet) distance from anyone who is coughing or sneezing.
Avoid touching your hands, nose and mouth. Do not spit in public.
Cover your mouth and nose with a tissue or bent elbow when coughing or sneezing. Discard the tissue immediately and clean your hands.
Medical advice
If you feel unwell (fever, cough, difficulty breathing) seek medical care early and call local health authorities in advance.
Stay up to date on COVID-19 developments issued by health authorities and follow their guidance.
Mask usage
Healthy individuals only need to wear a mask if taking care of a sick person.
Wear a mask if you are coughing or sneezing.
Masks are effective when used in combination with frequent hand cleaning.
Do not touch the mask while wearing it. Clean hands if you touch the mask.
Learn how to properly put on, remove and dispose of masks. Clean hands after disposing of mask.
Do not reuse single-use masks.
This article has been updated with a map.