WHO Declares Coronavirus a Pandemic—How Worried Should I Be?
With the new coronavirus having spread to every continent except Antarctica since the outbreak started in China last December, the World Health Organization (WHO) has described the situation as a pandemic.
After weeks of speculation, on Wednesday WHO director general Dr. Tedros Adhanom Ghebreyesus told a media briefing that the body was taking the step due to "alarming levels of spread and severity" of COVID-19, as well as "alarming levels of inaction."
Pandemic—a term that describes how widespread a disease is, not how deadly it is—"is not a word to use lightly or carelessly," he said. "It is a word that, if misused, can cause unreasonable fear, or unjustified acceptance that the fight is over, leading to unnecessary suffering and death."
Ghebreyesus stressed the decision does not change the WHO's assessment of the threat posed by the virus or the actions of the agency. The WHO declared COVID-19 a public health emergency of international concern earlier this year: the highest alert level for an infectious disease.
So, how worried should the general public be?
Paul Hunter, professor in medicine at the University of East Anglia, U.K., said in a statement that the WHO declaration had already taken the important step of declaring COVID-19 a public health emergency of international concern.
"The fact that the WHO [has] now started calling the current epidemic a pandemic is not a major change in policy but rather a recognition that the disease is now spreading globally," he explained.
"The very rapid increase in cases seen in several European countries including Italy, Spain, France and Germany, and in the United States and Iran this past few days shows sustained person-to-person spread across multiple countries in several different regions. This increasing evidence clearly indicates that we now have a pandemic."
"But no one, not even WHO, declares a pandemic," he said. "It is only a description of the nature of the global spread of the epidemic. Whether the WHO calls an epidemic, a pandemic or not has no direct consequences."
Gary McLean, professor in molecular immunology for the School of Human Sciences at London Metropolitan University in the U.K., explained to Newsweek: "The term pandemic is a definition of an outbreak spread consistently away from the original epicentre. Whilst it may be alarming to the public it is mostly a response to what is occurring and this does not change the fact the virus is spreading fast."
McLean said: "Calling it a pandemic will allow the local authorities to realise the importance and treat the outbreak more carefully, putting in place appropriate controls that are needed. All in all this would be a good response to minimise the outbreak spread and consequences.
"People should try not to worry about the use of the term pandemic but to act accordingly to protect themselves."
For the World Health Organization's advice on how to prevent the spread of COVID-19, scroll to the bottom of this article.
Asked the same question, Bill Keevil, professor of environmental healthcare at the University of Southampton, U.K., told Newsweek that the WHO announcement "changes nothing," apart from a few countries altering their public health response when a pandemic is declared due to their national laws, he said.
However, Keevil said it is important to remember the death rate is higher among older people and those most vulnerable to severe complications.
Lauren Cowley, a researcher at the University of Bath Department of Biology and Biochemistry, U.K., told Newsweek: "I think the least helpful thing people can do is panic but at the same time awareness of the very real risk on our doorsteps for our vulnerable loved ones is useful. Everyone can do their bit by social distancing and we will come out the other side of this outbreak quicker if we do."
Since the outbreak of COVID-19 started in Wuhan, over 4,700 people worldwide have died in over 127,000 cases, according to a virus tracker by Johns Hopkins University. More than 68,000 people who have tested positive for the virus have recovered. Most of the deaths have occurred in Hubei, at over 3,000.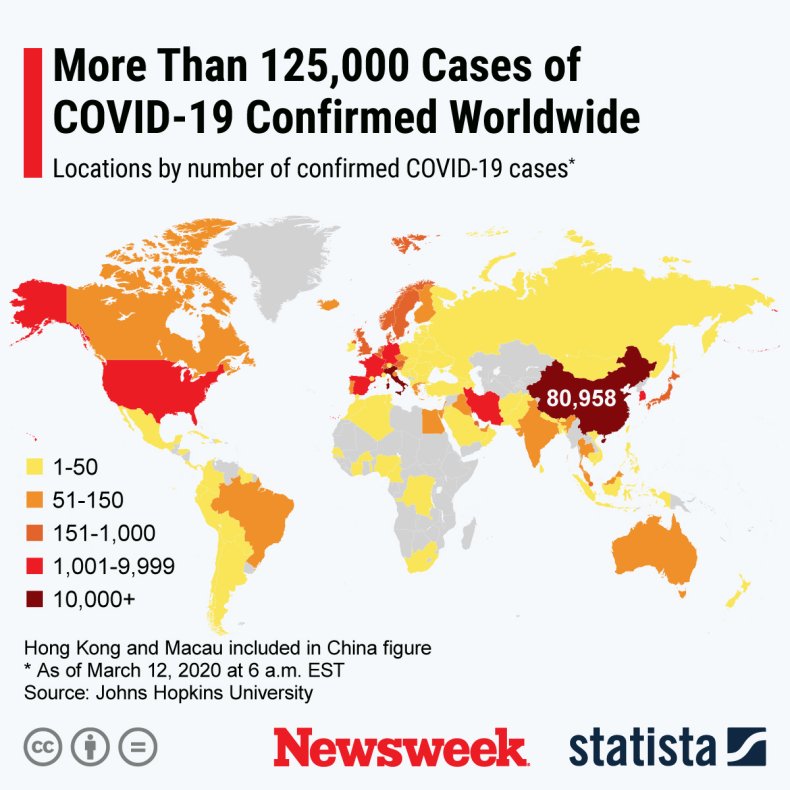 World Health Organization advice for avoiding spread of coronavirus disease (COVID-19)
Hygiene advice
Clean hands frequently with soap and water, or alcohol-based hand rub.
Wash hands after coughing or sneezing; when caring for the sick; before; during and after food preparation; before eating; after using the toilet; when hands are visibly dirty; and after handling animals or waste.
Maintain at least 1 meter (3 feet) distance from anyone who is coughing or sneezing.
Avoid touching your hands, nose and mouth. Do not spit in public.
Cover your mouth and nose with a tissue or bent elbow when coughing or sneezing. Discard the tissue immediately and clean your hands.
Medical advice
If you feel unwell (fever, cough, difficulty breathing) seek medical care early and call local health authorities in advance.
Stay up to date on COVID-19 developments issued by health authorities and follow their guidance.
Mask usage
Healthy individuals only need to wear a mask if taking care of a sick person.
Wear a mask if you are coughing or sneezing.
Masks are effective when used in combination with frequent hand cleaning.
Do not touch the mask while wearing it. Clean hands if you touch the mask.
Learn how to properly put on, remove and dispose of masks. Clean hands after disposing of mask.
Do not reuse single-use masks.