Body of Jelani Day, Grad Student Missing Since August, Found Miles From Where He Was Last Seen
A body recovered floating in the Illinois River nearly three weeks ago was identified as missing Illinois State University graduate student Jelani Day, according to a press release from the LaSalle Coroner's Office.
During an organized search effort in the LaSalle Peru area on September 4, law enforcement located a male's body floating near the south bank of the Illinois River. After conducting forensic dential identification and DNA testing and comparison, the body was identified as 25-year-old Day by the LaSalle County Coroner's Office.
A further investigation and toxicology testing will be done to help determine Day's cause of death.
The graduate student, from Bloomington, was reported missing on August 25 by his family after they had not spoken with him for a few days. Day was last seen on campus on August 24, and his last known location was at a marijuana dispensary three miles away around 9:21 that morning, according to the press release.
On Thursday, August 26, Day's vehicle was located more than 60 miles away in a wooded area by a YMCA in Peru, Illinois. Based on findings recovered from the vehicle, the Peru Police Department established a command post in the area and worked to conduct an extensive K9 search with the Illinois State Police. The Peru and Utica fire departments also associated with aerial drone searches and ground searches, however, they were unable to locate Day.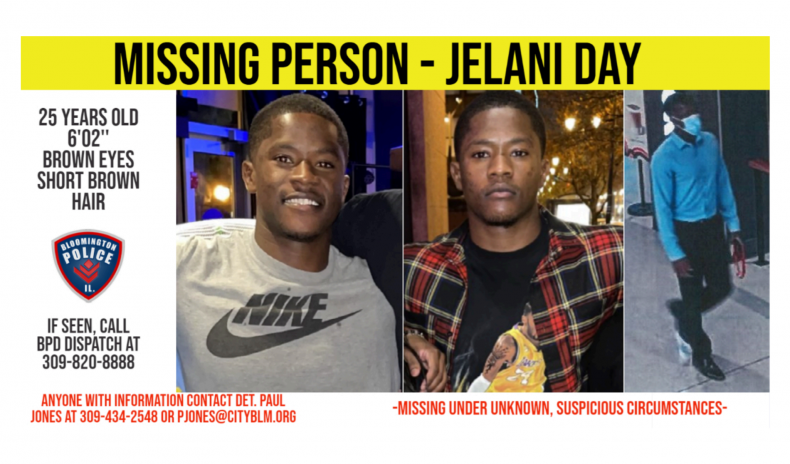 The Illinois Search and Rescue Council partnered with other agencies to conduct an additional search on September 4 what's now been identified as Day's body approximately a quarter miles east of the Illinois Rt. 251 Bridge, according to the release.
Day's mother, Carmen Bolden Day, told Bloomington radio station 92.9 FM that some of her son's belongings, including a shirt and hat he was seen wearing before he disappeared, were found scattered around near the river where they found the body, however at the time she didn't believe it was her son.
Bloomington Police Department Public Affairs Officer John Fermon said the department would continue investigating, according to 92.9 FM.
"We can all agree that this was suspicious," said Fermon. "BPD is not going to stop investigating. I know at ISU they are on high alert. It impacts everybody."
After the discovery of what's now known to be Day's body in early September, his mother claimed she felt the search for her son had slowed down. She told Newsy that their family doesn't have much information about her son's disappearance and that they're asking the internet for help in sharing his story.
"The updates are very slim," Bolden Day said.
She and law enforcement are trying to create a timeline to determine what may have happened to Day. His mother has been calling area businesses asking to gather their security camera footage but hasn't found anything helpful. Bolden Day has also hired a private investigator to assist.
"Jelani is energetic, he's full of life, and he's goal-driven," she told the outlet. "He knows what he wants and his goal was to be Doctor Jelani Day."
In 2020, there were over 543,000 people reported missing and almost 40 percent, or more than 200,000 cases, were people of color, according to the nonprofit organization Black and Missing Foundation.
Newsweek reached out to the LaSalle County Coroner's Office but they declined to comment.
Anyone with information about Day's disappearance is asked to contact the LaSalle County Sheriff's Office at 815-433-2161.