A longtime syndicated political cartoonist apologized for "body shaming" White House press secretary Sarah Huckabee Sanders in a recent unflattering caricature that was set to be published in a Vermont newspaper.
Jeff Danziger, a New York City–based cartoonist represented by Cartoonists & Writers Syndicate and the New York Times Syndicate, told TheWrap's Jon Levine over the weekend he will replace the cartoon, which was set to run in the Rutland Herald this week. The illustration depicts Sanders hosting her own "Sarah! Clothes" grand-opening fashion show next to a country fiddle player while a posh-looking Ivanka Trump cries and shuts down her own clothing line in front of her podium.
"Sales Drop and Ivanka Trump Shuts Down Her Clothing Line," reads the title on Danziger's July 27 cartoon. The cartoon pokes fun at Ivanka, President Donald Trump's eldest daughter and senior adviser, who closed her eponymous clothing line last week. She is shown shedding tears in the drawing next to several "Ivanka Style" signs, with "Made in China" labels, that have been discarded. But a hunched-over and homely Sanders caricature stands behind her, appearing to introduce her own line of ill-fitting dresses, accompanied by the fiddle player.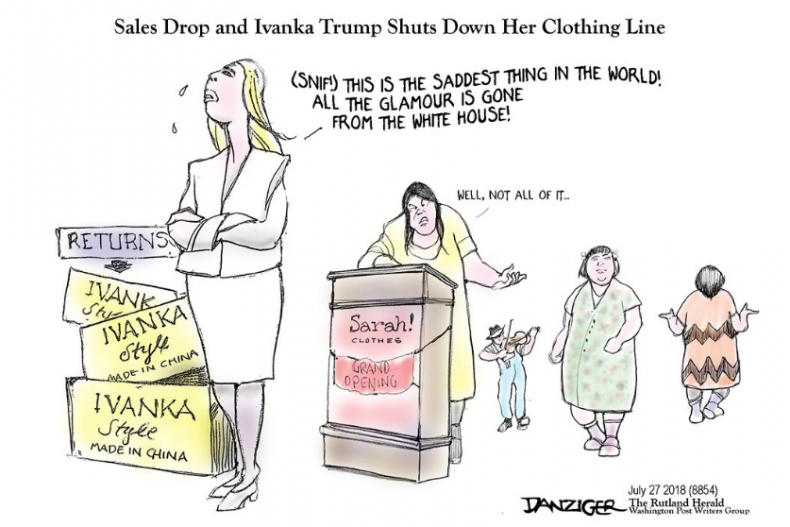 Danziger, in a statement provided to TheWrap, apologized for the cartoon. "That particular cartoon is being withdrawn and redrawn because it was felt that it indulged in body shaming, which I apologize for. So I am doing something else on Ivanka's clothing line. I am no one to criticize anybody's physiognomy."
The White House press secretary's physical appearance has been mocked by other celebrities, including comedians Jim Carrey and Michelle Wolf. Wolf drew widespread partisan criticism after making comments about Sanders's eye shadow and comparing her to the unflattering character of Aunt Lydia from Hulu's The Handmaid's Tale.
The new Danziger cartoon that will replace the earlier one now shows an incognito Ivanka attempting to drop off several "Made in China" boxes to a small-town "Little Sisters of Bedminster" consignment shop. An older woman standing in front of the "new, used awful" shop window is chastised by the disguised Ivanka character.
"Well, of course, we'd be happy to take all your clothes on consignment, Ms. Trump," she says. "Smith! Ms. Smith, you idiot!" screams Trump's eldest daughter.
Another syndicated cartoonist, Tom Stiglich, received criticism from readers of the Schenectady, New York, Daily Gazette over a drawing of an MS-13 gang member bringing a child across the U.S. border. In June, Stiglich told Newsweek there's "no denying" the U.S. immigration system is broken, but blowback about cartoons happens "any time that I include a minority. Some readers will automatically scream, 'That's racist.' That does tend to get old. I'm sure there aren't many Caucasian MS-13 gang members."